Have you ever wanted to get in better shape, but didn't know where to begin?
Are you bored of the same old gym equipment?
Do you feel like you can't do it all on your own?
Well, good news! You don't have to!
We are hosting our 3rd Kickboxing & Networking Workshop for Boss Babes!
Come and experience the power of kickboxing!
I joined Hers Kickboxing fall of 2016 and I have personally seen so much progress in myself. It has helped me both physically and mentally. It is one of the BEST forms of exercise that really gets your heart pumping and energies flowing. After years of working out in the gym and trying out yoga studios, I finally found a workout that suited me. It has given me confidence, it has made me stronger and a feeling of empowerment. I understand that kickboxing may not be for everyone, but if you haven't tried it yet, I encourage you to give it a try just once – you just never know!
My husband tried to get me to join Muay Thai when we were dating and only after we started our fertility journey, did he finally succeeded in persuading me to try out kickboxing. I am so glad that I did!
I started this workshop series because I wanted to share my experiences and the empowerment that I felt with more ladies in our community. We all have a story, struggles we're going through, but having a supportive community helps us get through it these tough times. So join me and a group of fabulous boss babes and let's grow together through support, collaborations, and building strong relationships.
In collaboration with Hers Kickboxing, we are bringing you a 2 hour workshop that includes:
Small intimate class setting with a maximum of 20 women
No judgment zone
1-hour workout with a combination of kickboxing and self-defense movements with a Certified Kickboxing Instructor
Punch a life-sized dummy (no contact format)
45 minutes of Girl Talk with Coach Cristina on nutrition and tips on living a healthy balanced life
Light snacks and refreshments will be provided
Swag bag to take home
WHAT TO BRING
Clean separate pair of indoor running shoes
(NO outdoor footwear allowed on the mats. This is very important especially with the winter weather!)
Come dressed in your athletic wear
(You may bring an extra set of clothes to change into afterward)
Towel
Boxing gloves (we will provide, but you may bring your own)
Water (we will provide bottled water per member, but you may bring your own)
***Note: Hand wraps are not included. These can be purchased at the front desk for $10+hst or you can bring your own.***
ALL FITNESS LEVELS WELCOME! NO PRIOR EXPERIENCE NECESSARY!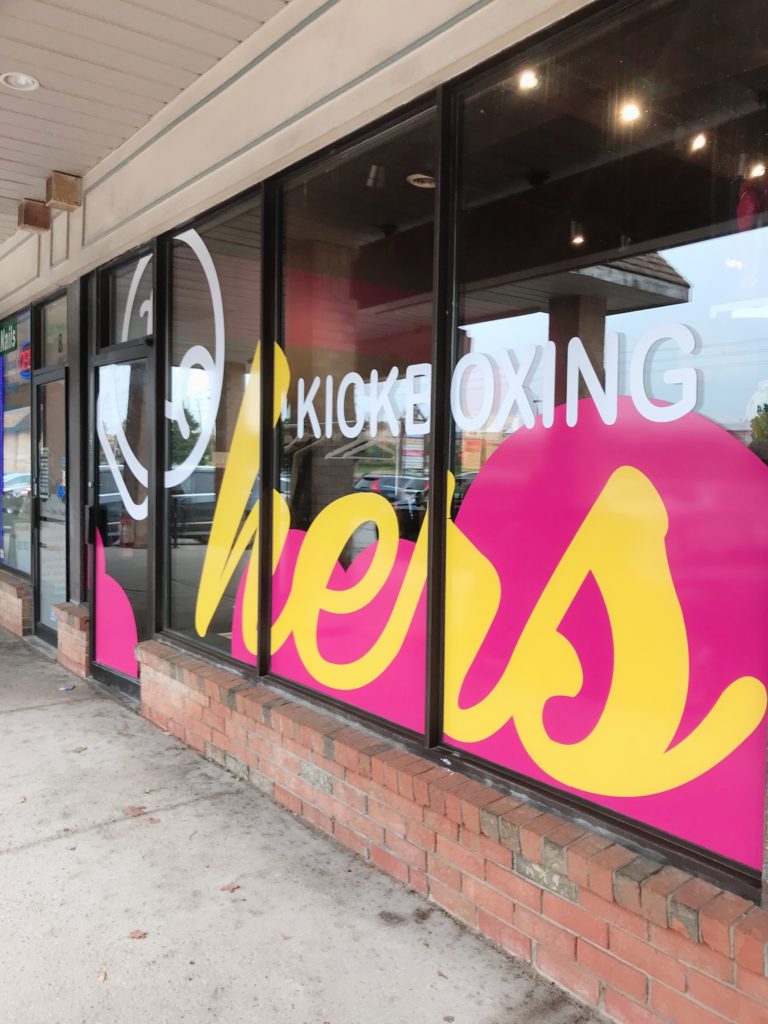 Date: Sunday, January 12th, 2020
Time: 1:30pm to 3:30pm (Please arrive 10mins early to sign waivers)
Location: Hers Kickboxing Studio Markham; 5051 Highway 7 East, Unit #9, Markham, ON L3R 1N3 (Across Markville Mall)
Parking: Free
Investment: $40 per person
Only a maximum of 20 spots!