A Pink & Blue Modern Chinese Wedding
Styled Shoot As Seen On Elegant Wedding Blog
The Arlington Estate
Pep Studios

It's Thursday, March 1st, 2018 and we just got featured on Canada's Elite Wedding blog – Elegant Weddings!
Check out the full feature here: https://www.elegantwedding.ca/blue-pink-wedding-theme/
Growing up, Chinese New Year has always been a very festive occasion for our family.  Our best porcelains were dusted off and our tables were lined with beautiful plates of sugary sweets.  When designing this Modern Chinese Inspired Style Shoot, I had Chinese New Year in mind and it was important to me that these traditional heartwarming elements be retained amidst this modern styled wedding.
Taking inspiration from the classic blue and white porcelains from the Chinese Tang dynasty, porcelain blue and rose quartz became our theme colour palette.  The atmosphere and architectural elements of the Arlington Estate with their white walls, gold hardware, and contemporary furnishings was a perfect canvas from which our theme palette sprung to life.
In the traditional Chinese marriage ceremony, the bride and groom perform a Chinese Tea Ceremony to honour the elders.  The couple will typically kneel in front of their parents and serve them tea as a way to give thanks, to express gratitude and respect for raising them.  The Chinoise Tea Set by The Perfect Table and the custom-made kneeling cushions, by us was the perfect prop for this occasion.
The Chinese QiPao is a popular choice of attire during Chinese New Year and special occasions such as weddings.  Also commonly known as Cheongsam, a QiPao is a stylish and tight-fitting dress made of delicate satin and detailed with a high mandarin collar, frog-buttons, and side slits.  The Heaven Gaia collection by Chinese fashion designer, Xiong Ying, was a match made in heaven for our porcelain blue themed shoot.
The engagement ring and matching earrings, by Cynthia Findlay Antiques, were the perfect hint of blue tying into the blue and white accents of this modern day Chinese wedding.  Her hair, styled by Monstylefile, stemmed from the traditional smooth and pulled back up do mixed with a modern fuller bottom.  The make-up, by Fiona Man Makeup, exemplified the fusion of Western and Eastern cultures. Inspired by Empresses of Ancient China, the lips were well defined with a warm rose hue and the skin was kept luminous. To enhance the eyes and taking inspiration from Western culture, a soft and smoky eye utilizing bronze and brown shadows was done.
The groom was dressed in a navy blue suit by Wingmen Suits, a deviation from the classic black or grey suit.  The custom bow-tie and pocket square, by Tytan Ties, matched those of the bride's and completed the groom's outfit.
Our main floral inspiration was an unstructured, organic feel reflective of today's trends.  Leaf & Bloom curated a stunning bouquet and tablescape arrangement using three traditional "lucky" flowers according to the Chinese culture:  peonies that symbolize richness and peace; orchids that symbolize fertility; and narcissus that symbolize good fortune.
The beautiful glassware, flatware, and dinnerware, supplied by The Perfect Table, was a Chinoiserie charger beneath ivory and gilded gold chinaware accented with matte gold utensils.
The acrylic welcome sign, tea ceremony sign, and fortune cookie place cards were beautifully hand-lettered by Love Lettering.
The stunning stationery; invitations, menus, fortune cookies, and gold "lai see" money packets were designed by the talented team at Wishtree Invitations & Design.
Finally, this beautiful dessert table, designed and produced by Le Dolci Cakes, consisted of a beautiful hand painted 3-tier cake, two mini cakes, cupcakes, and cookies displayed on a vintage table filled with gorgeous brass glass boxes all supplied by Cre8ive Studios.
Here are some more images (included some that didn't make the cut in the online publication):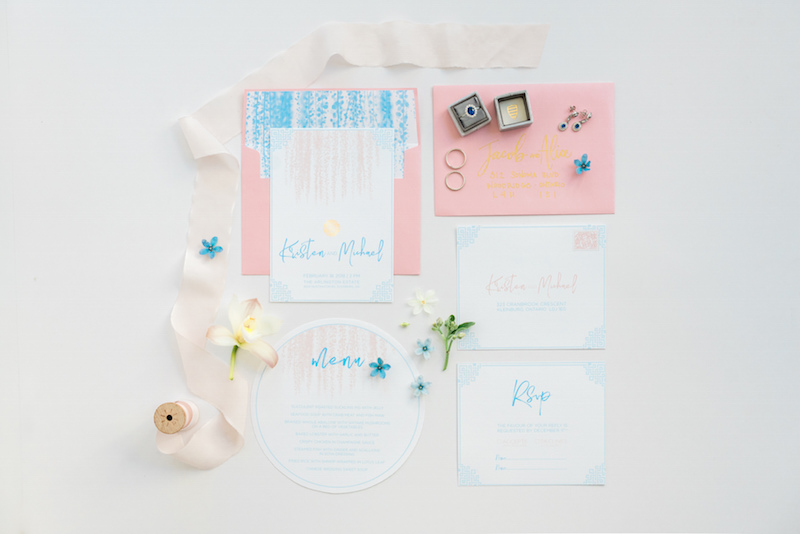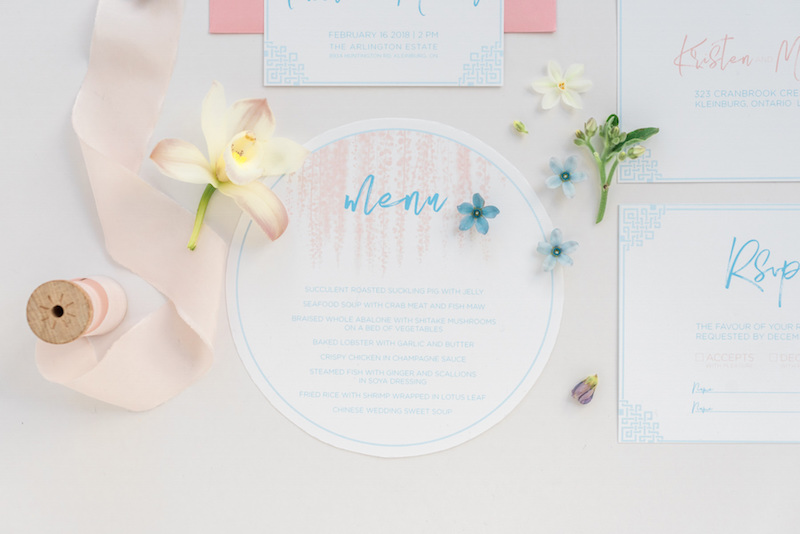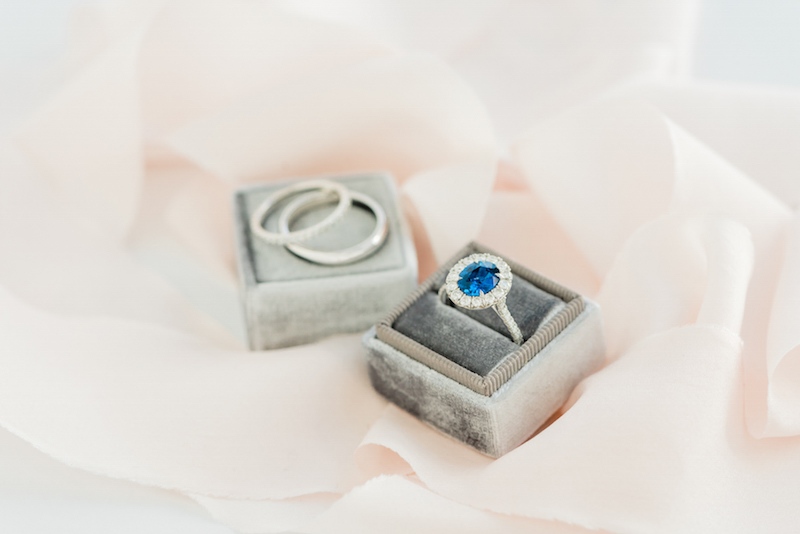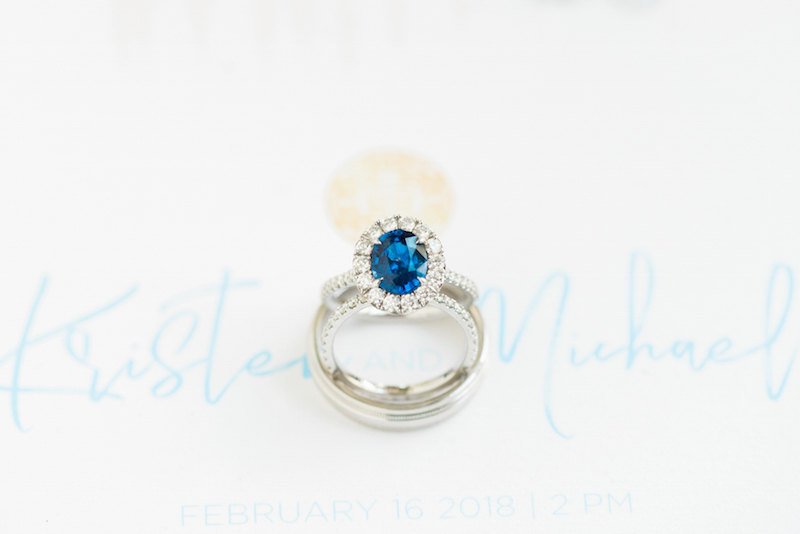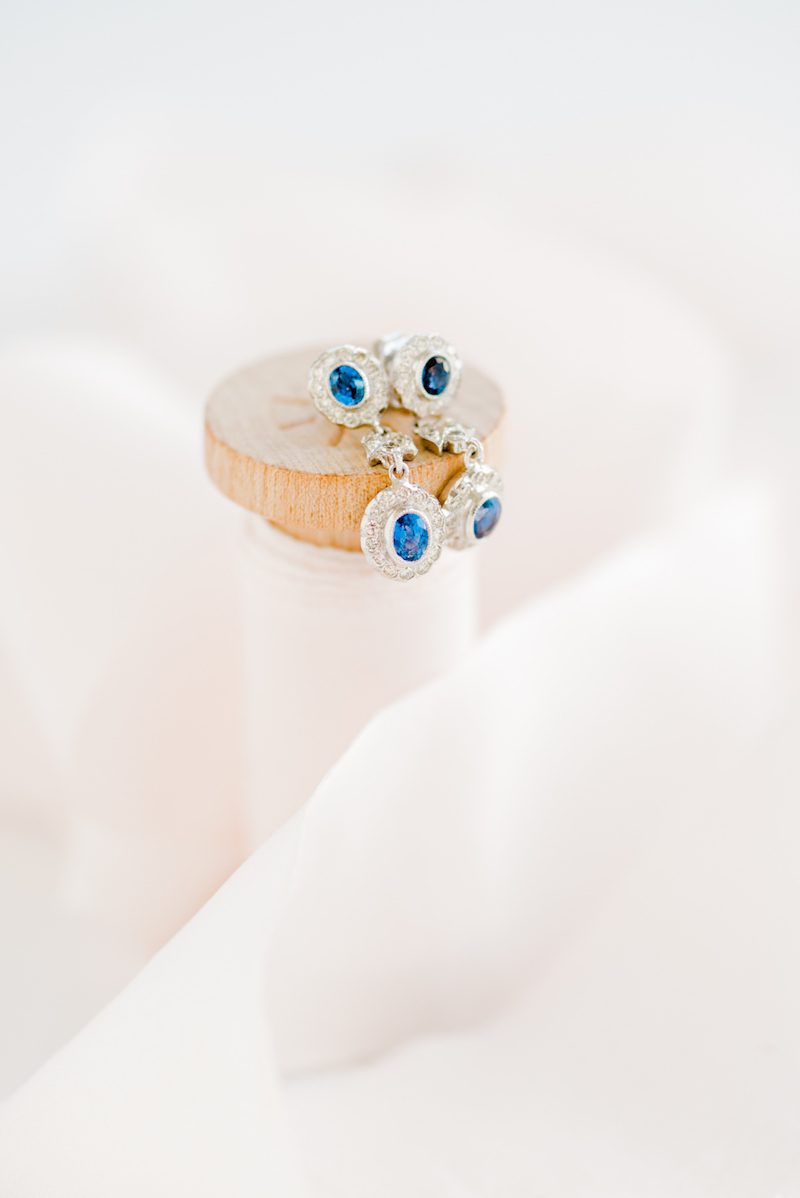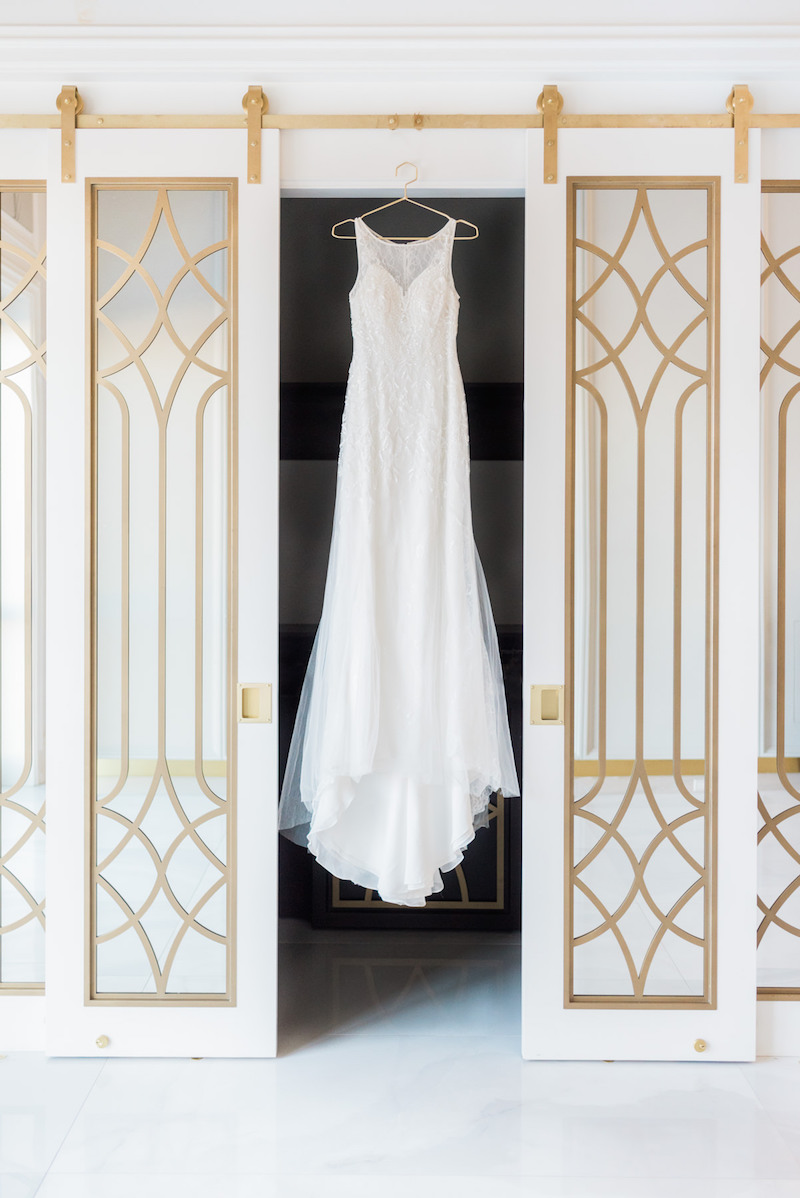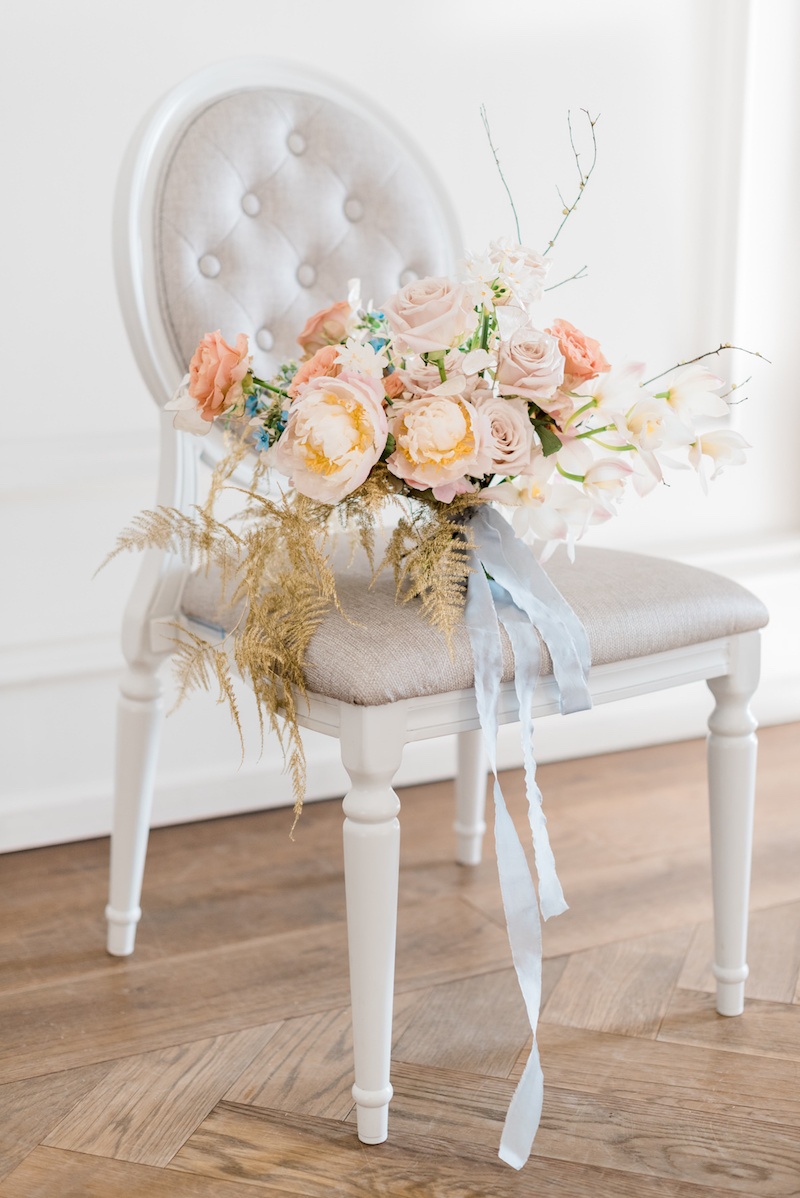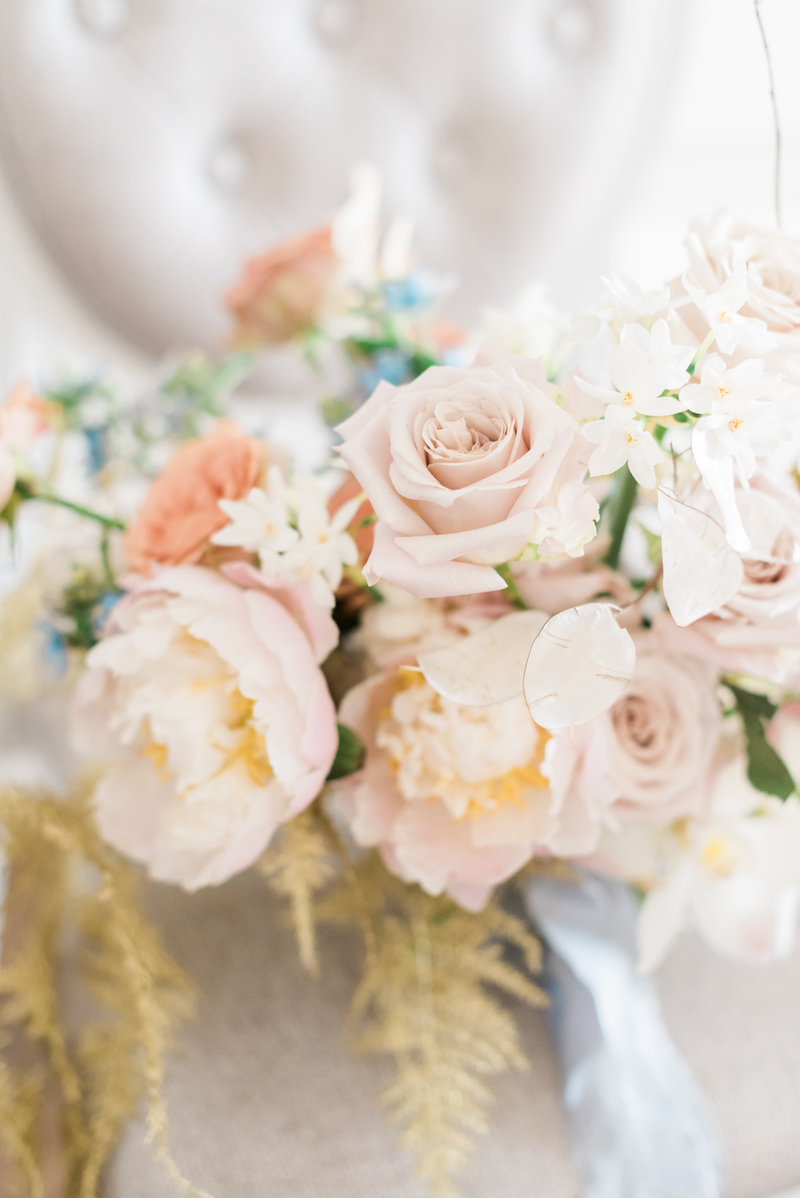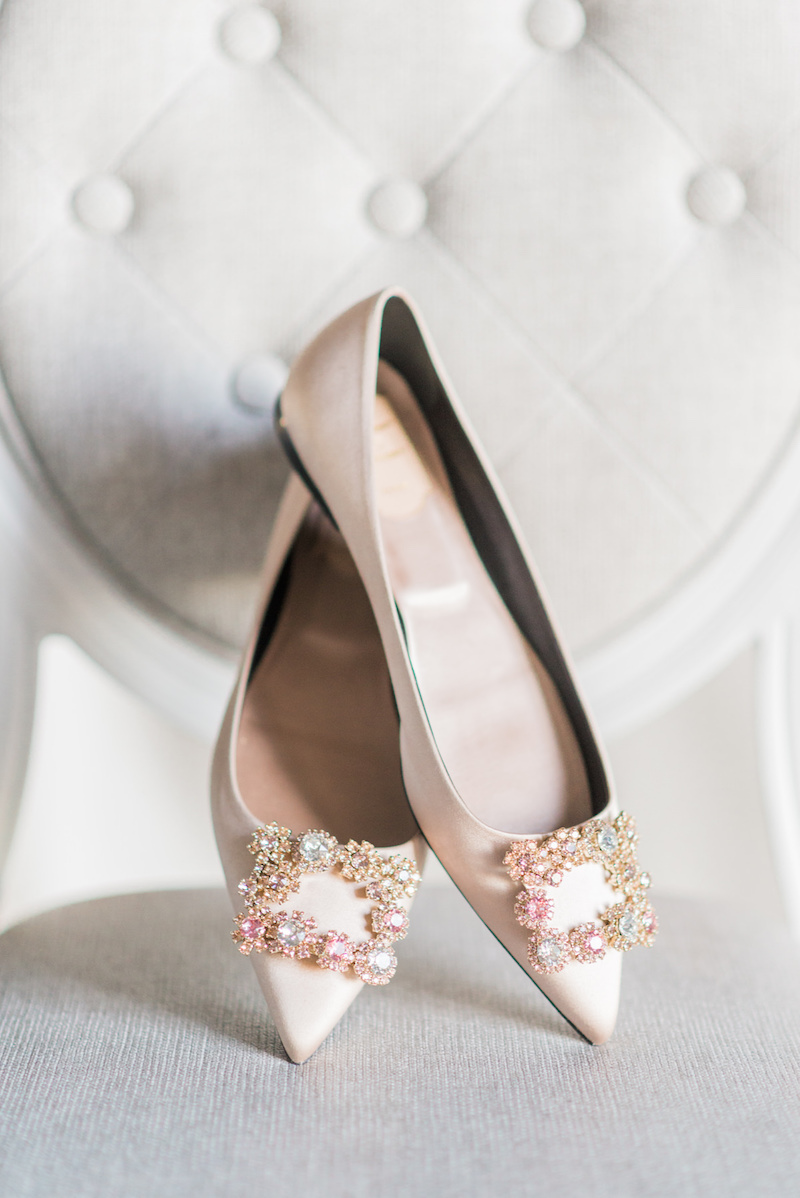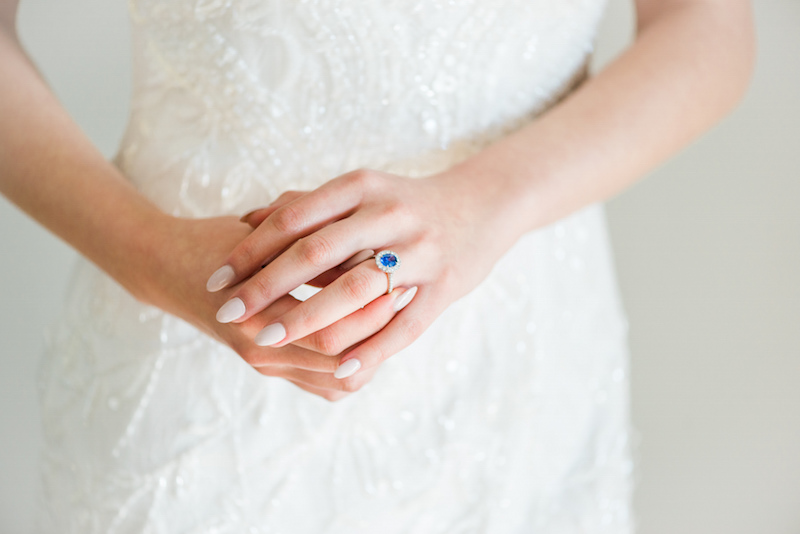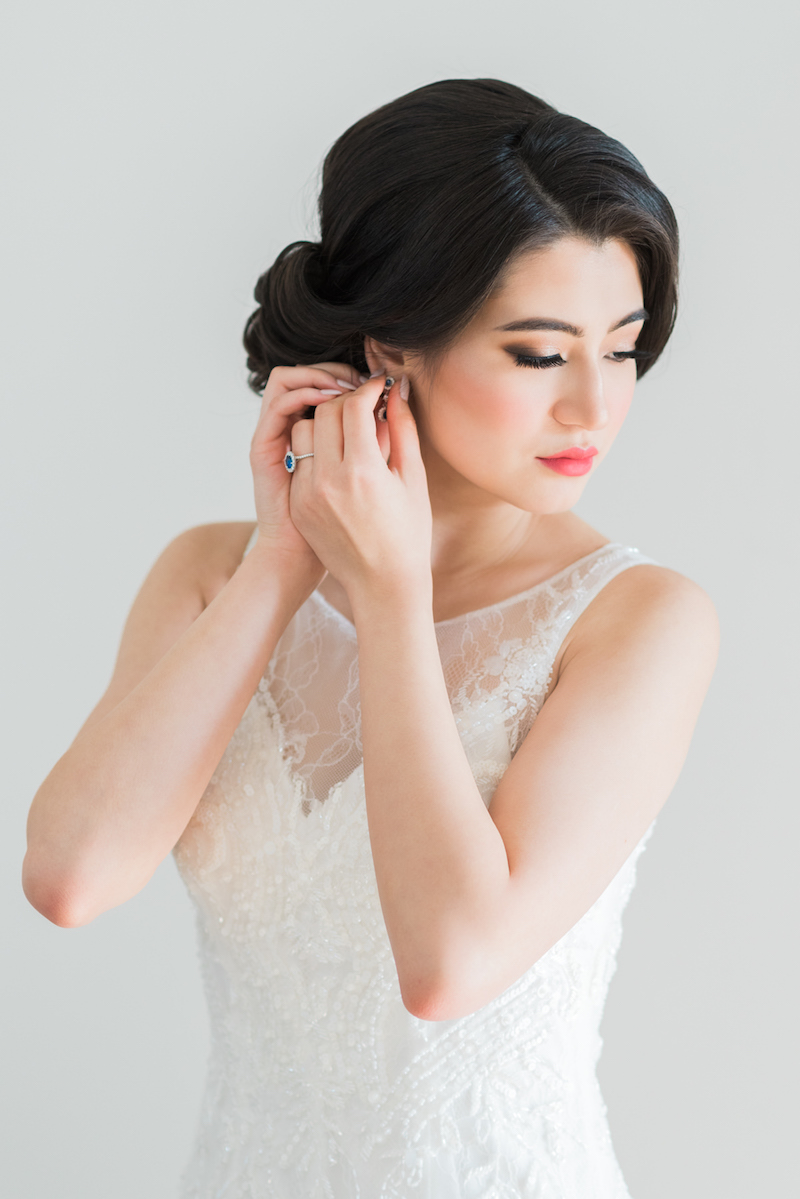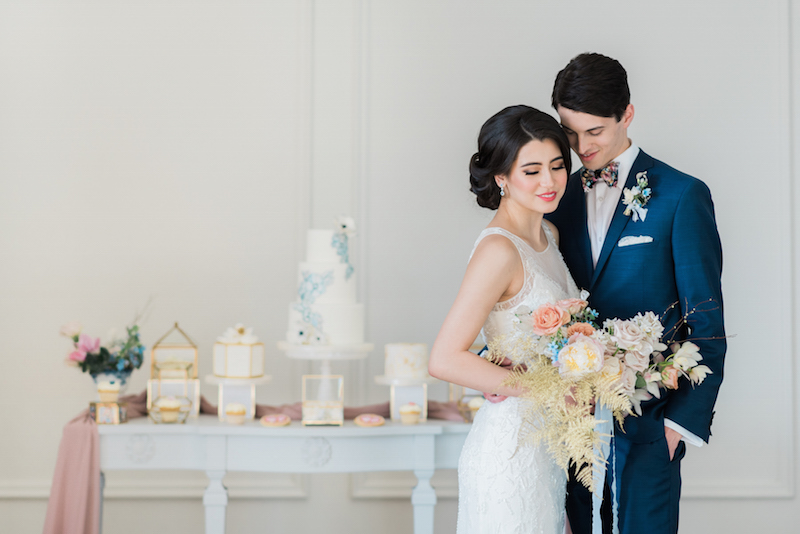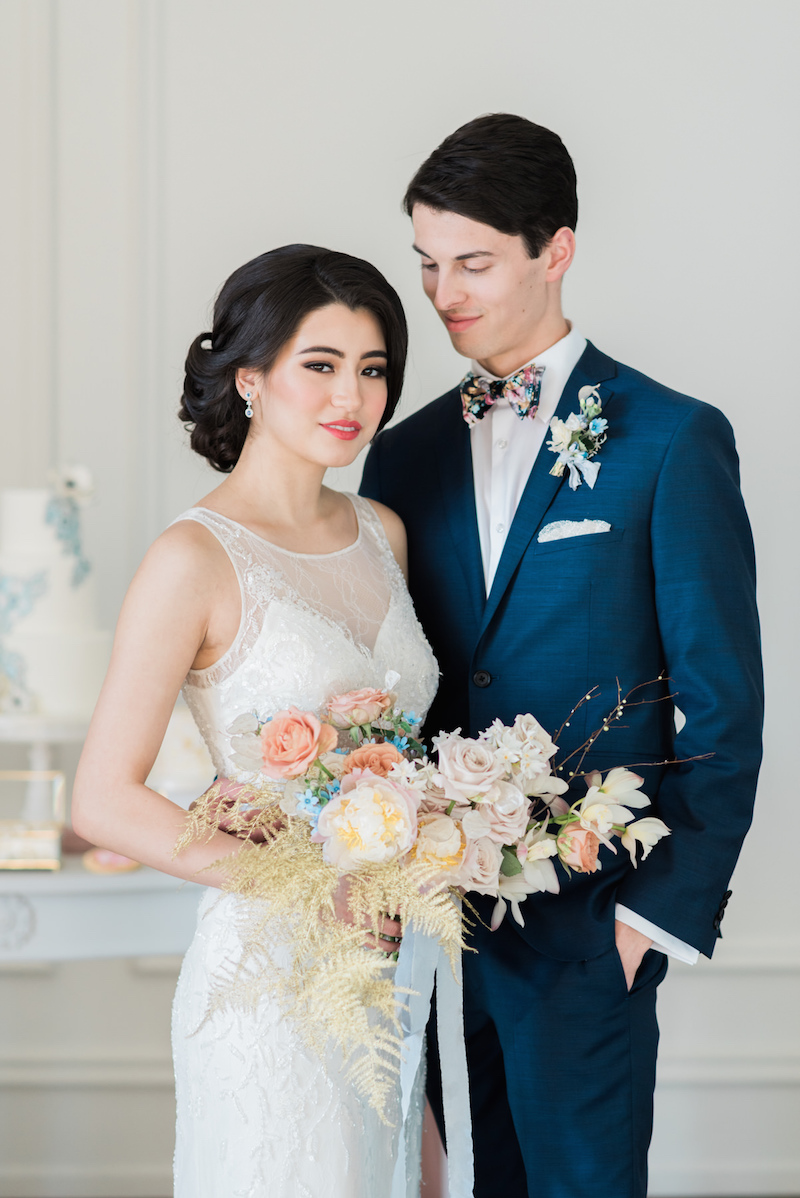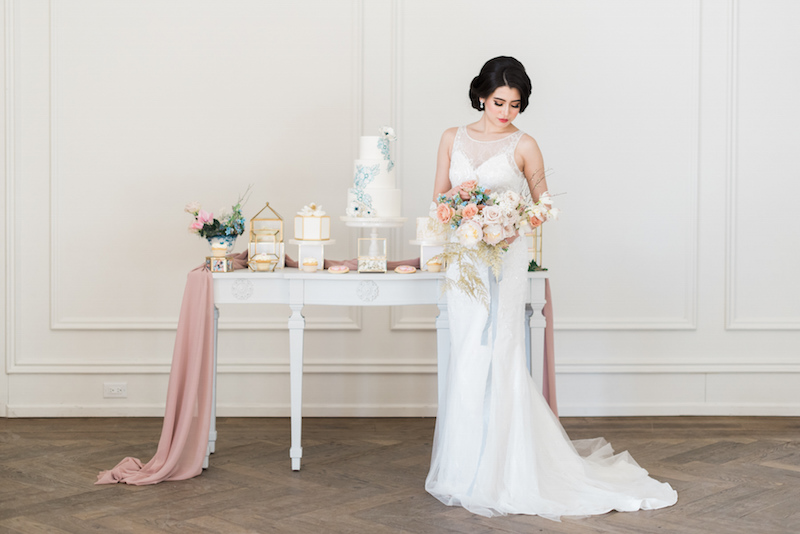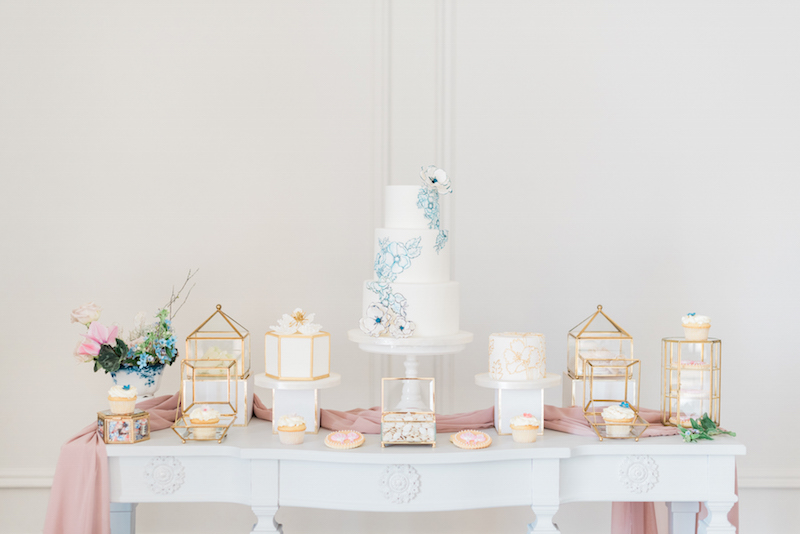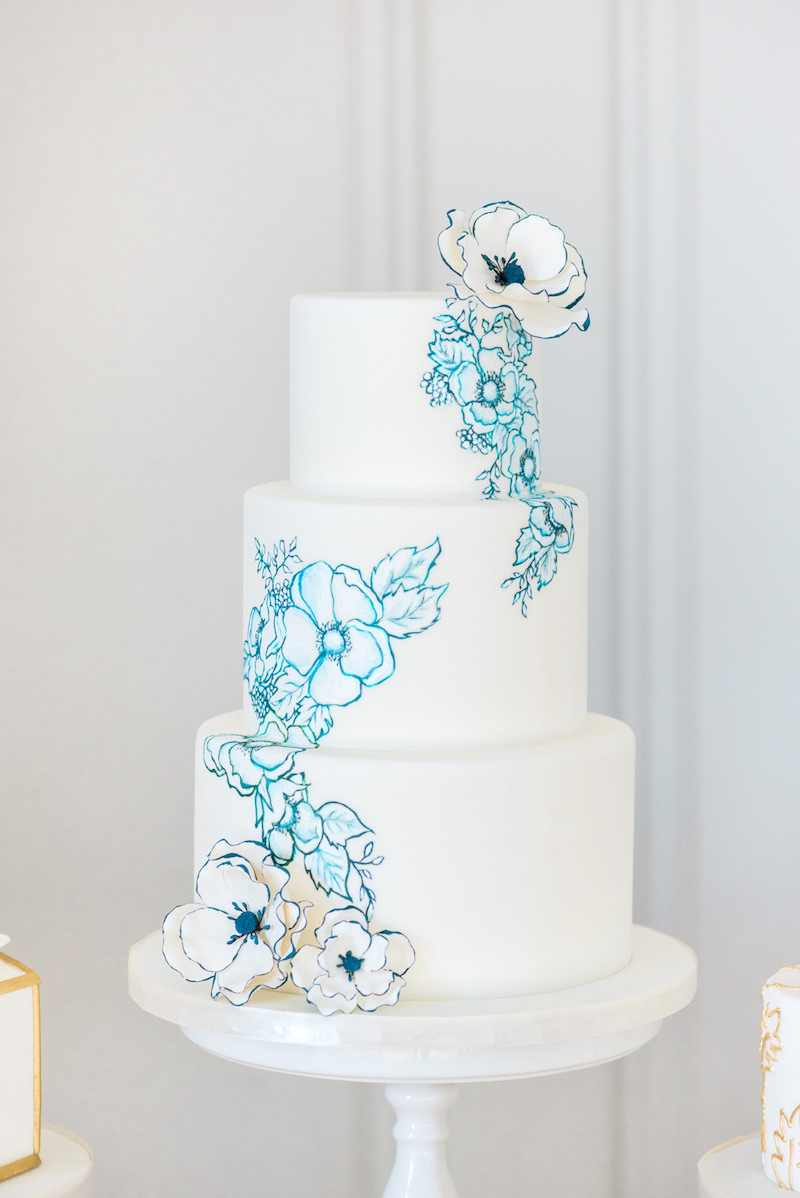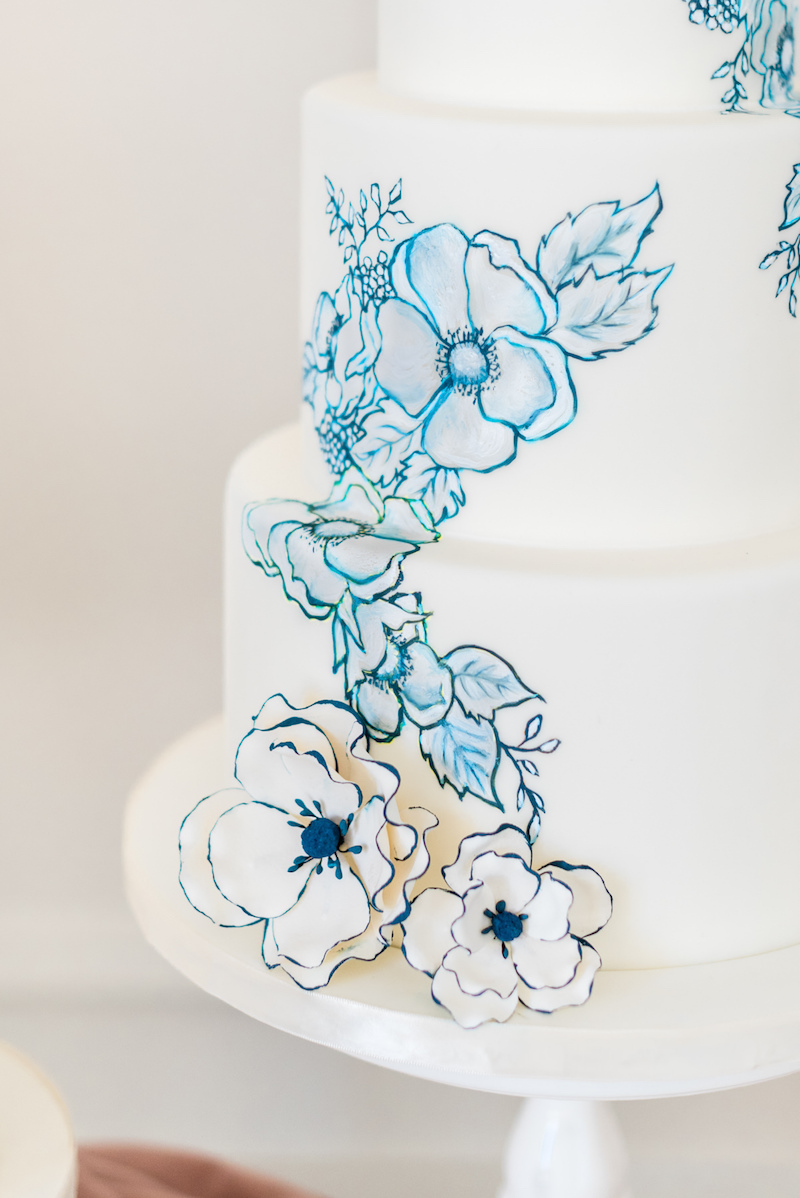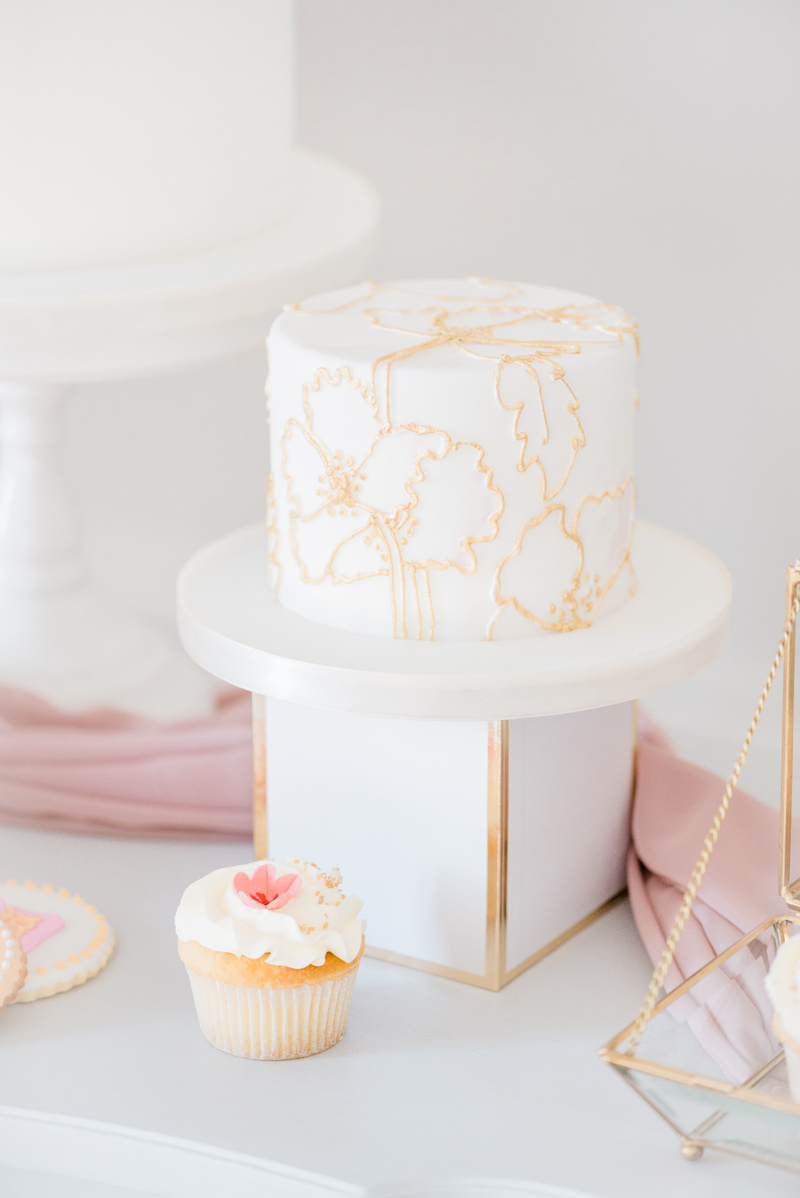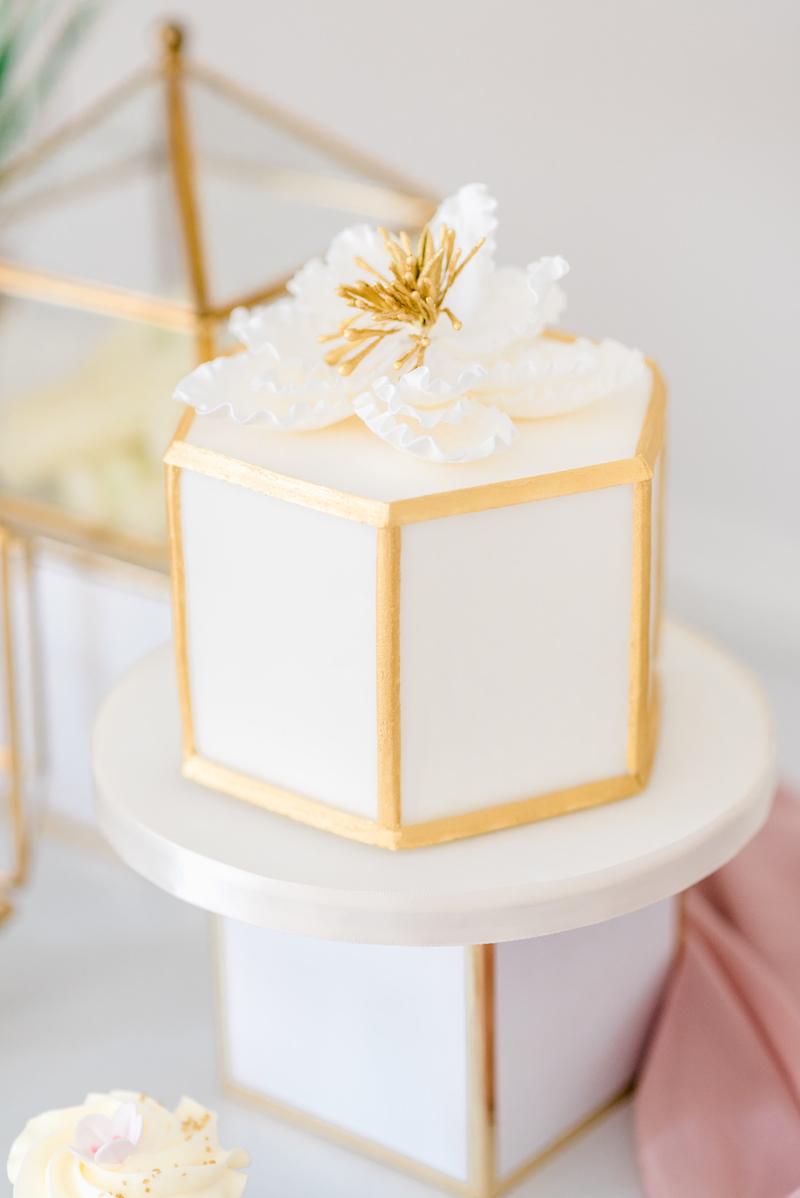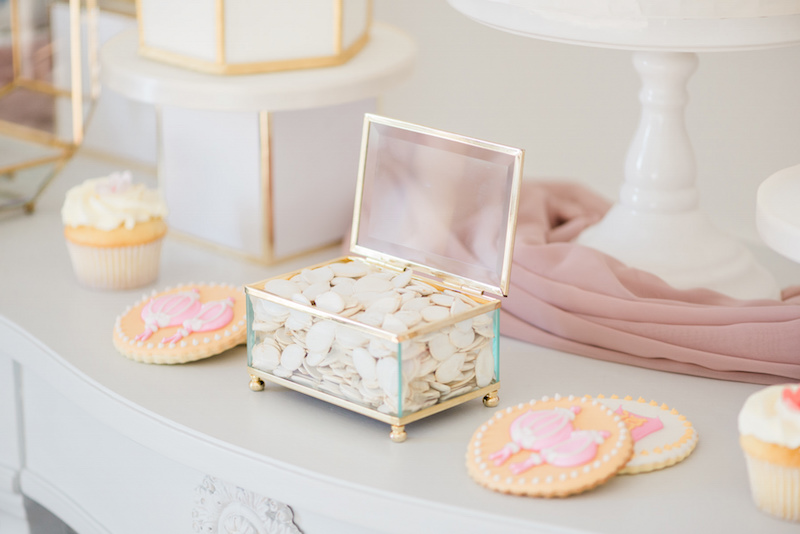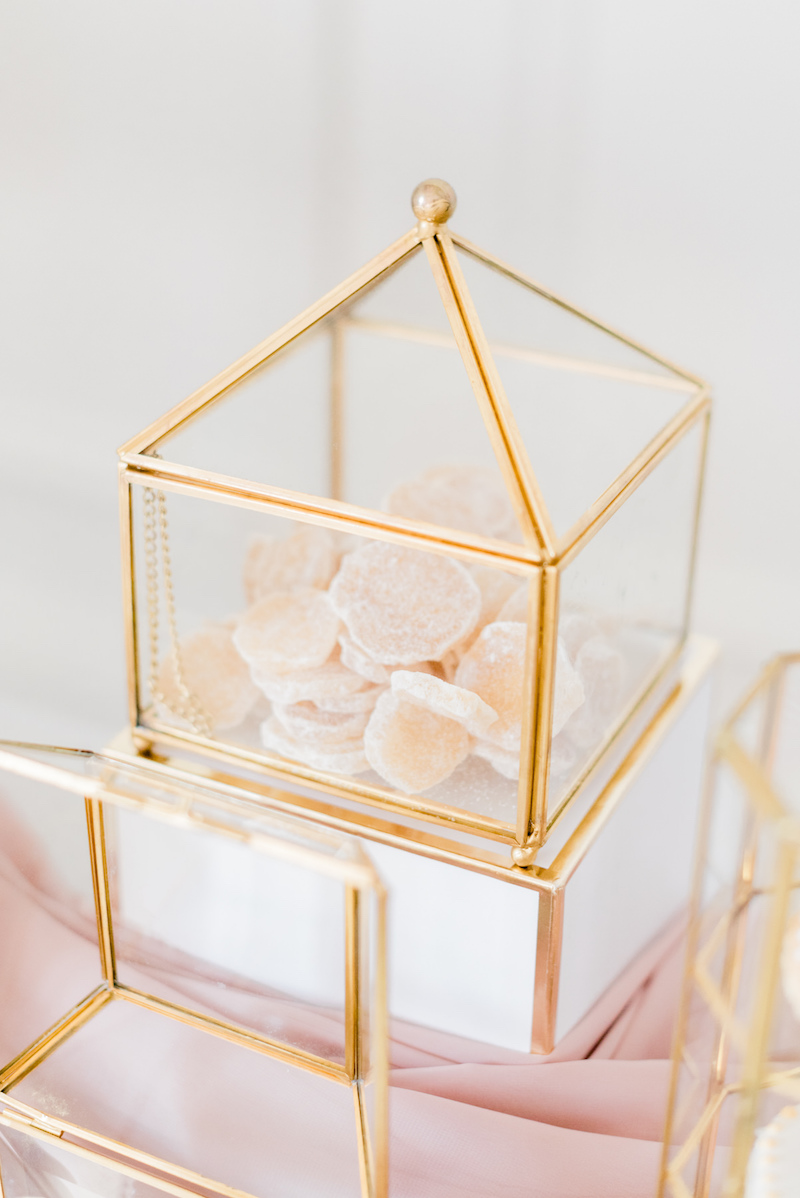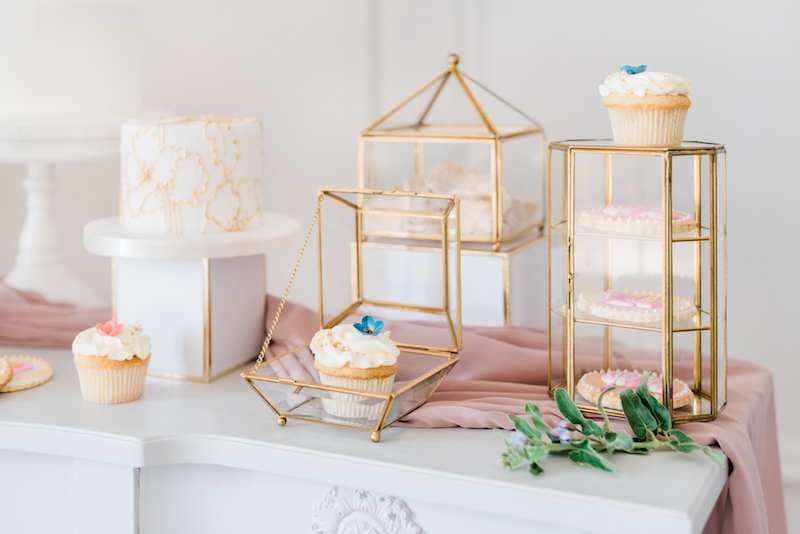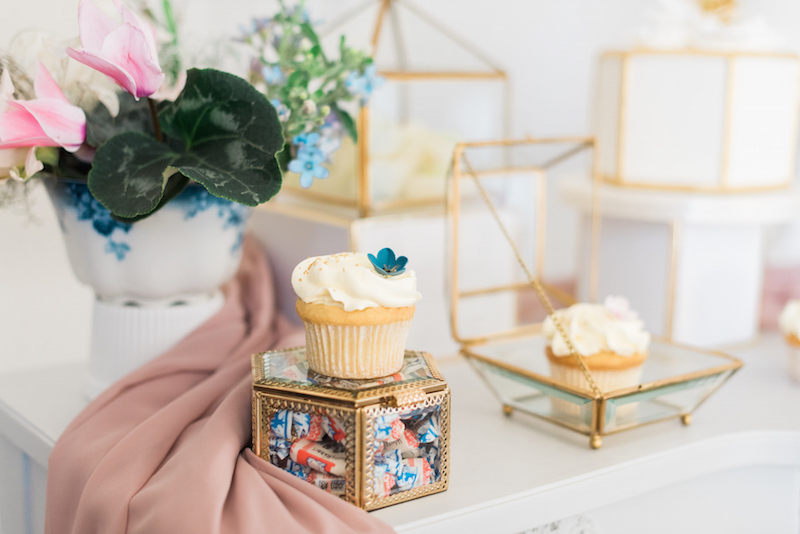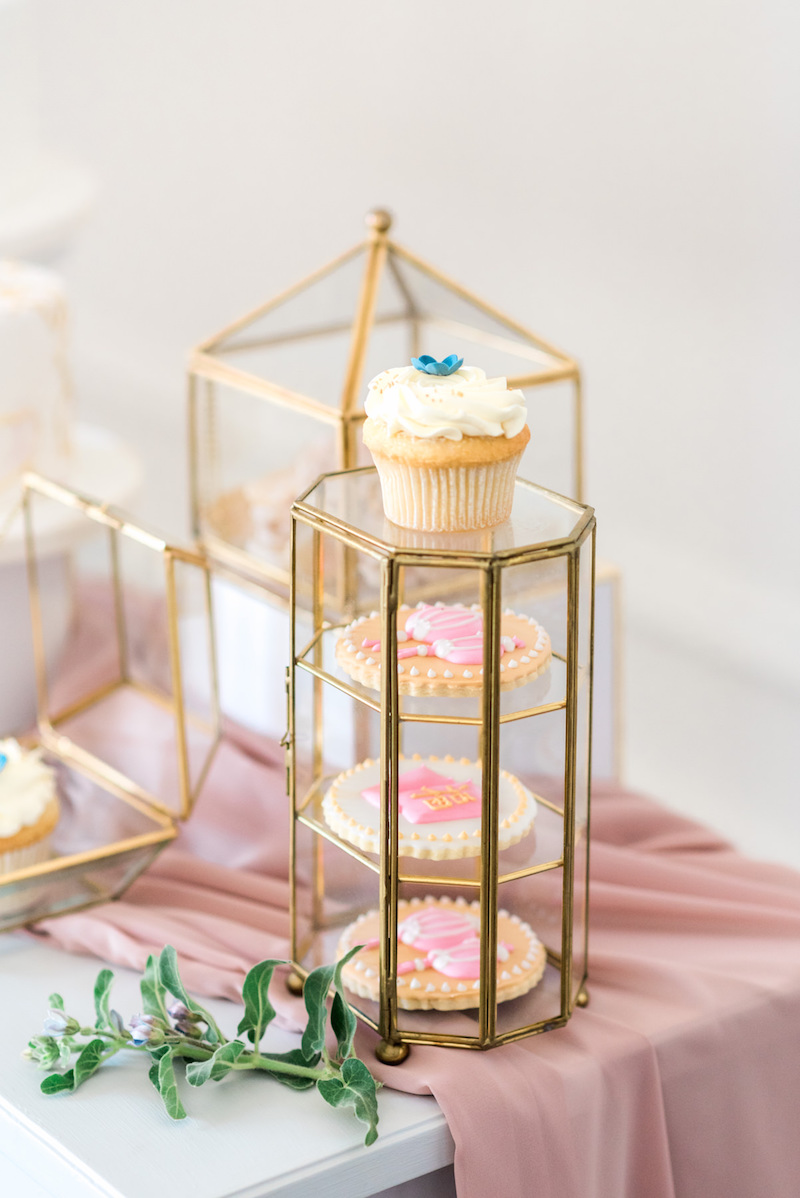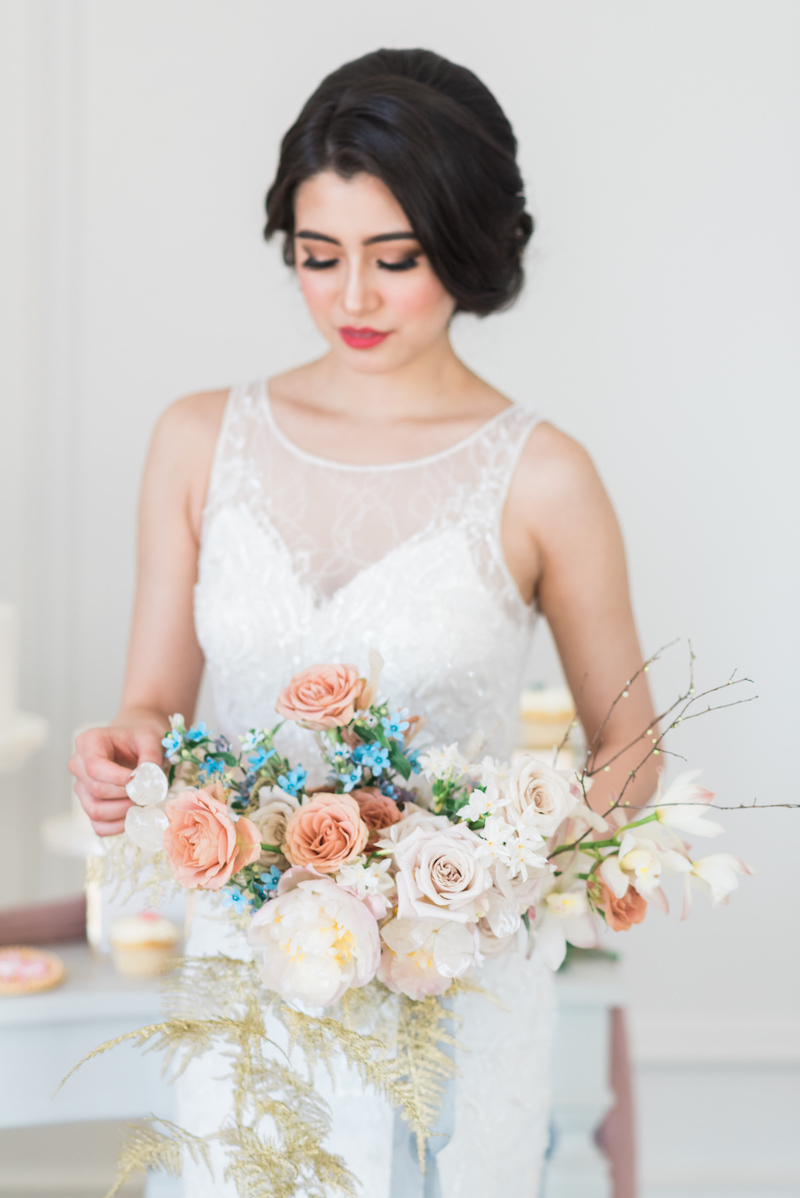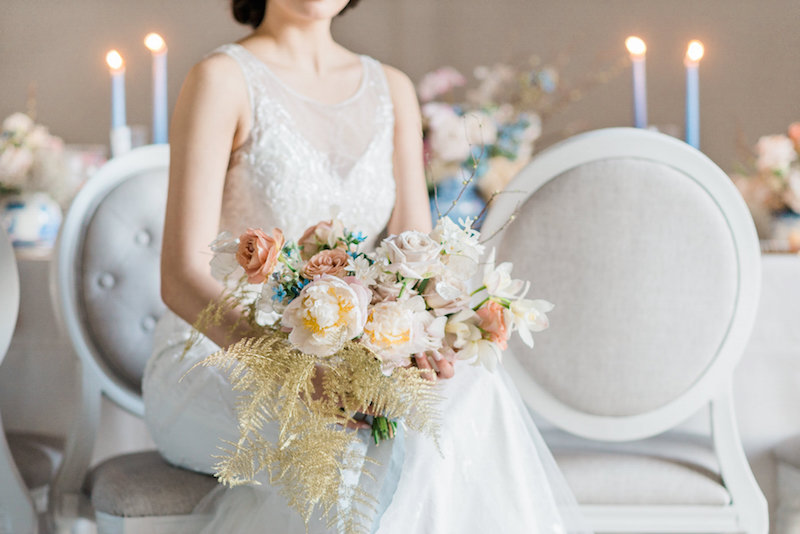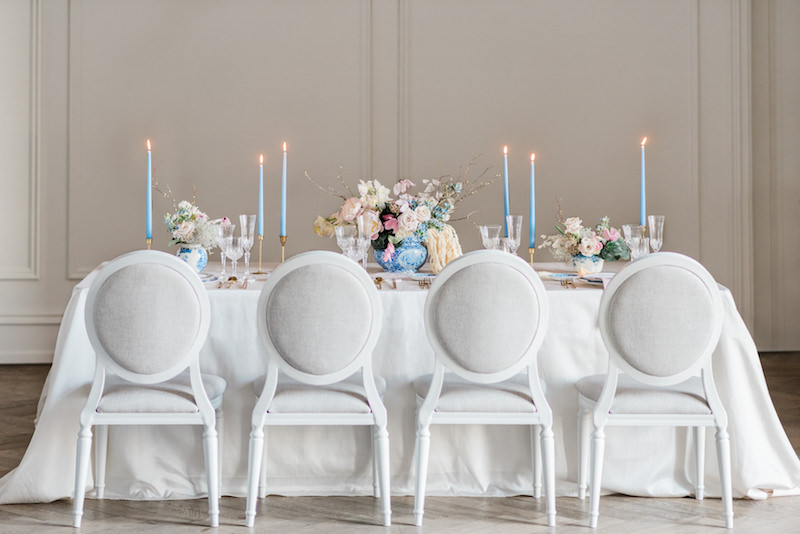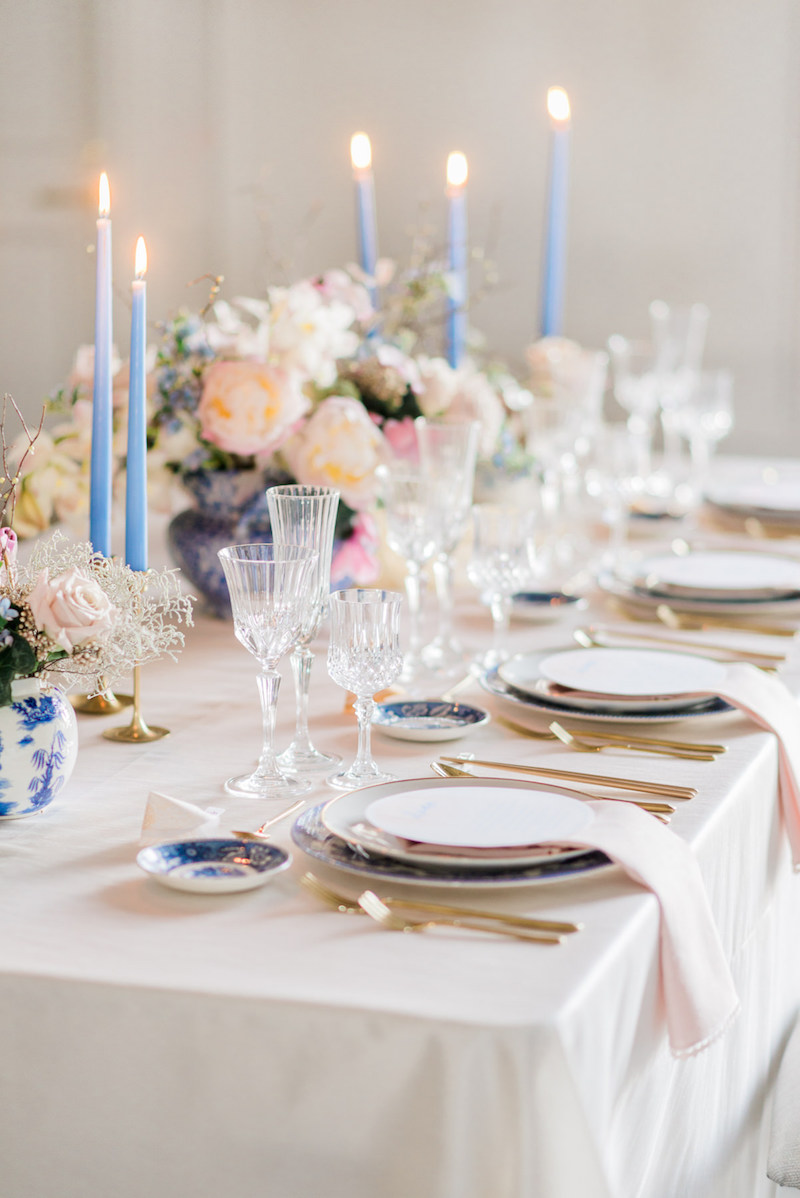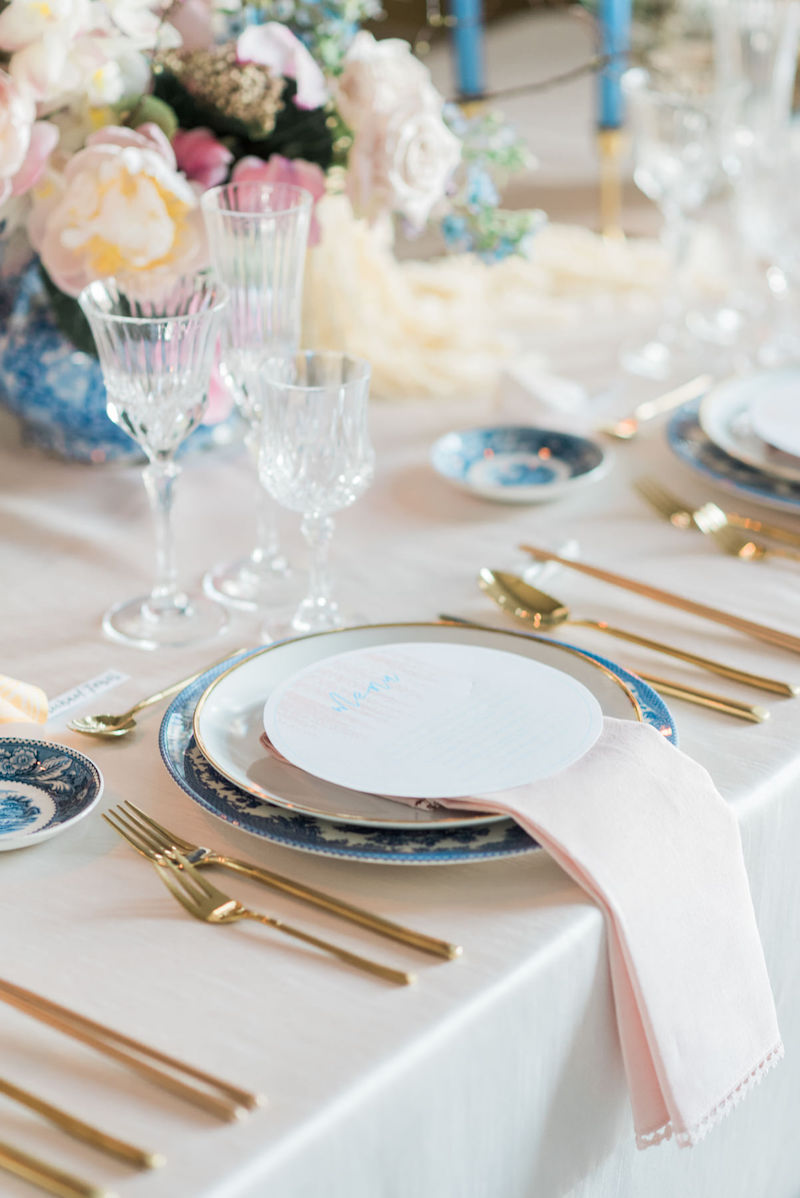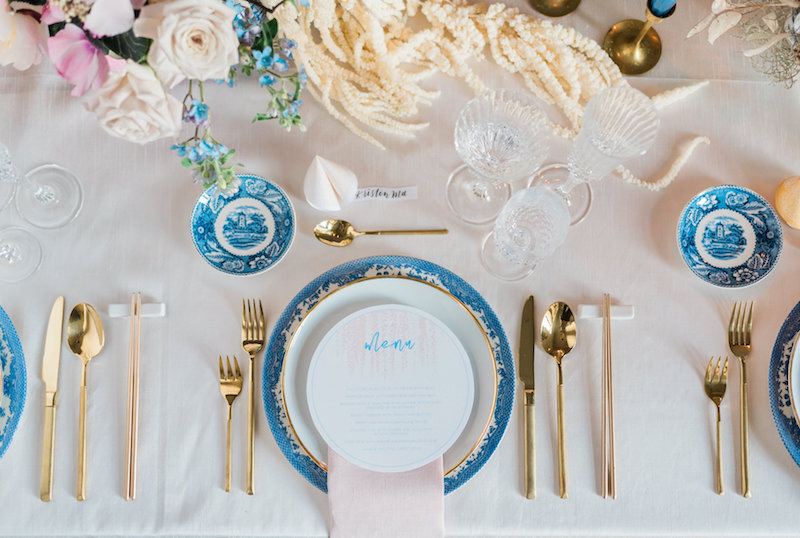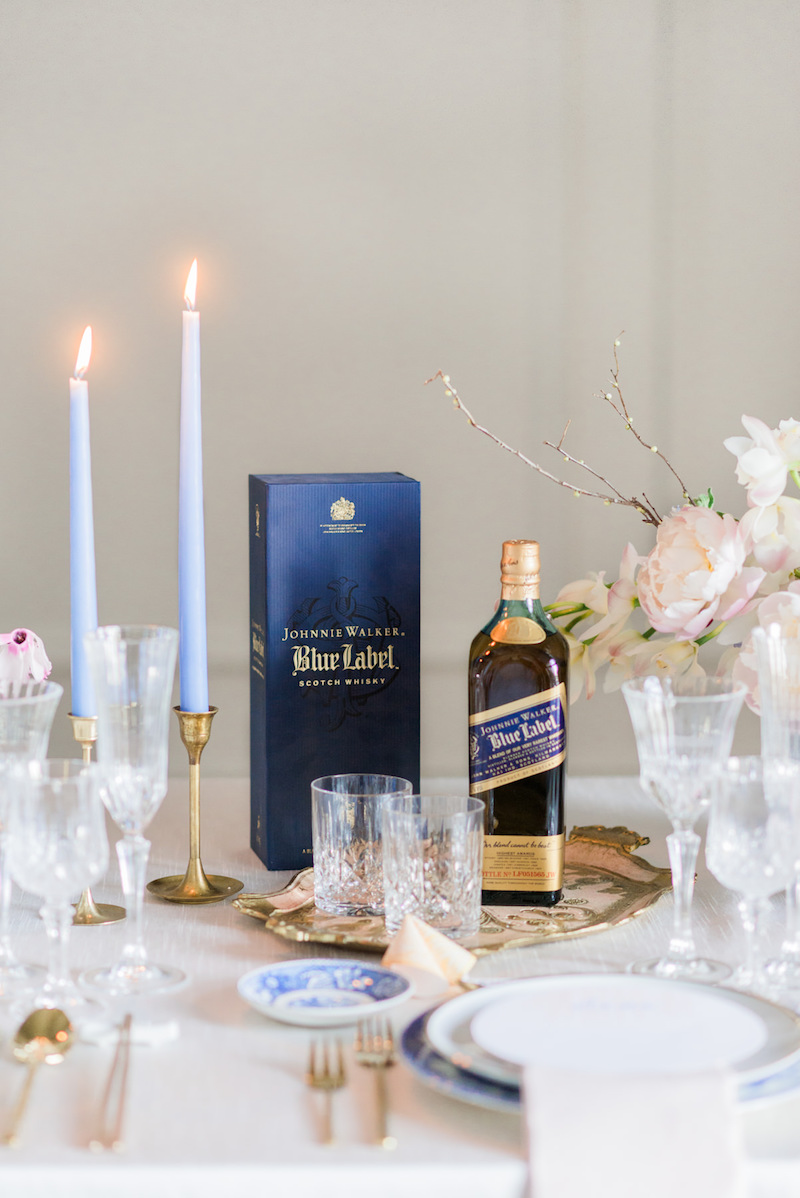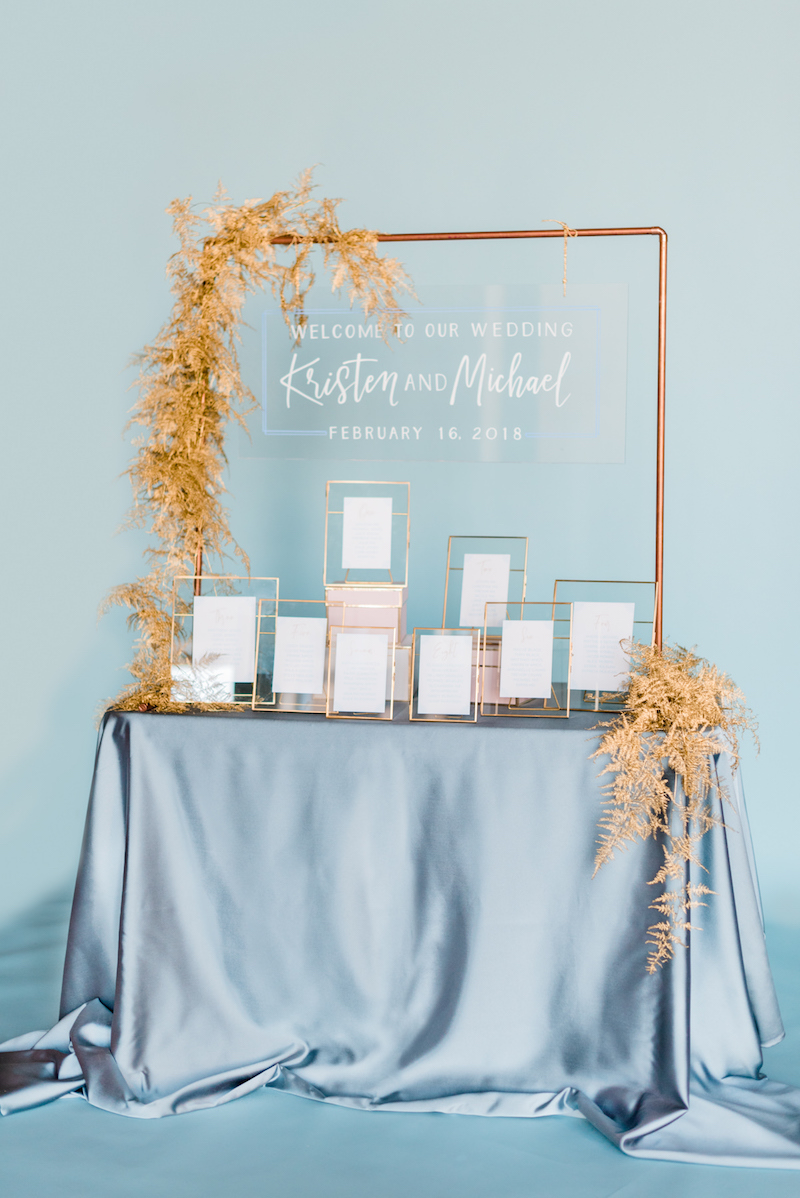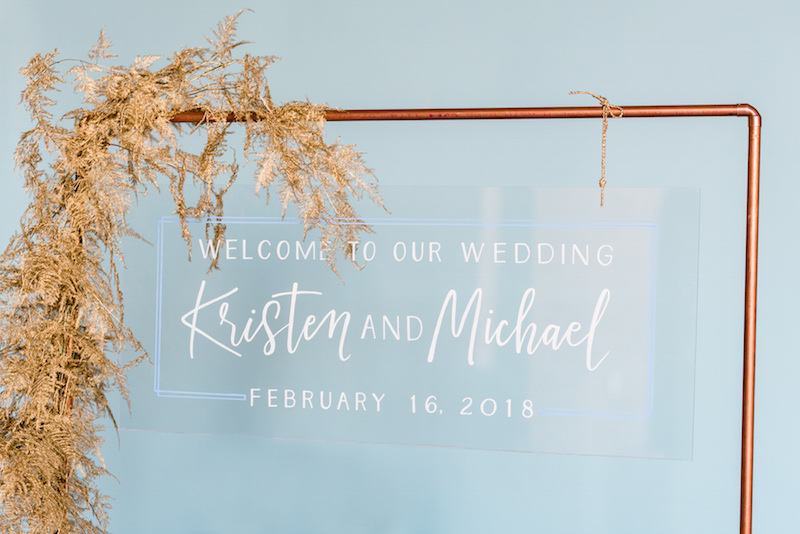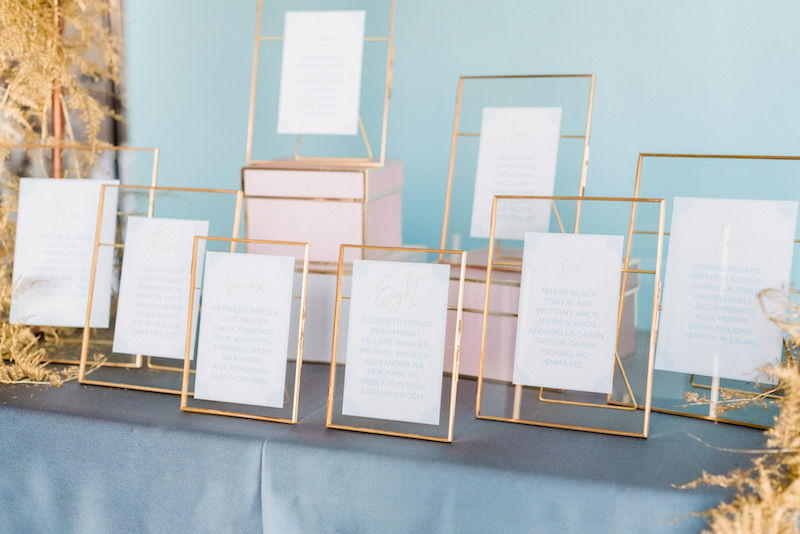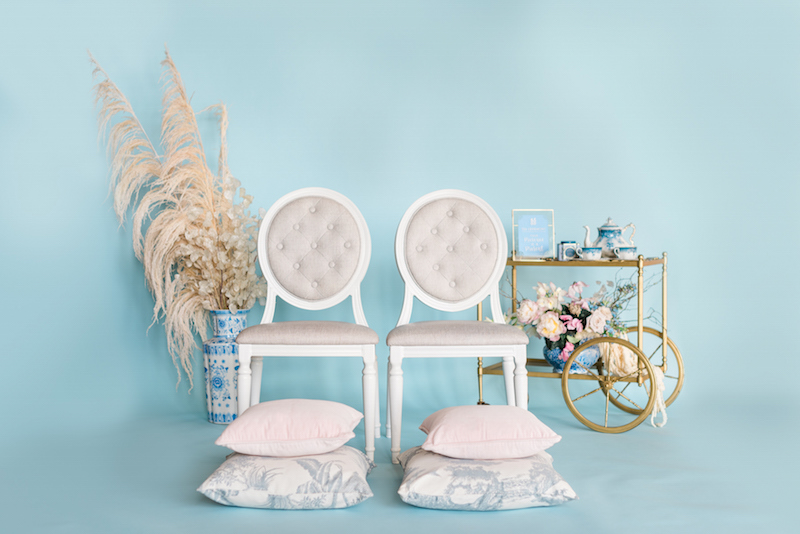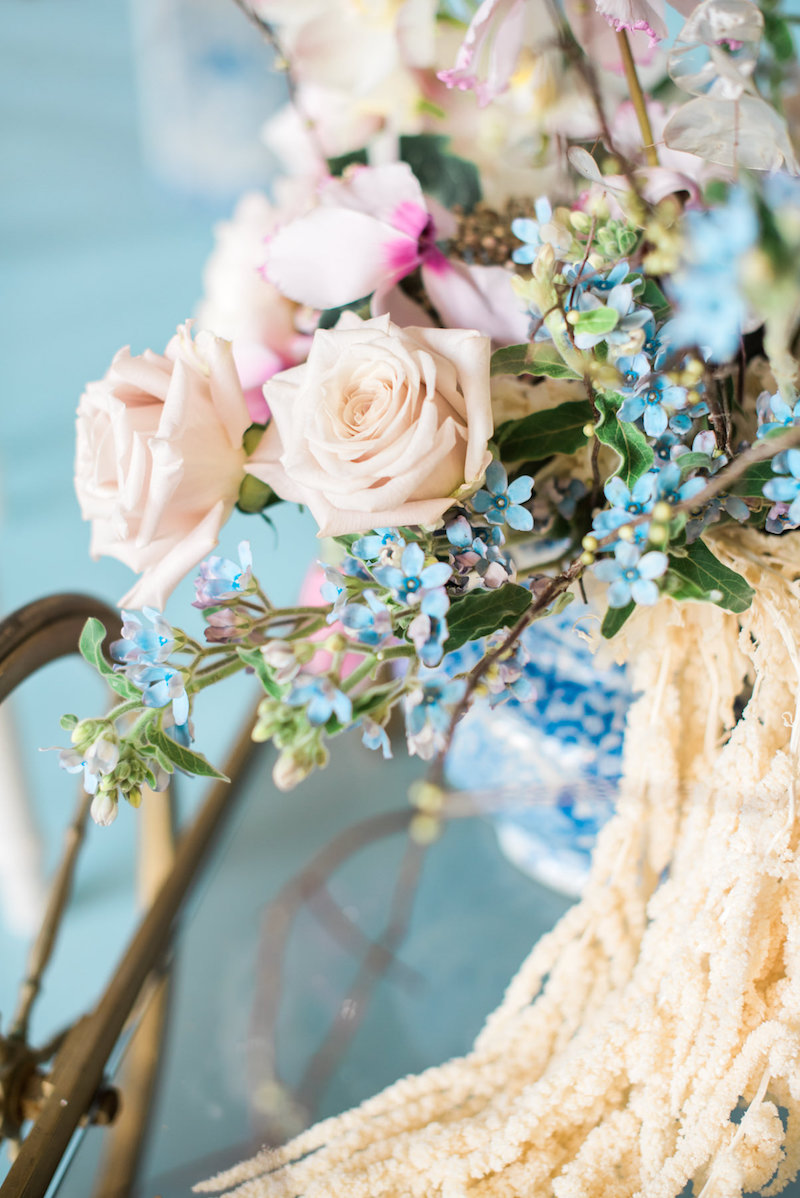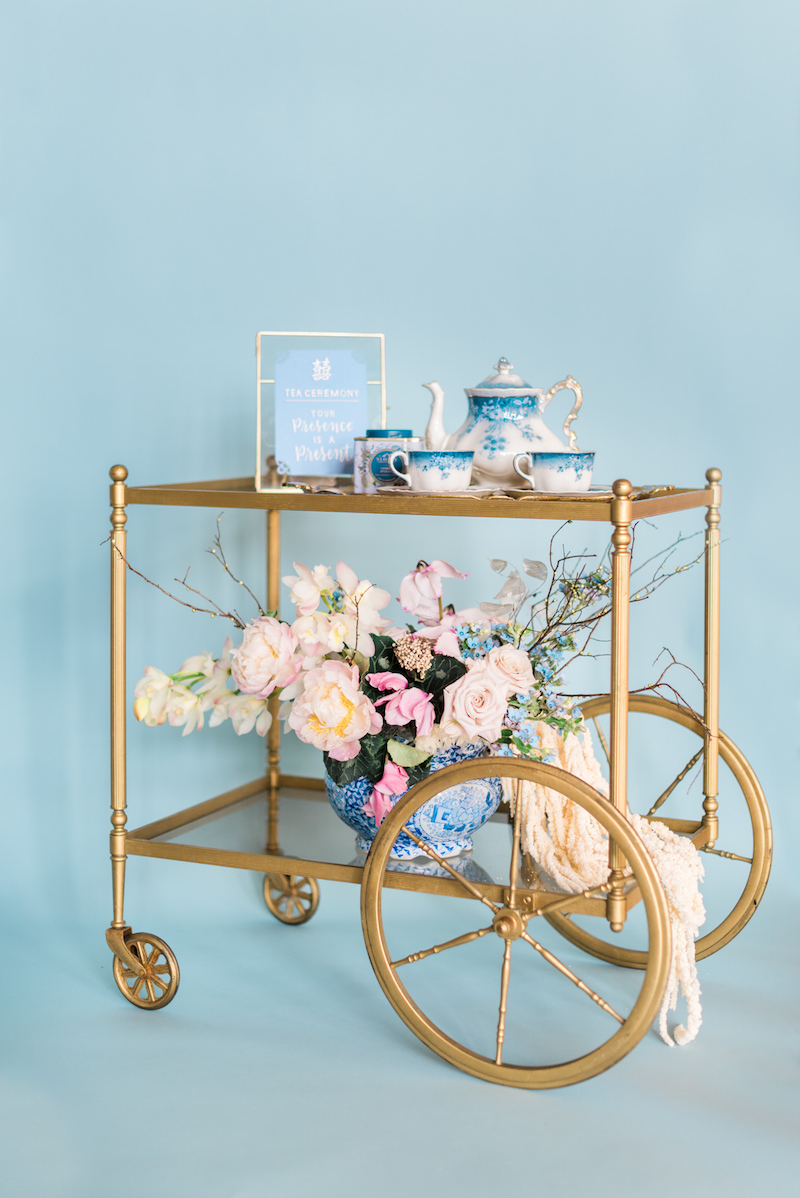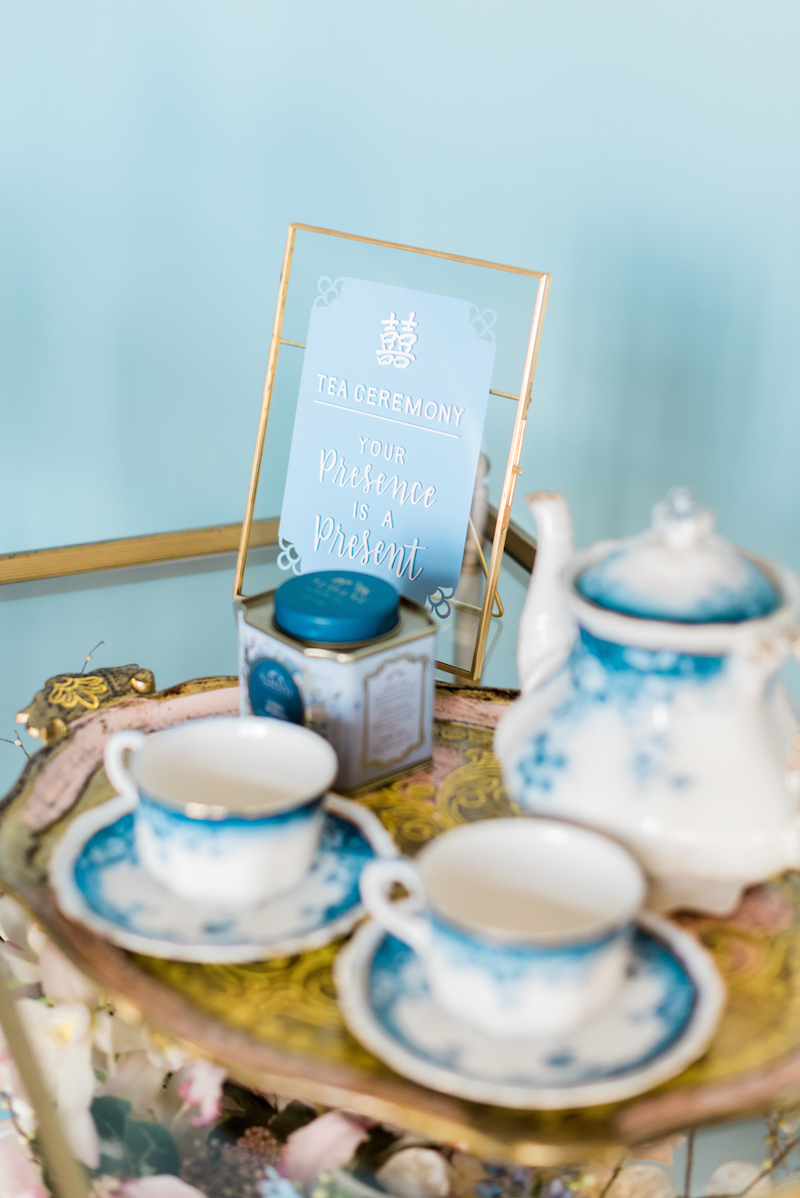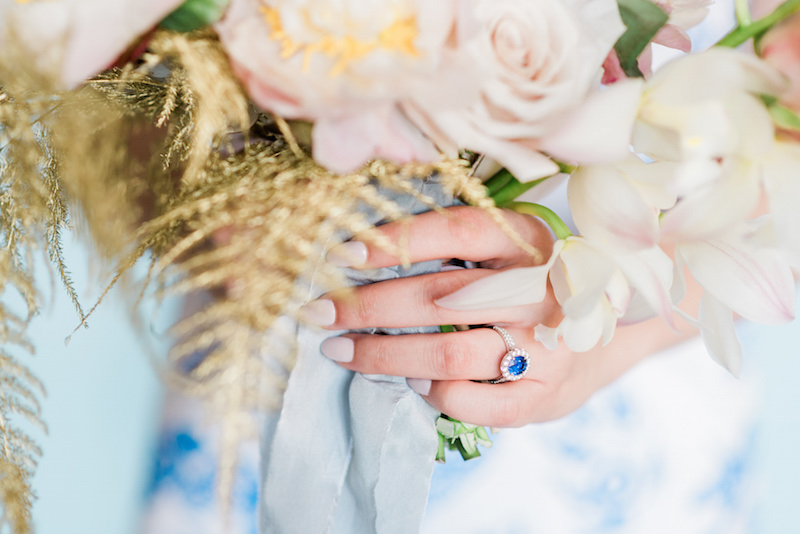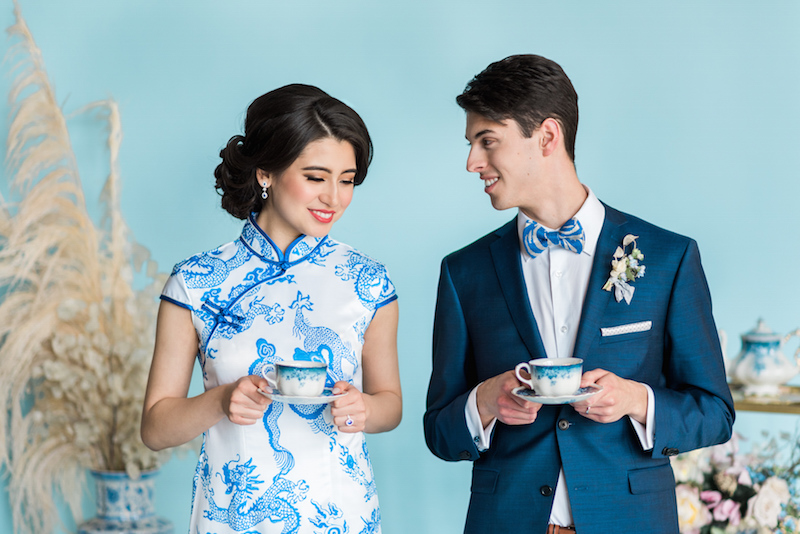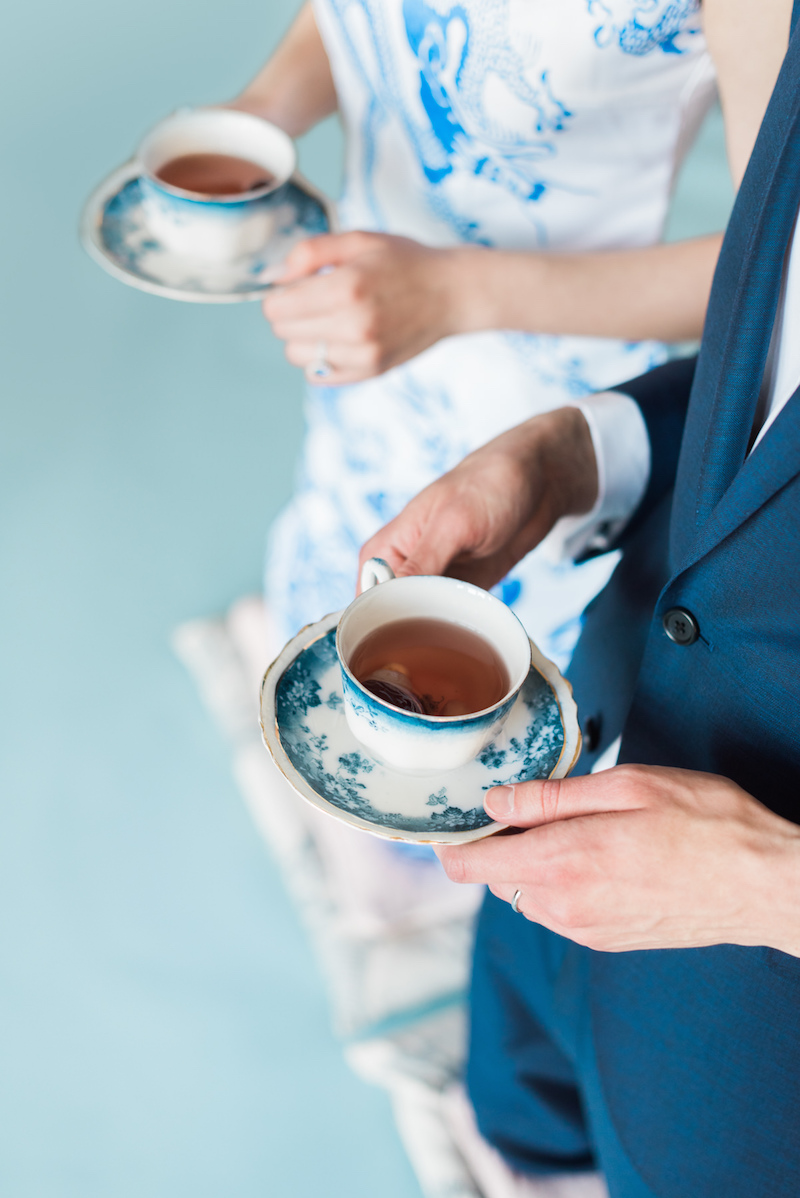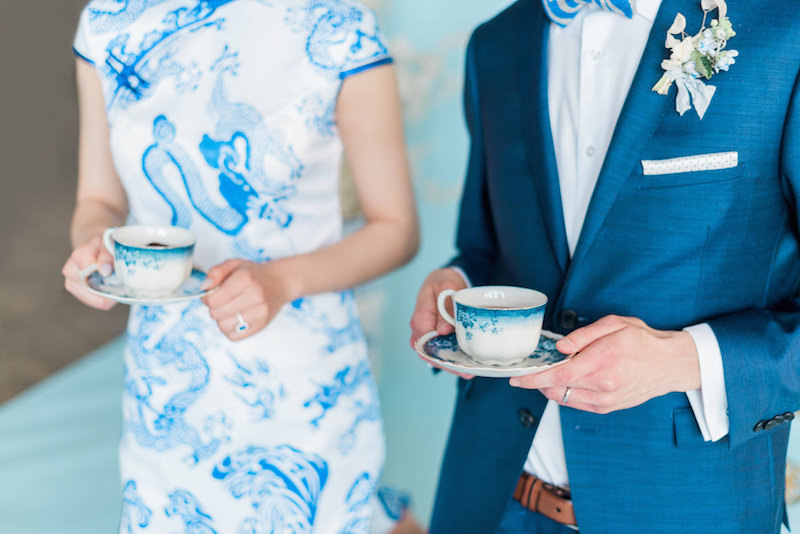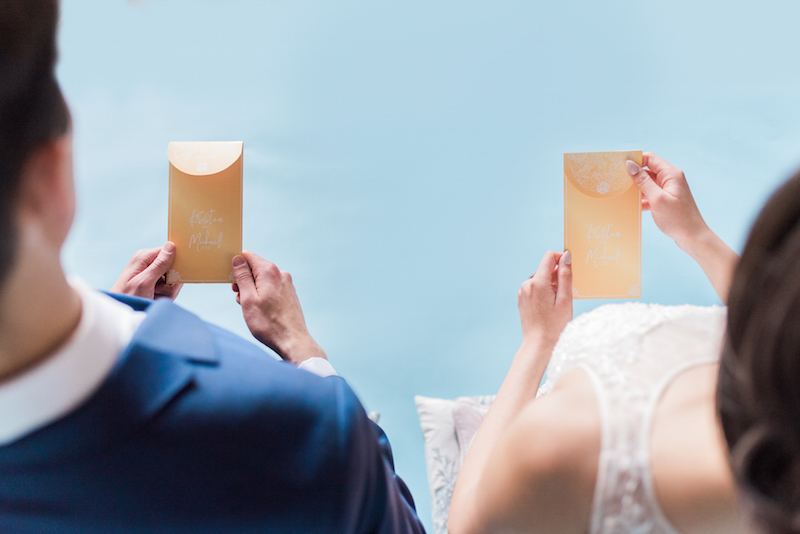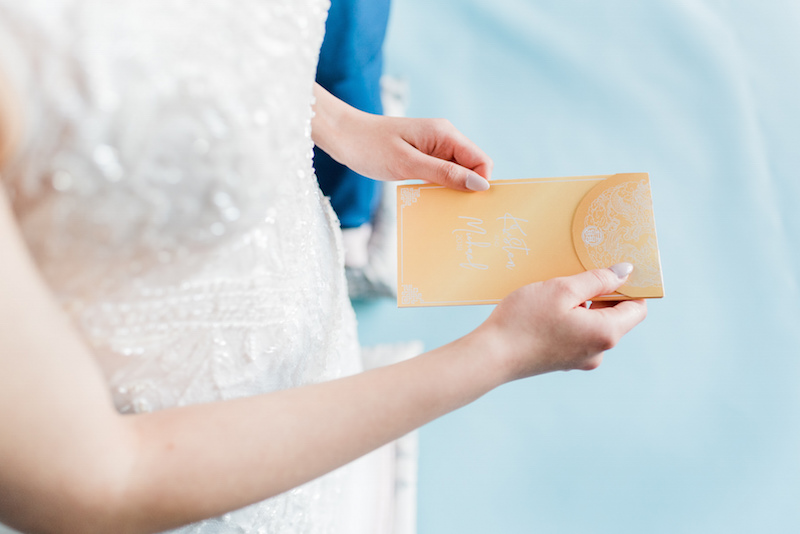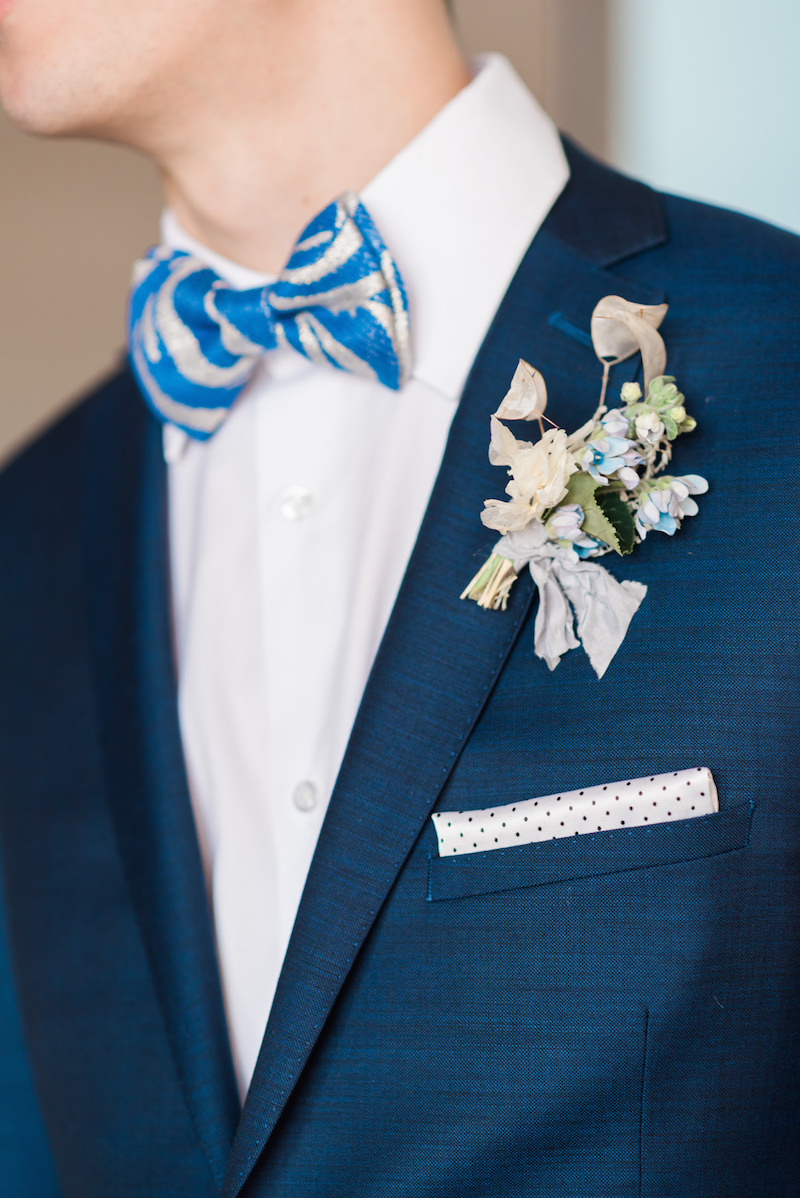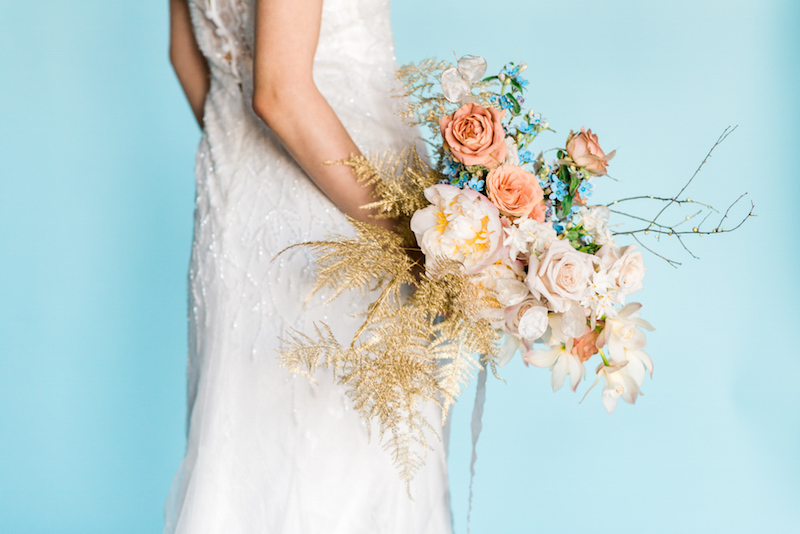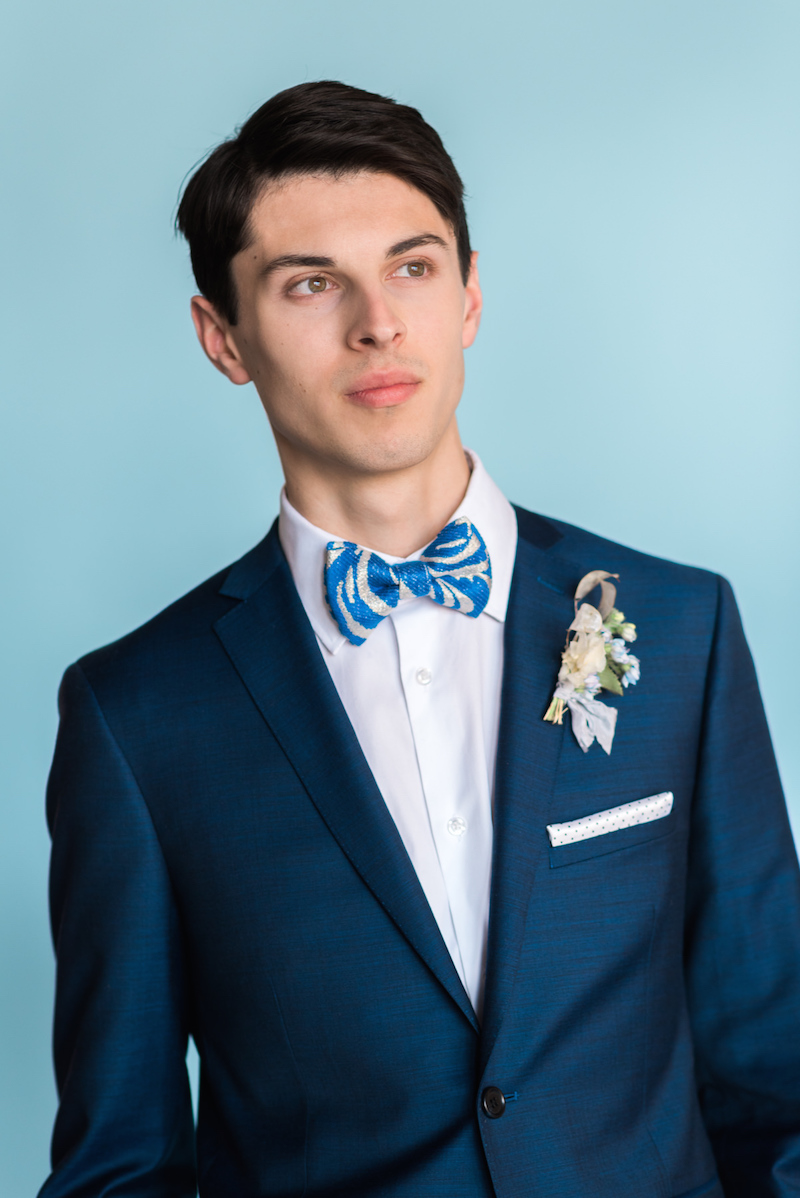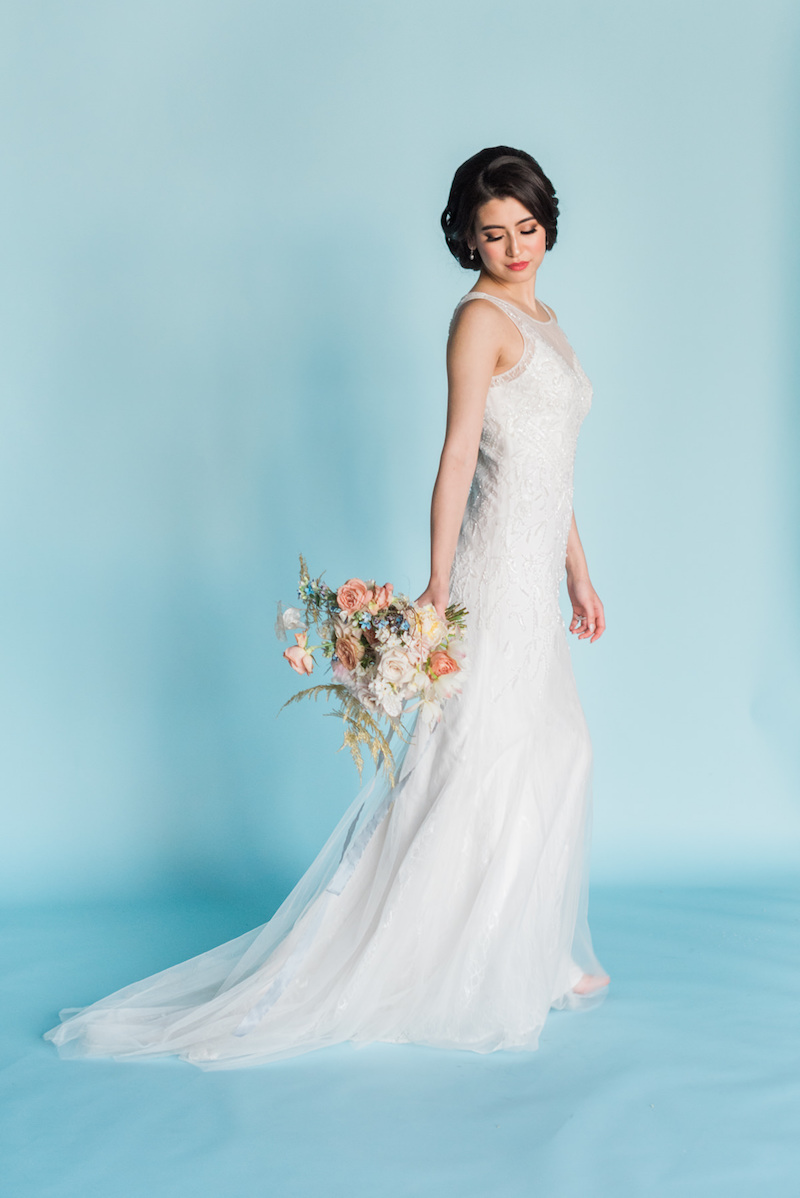 Thank you to the amazing dream team we had. Everyone did a fantastic job and am so proud to have been able to work with such amazing talent!
Please take a minute to watch this short film that SDE Weddings put together!
Vendor Credits:
Co-Creative Director, Producer, Planner & Stylist: Wu La La Weddings & Events
Co-Creative Director, Producer, & Photographer: Pep Studios
Venue: The Arlington Estate
Cinematographer: SDE Weddings
Florist: Leaf & Bloom
Rentals (Sweet Table, Glass Brass Boxes, Copper Pipe, Bar Cart, & Florentine Tray):
Cre8ive Studios
Rentals (Chinaware, Flatware, Glassware, Candle Holders, Chinoise Vases, & Tea Set):
The Perfect Table
Rentals (Custom Cushions, Chiffon Runner, Gold Chopsticks, & Seating Chart Frames):
Wu La La Weddings & Events
Makeup Artist: Fiona Man
Hair Stylist: MonStyleFile
Suit: Wingmen Suits
Male Model Stylist & Bowtie, Pocket Square Accessories: Tytan Ties
Groom's Cufflinks: Diamonboi for Tytan Ties
Groom's Socks: Calvin Klein for Hudson's Bay Company
Groom's Belt: Cole Haan for Hudson's Bay Company
Groom's Shoes: Stacey Adams for Wingmen Suits
Bridal Gown (White dress): Luna Novias for Felichia Bridal
Chinese Traditional Dress/QiPao (Blue & White dress): Forever Love (Pacific Mall)
Bride & Groom's Jewellery: Cynthia Findlay Antiques
Ring Box: The Mrs. Box
Bride's Shoes: Roger Vivier for Holt Renfrew
Table Linens & Napkins: Around the Table Linens
Stationery: Wishtree Invitations & Design
Hand-Lettering Signage (Welcome Sign, Tea Ceremony Sign & Fortune Cookie Place Cards):
Love Lettering by Doris Wai
Models: Icon Model Management