Yes. The holidays! The most merry time of the year! …the holiday bug hit us early this time while we prepared for this fun family photoshoot.
We collaborated with Lucy Chang Photography again and pulled off an amazing two-day filled mini photoshoot sessions for 6 different families. About a couple of years ago, I started these in-studio styled family shoots with Honest Love Project (operated by Sandy Tam Photography, who is now the Owner and Creative Director of Pulp Function). It's different from styling weddings, but still just as much work involved and just as much fun! Last fall was the first time Lucy and I collaborated together for an in-studio styled family photo shoot. We did one Fall themed and one holiday (Christmas at the cottage) themed. These styled mini shoots became such a hit we decided to do it again this year. This season, we wanted to go for a more simplistic look and kept the colours neutral using only white, grey, black and hints of greenery (gotta add some greenery since it's the Pantone colour of the year lol). It was very different from what we styled last year, but I absolutely LOVED the way the sets turned out.
We transformed our studio space completely and offered 3 different rooms: a living room, a bedroom, and a kid's room.
Let's talk about the kid's play room. This was probably the easiest set to design. I just adore anything 'mini'. The look was inspired by this kid's sofa (found from Homesense!). When I saw this piece, I knew I had to have it and everything just came together from there. There are 3 amazing vendors that participated in this shoot, that I just have to give a shout out to!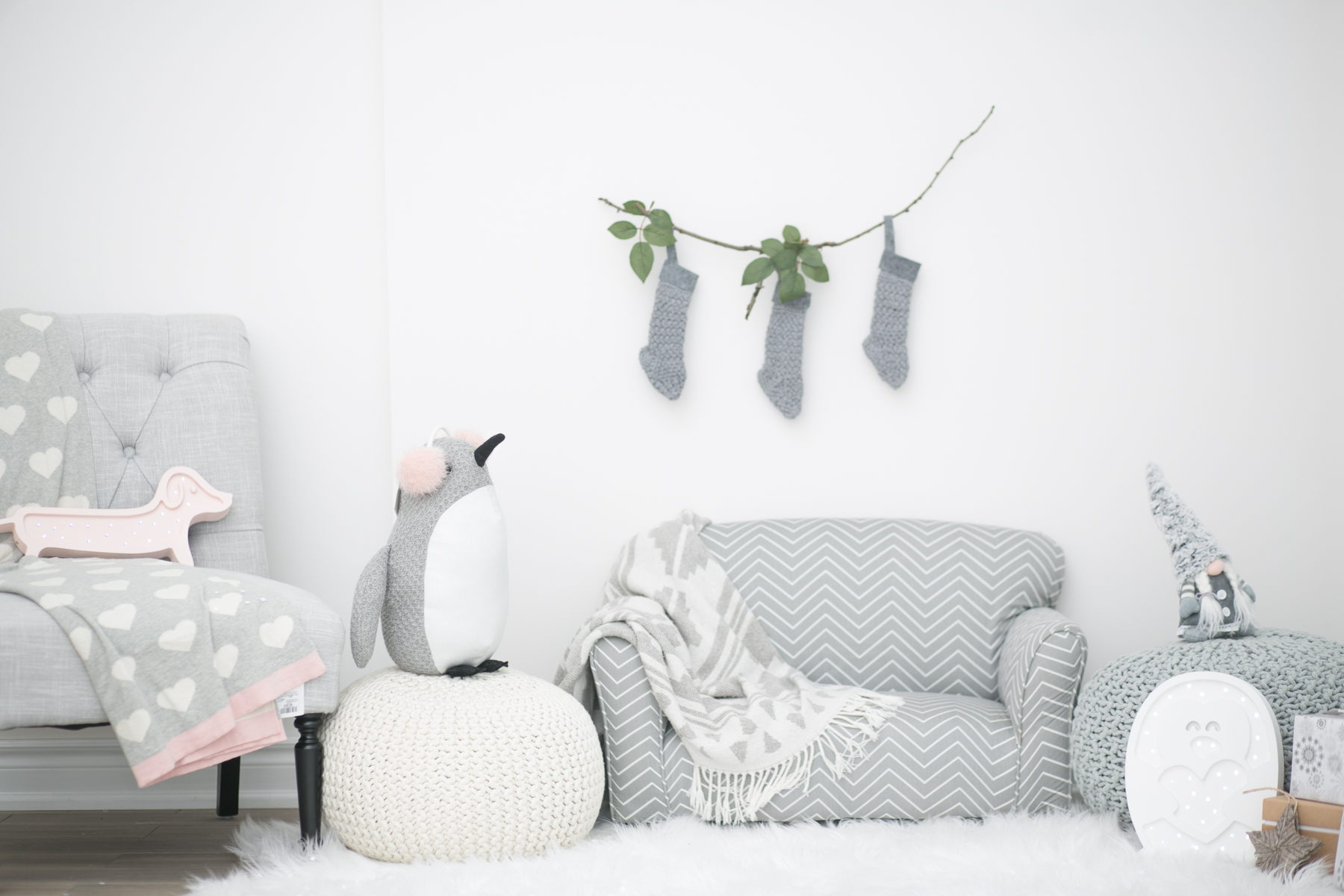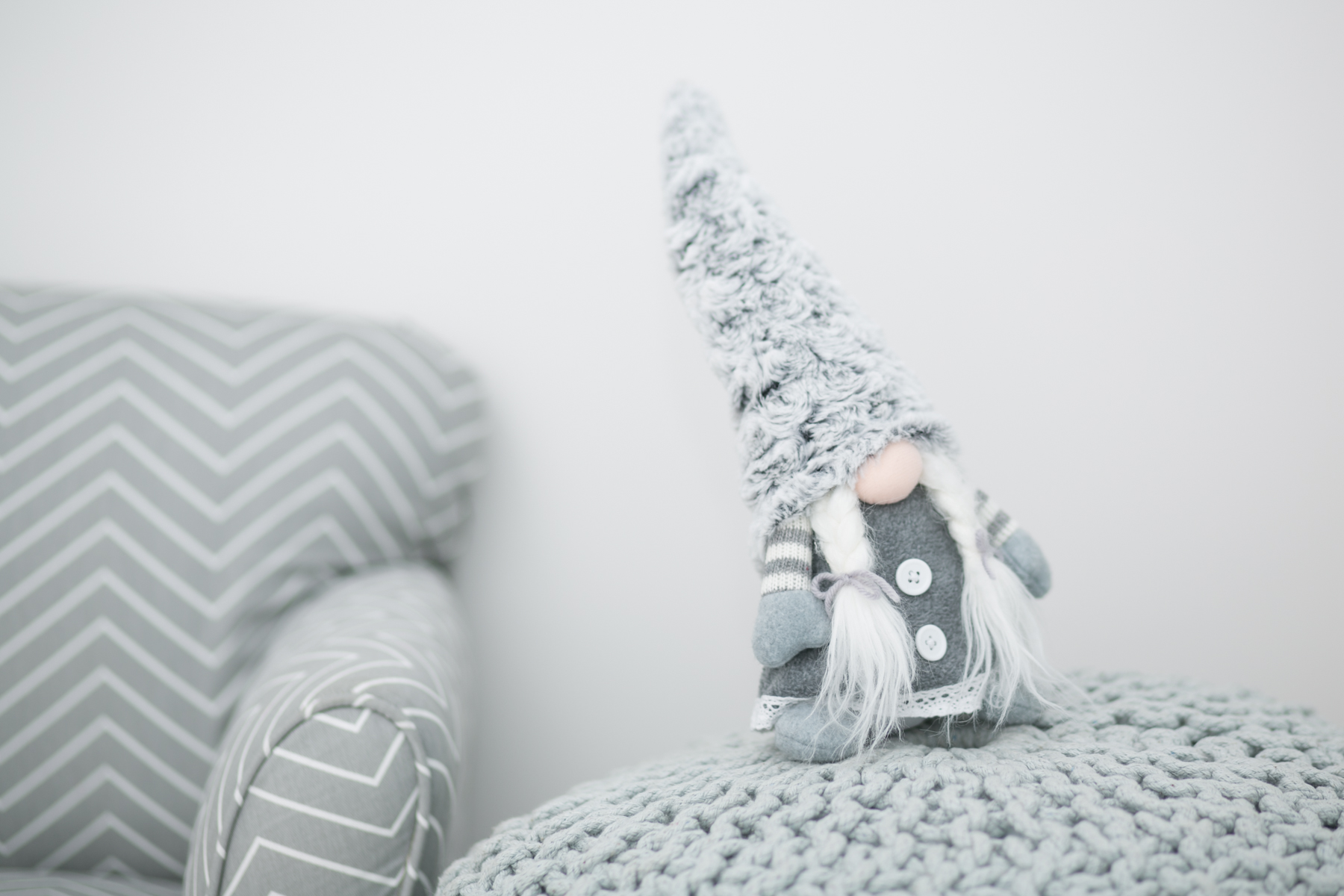 The mini stockings hung on the wall were handmade by my friend, Carrie Chan. She is incredibly talented and does custom crochet orders on the side! She also made my knee warmers last year! Send me a message if you're ever interested in getting something custom knitted/crocheted.
This look is super easy. We picked up a couple of branches from the backyard, used some twine to tie it together, hung the branch using fishing wire and 3M Command Brand "Damage Free" hooks, and just added a couple of silk leaves for that extra touch of greenery. It's a great way to still hang stockings if you don't have a built-in fireplace at home.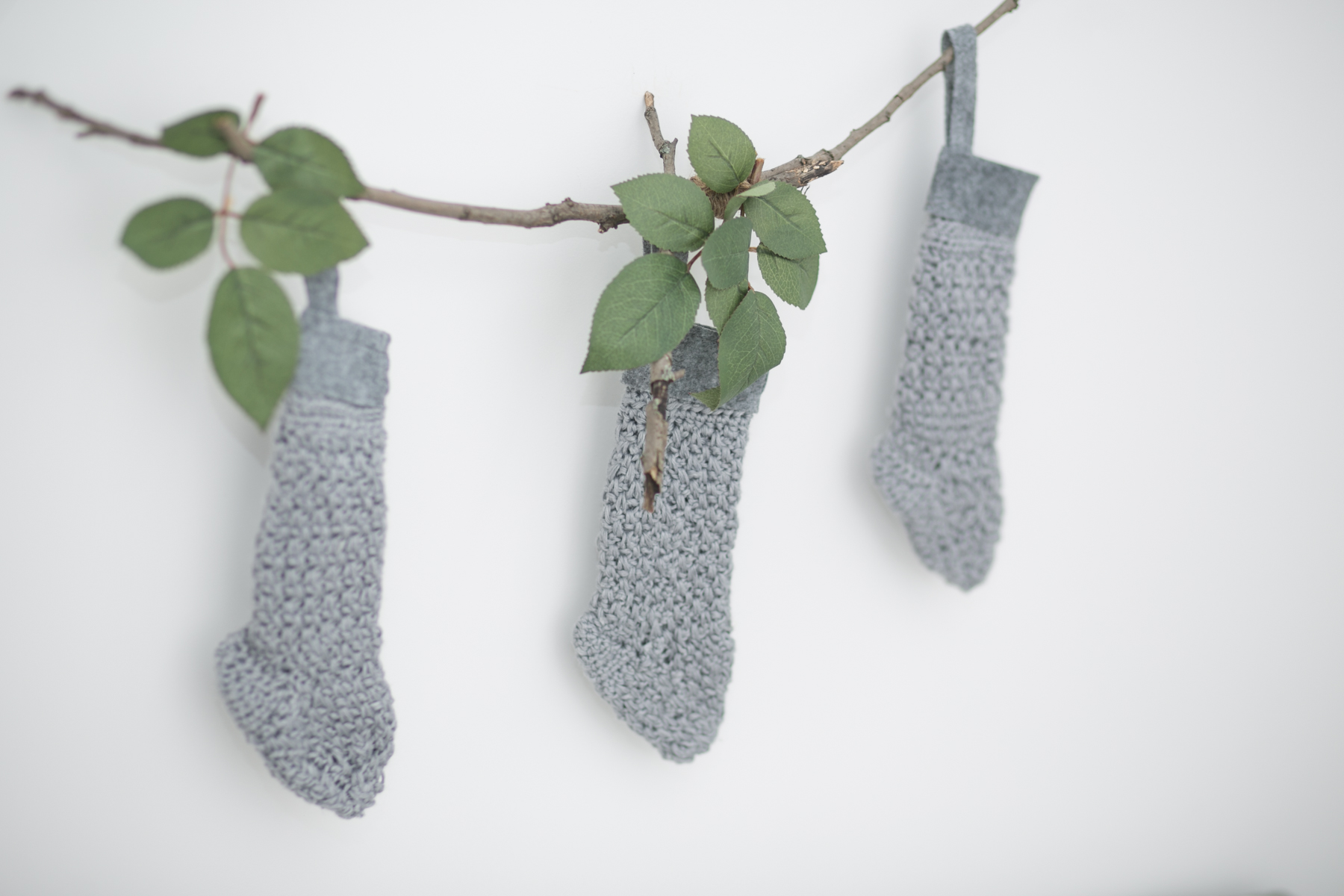 The fake presents I used wrapping paper from Creative Bag Co. I just love this store so much! It's like Michael's Craft Store, but less expensive and they sell in bulk. Every time I walk into this store, I'm inspired so I knew this would be the place to find the right wrapping paper I needed. I picked up some ribbon and wooden ornaments for embellishment. If you've been following my Instagram page, I'm sure you've seen I have an obsession with gift wrapping! Anyone want their Christmas gifts wrapped by me? 😉 Check out their blog too for some great ideas and tips for holiday wrapping: http://blog.creativebag.com/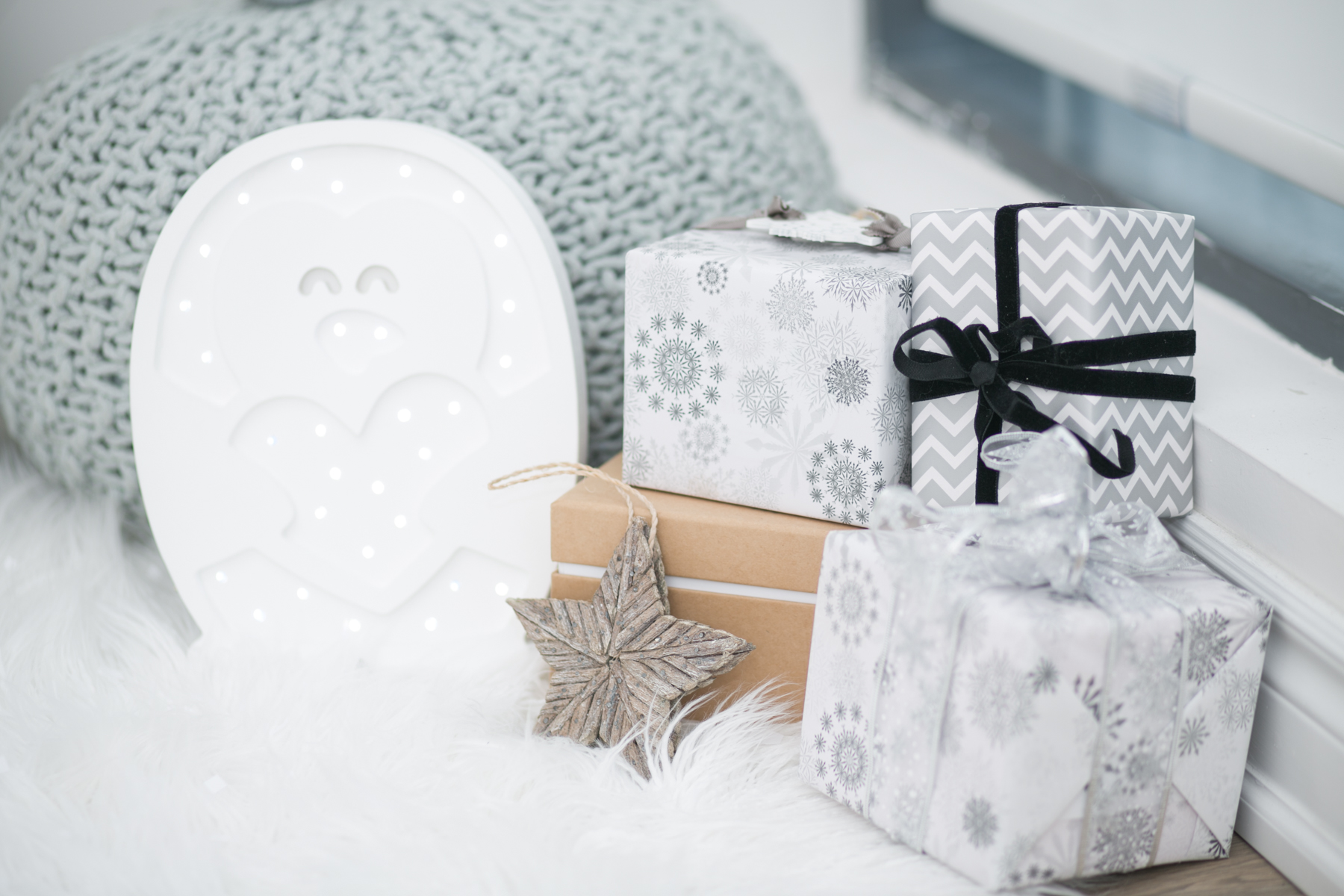 Last but not least, our friends at Pulp Function graciously sponsored 3 marquees for this shoot. A Dachsund, Penguin, and Cloud. Pulp Function offers a variety of Marquee Art for nurseries/kid's rooms as well as letters you can rent for weddings. The Dachshund and Penguin go for $190 CAD each and the Cloud is $180 CAD. Check out their website for more details: https://pulpfunction.com/. They'll be at the One of a Kind Christmas Show from November 24th to December 3rd so if you're going to the Show, make sure to stop by their booth! It's always such a pretty site with all the marquees lit up! I know I'll be there for sure!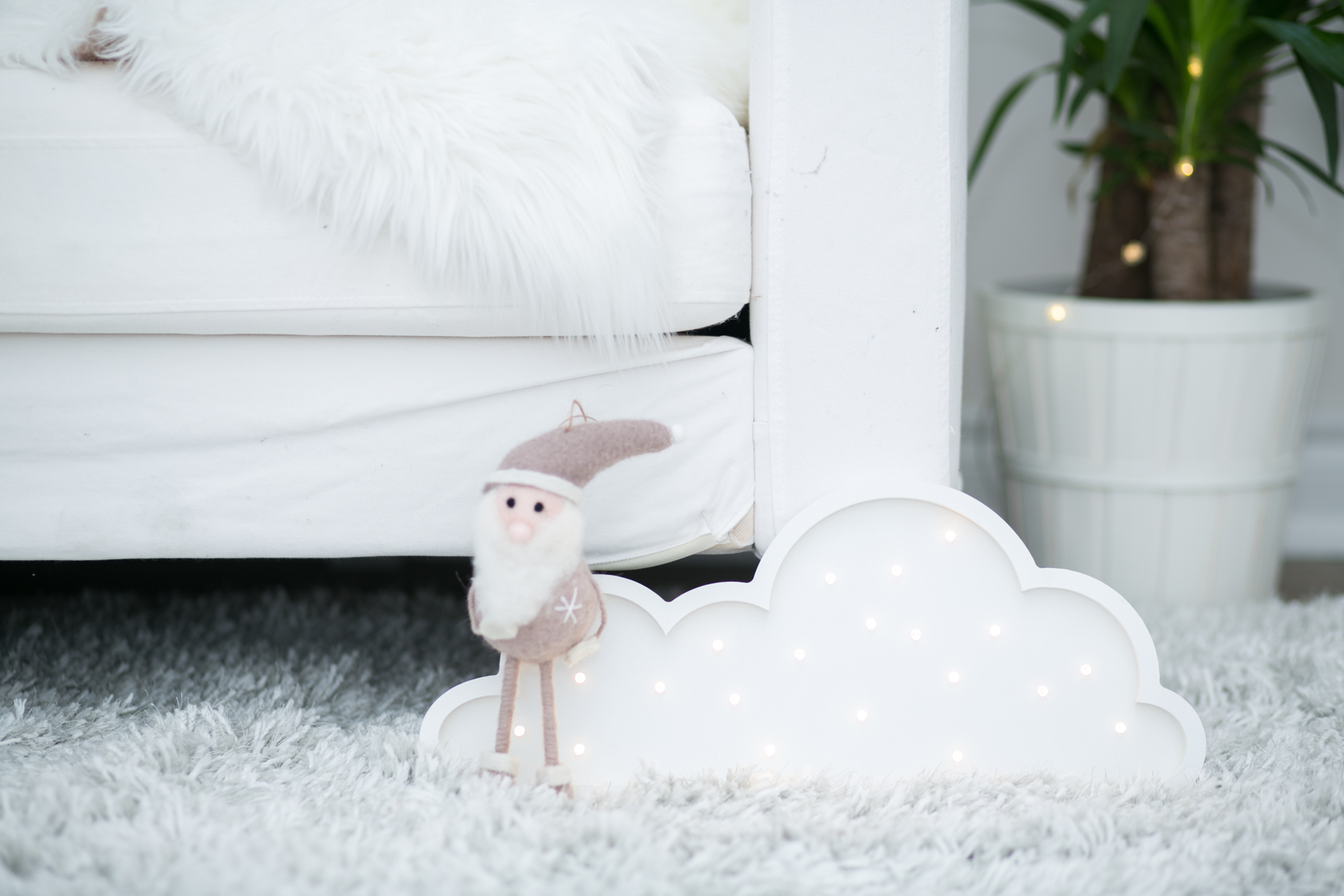 Next is the bedroom set. Our super cozy comfy bedroom! We really wanted to keep this look super simple and easy while offering inspiration for your own home decor. If you're on a tight budget and don't necessarily want to spend on a bed frame, that's totally fine! Just plop the mattress on the floor and use some washi-tape to outline a 'headboard'. I love incorporating tons of pillows and large cushions! (just ask my husband!) The large pillows will also work as a nice 'headboard' cushion. We used Scotch Brand Products washi tape in solid matte black, but you can use any colour/pattern you like. We simply free-hand the design and it's so easy to do it yourself. We used up almost 1 roll of the washi tape (10m worth). One roll costs $3.19+hst at Staples!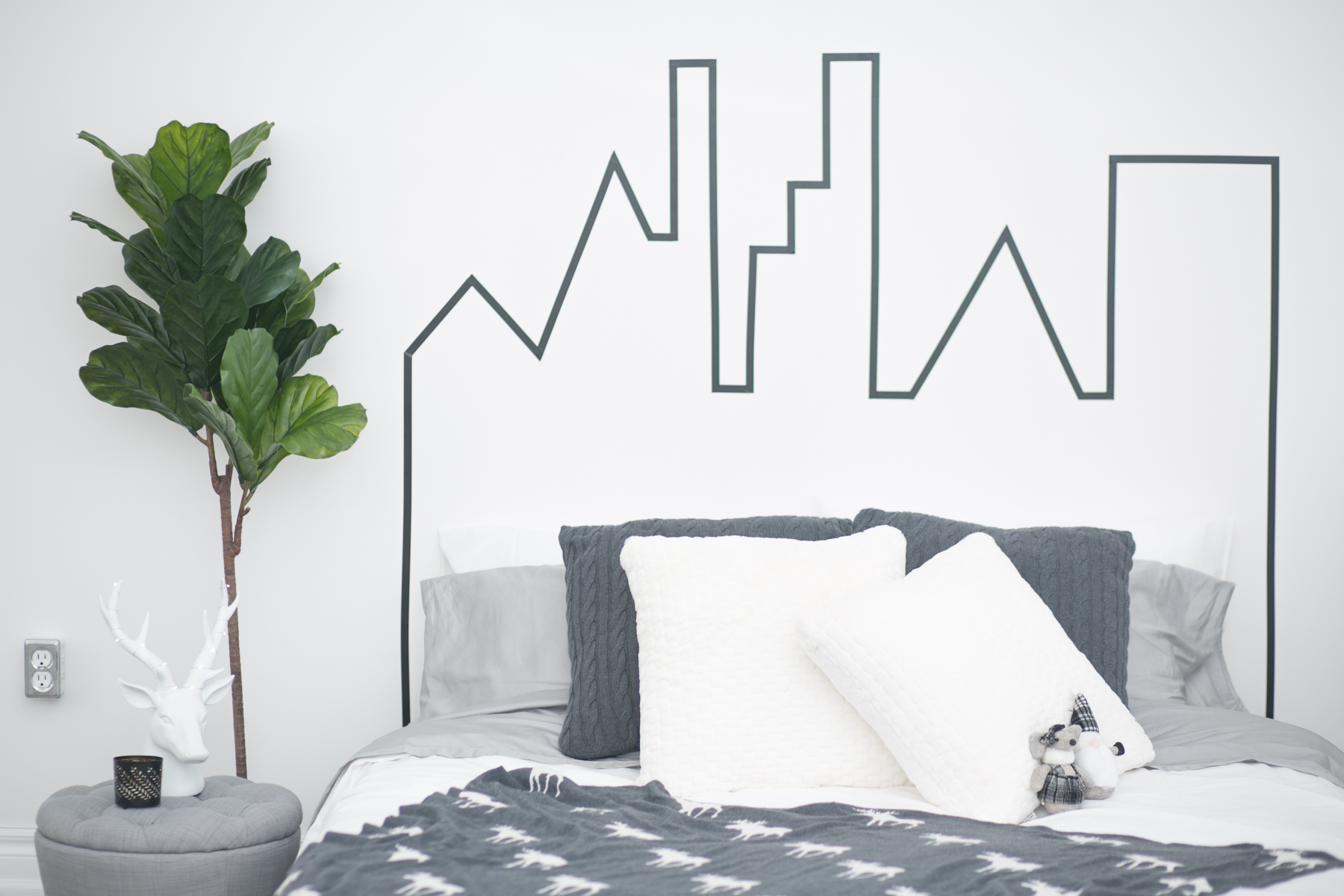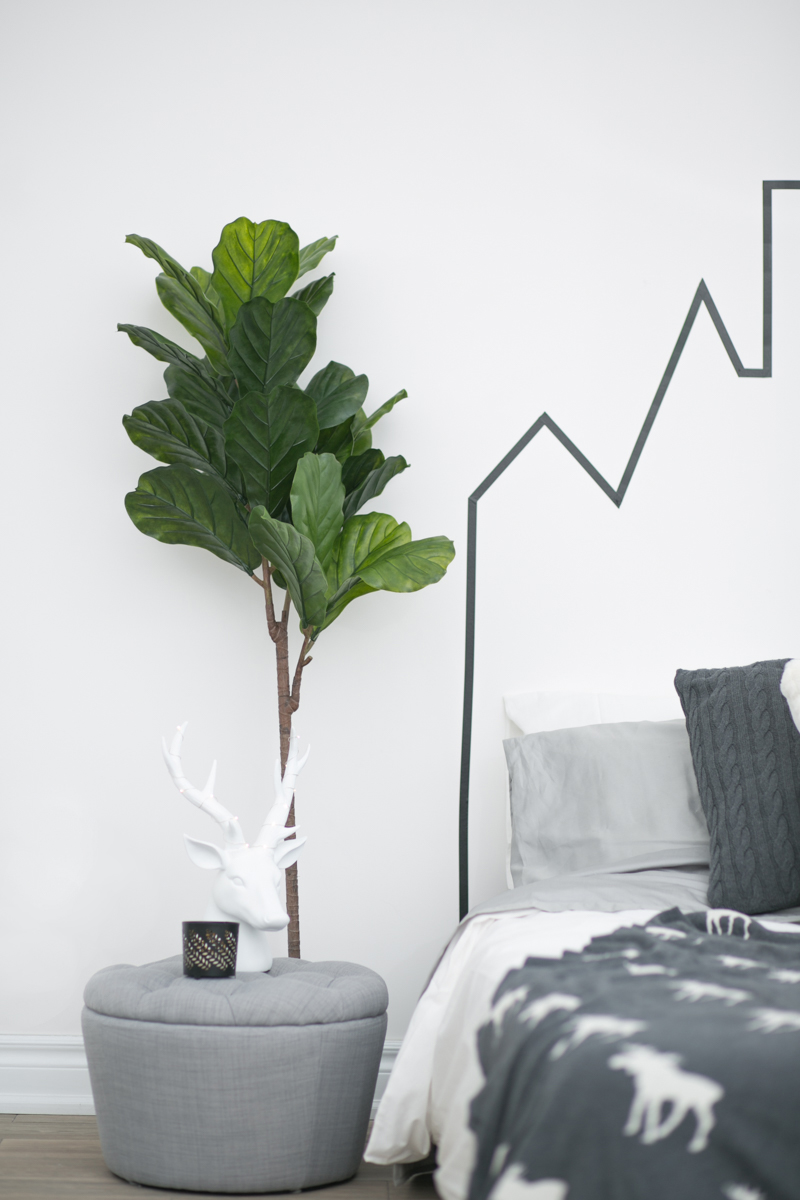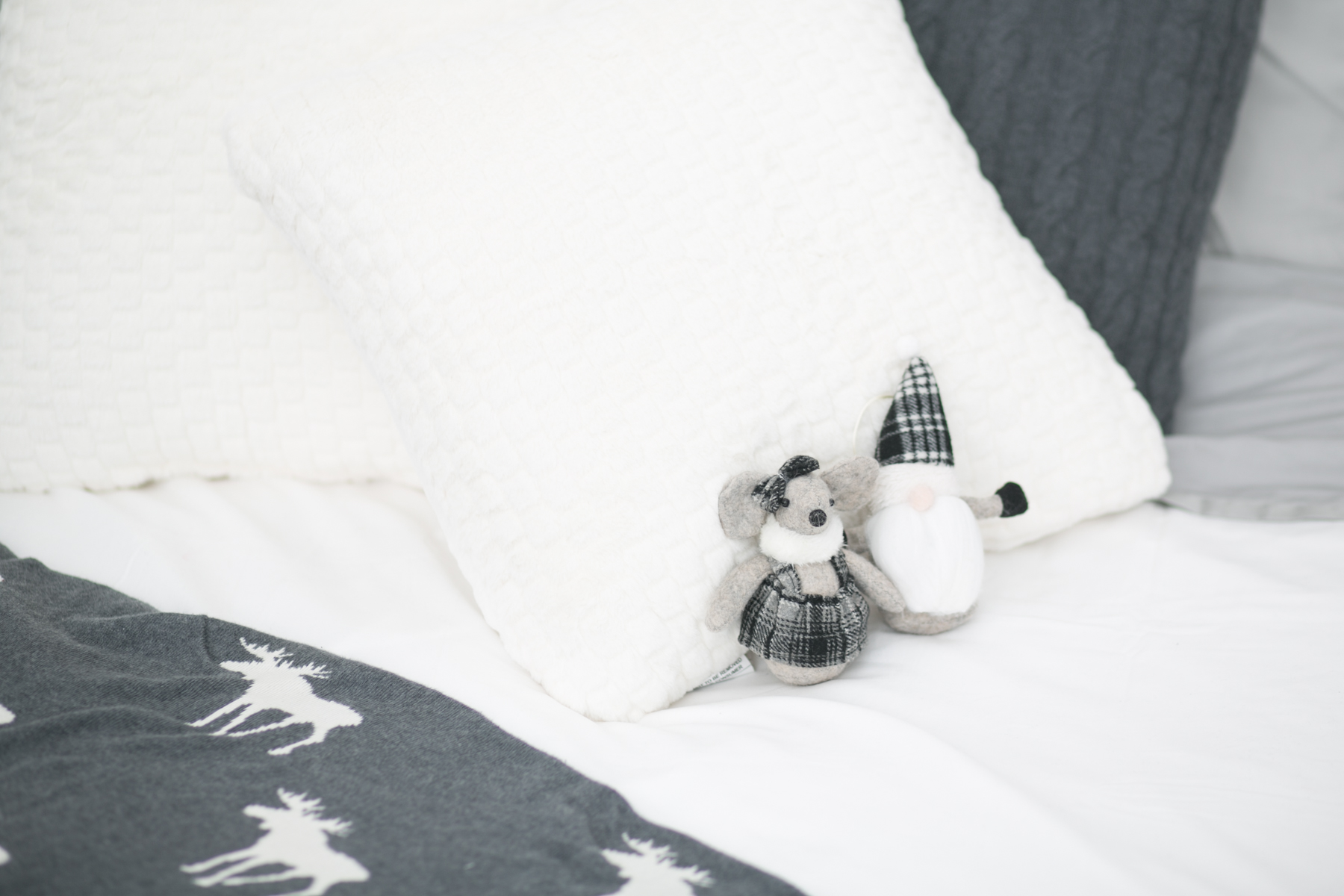 Lastly, the living room set. Honestly, this was a bit of a challenge to set up.
Originally, I wanted to use black wooden frames, but couldn't find any in the dimensions we wanted. We wanted squared frames. As I was making the cityline headboard for the bedroom, a lightbulb just lit and an idea went off my head; "hey, why don't we use the same washi tape to make the frames!" Is it funny that I was inspired by my own inspiration? So that's what we did. This is definitely a two-person job and lots of math involved (haha!)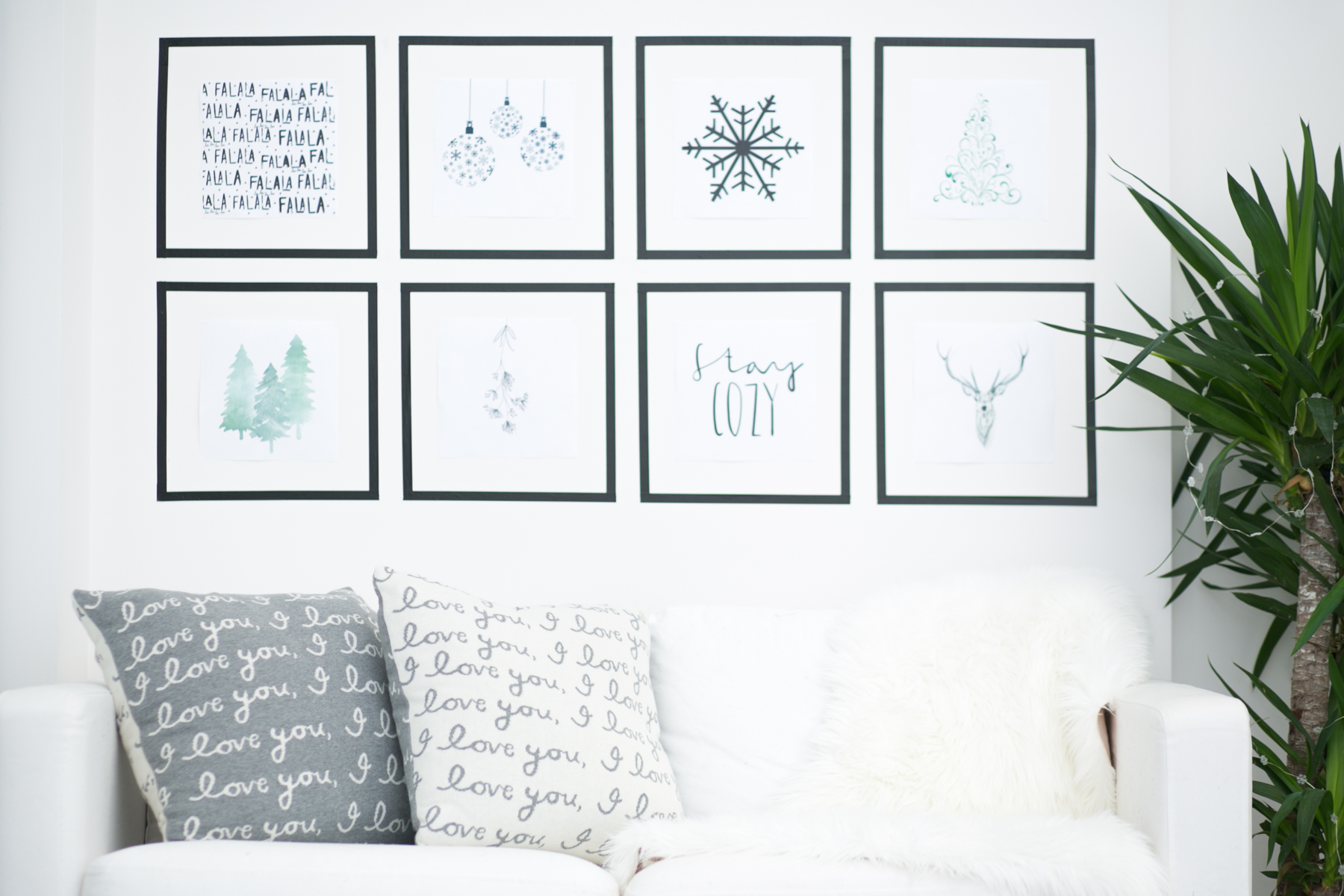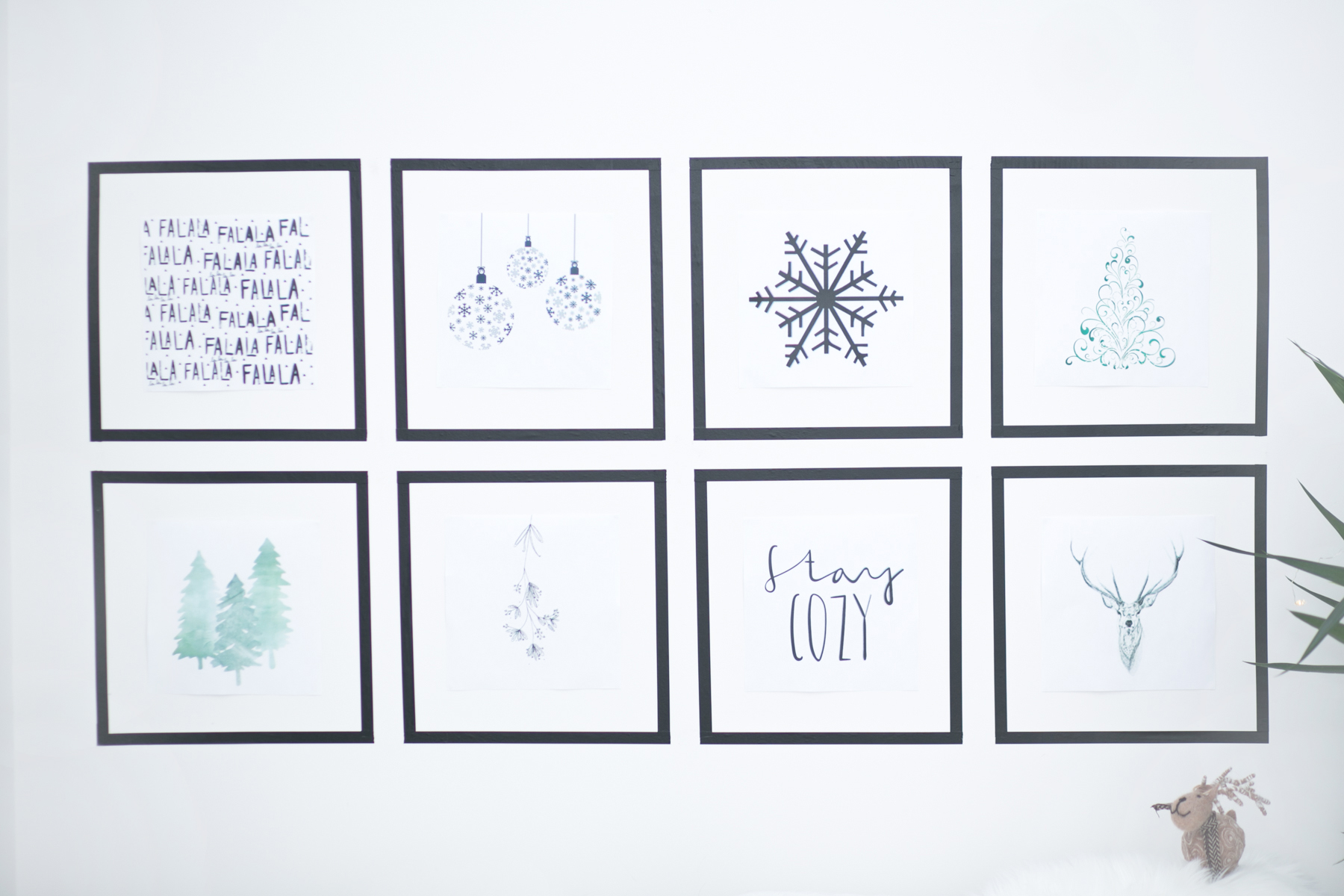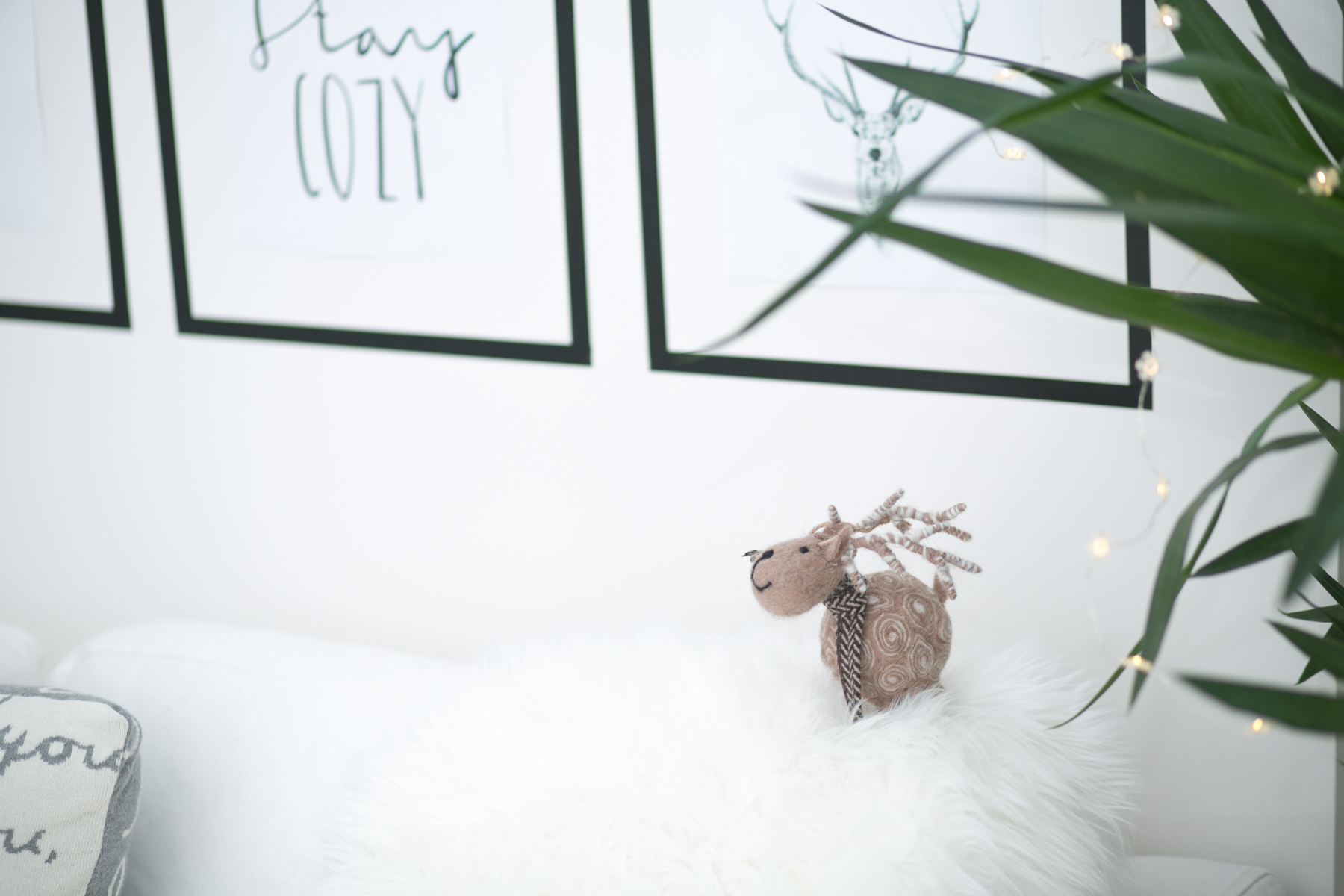 1. We measured the total width and height we wanted to cover and marked the corners with a pencil. Then we divided it into 4 sections for the frames and the spacing in between.
2. We made 4 horizontal lines. It was tough to get this perfectly straight even with two people, so you may consider having a third person to stand from afar to help visualize.
3. We made 8 vertical lines.
4. Once we got out boxes, we had to cut off the the strips that connected each frame. We had to be super careful with this part as you don't want to damage the wall nor the washi tape.
5. Then we placed our drawings in the center of each 'frame'.
Tip: It helps to do a mock up drawing on paper first and write down all the measurements for the spacing. I wouldn't suggest to do this freestyle. (Sorry, I should have kept our sketch to show you!)
I hope you enjoyed this post. I want to say THANK YOU to all the families that came out for this shoot – I had an amazing time playing with all your kids! Here are some of our favourite photos from each shoot. Each family is so different, but one thing definitely stays the same and you can see it in all the photos: it's the unconditional love they have for each other!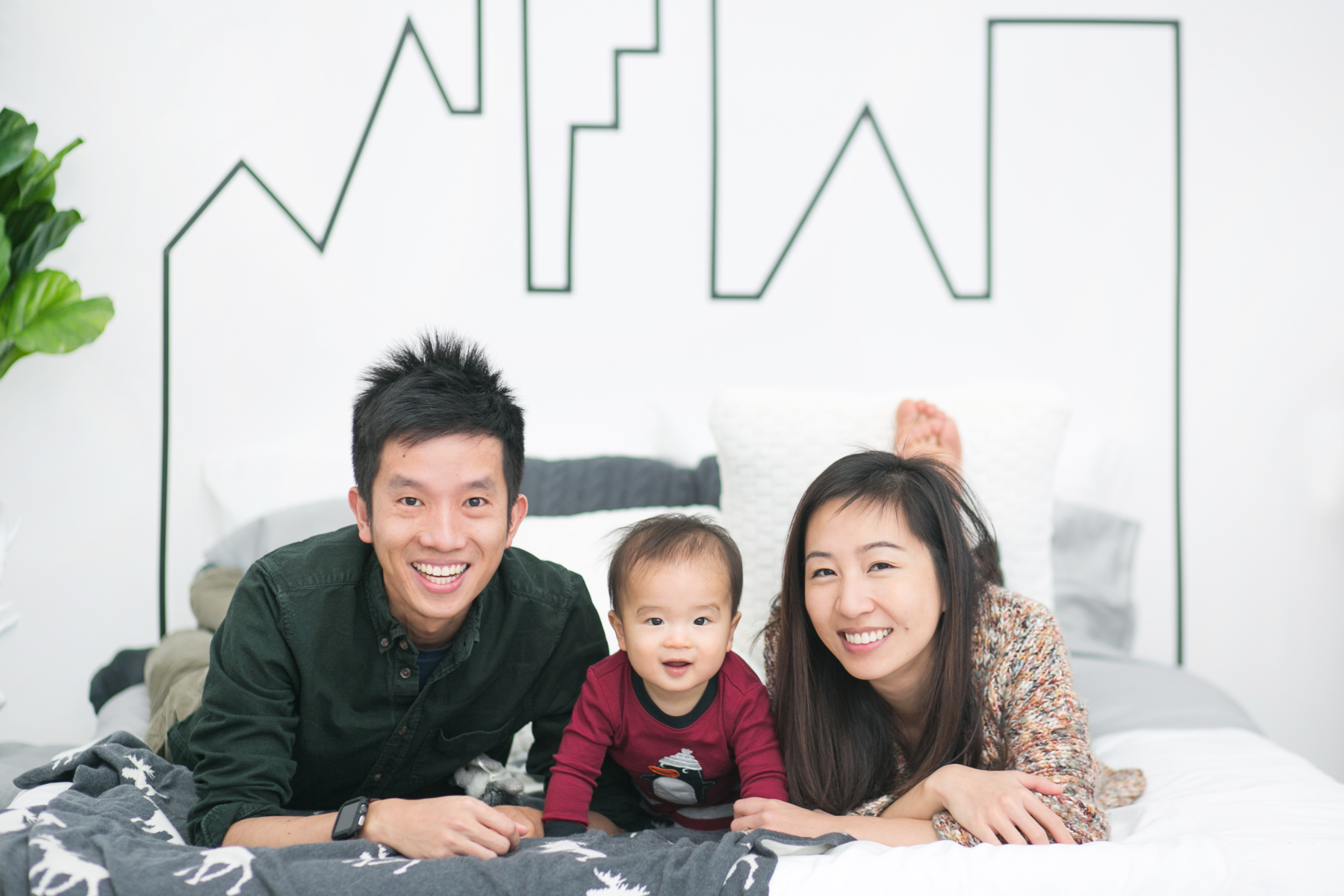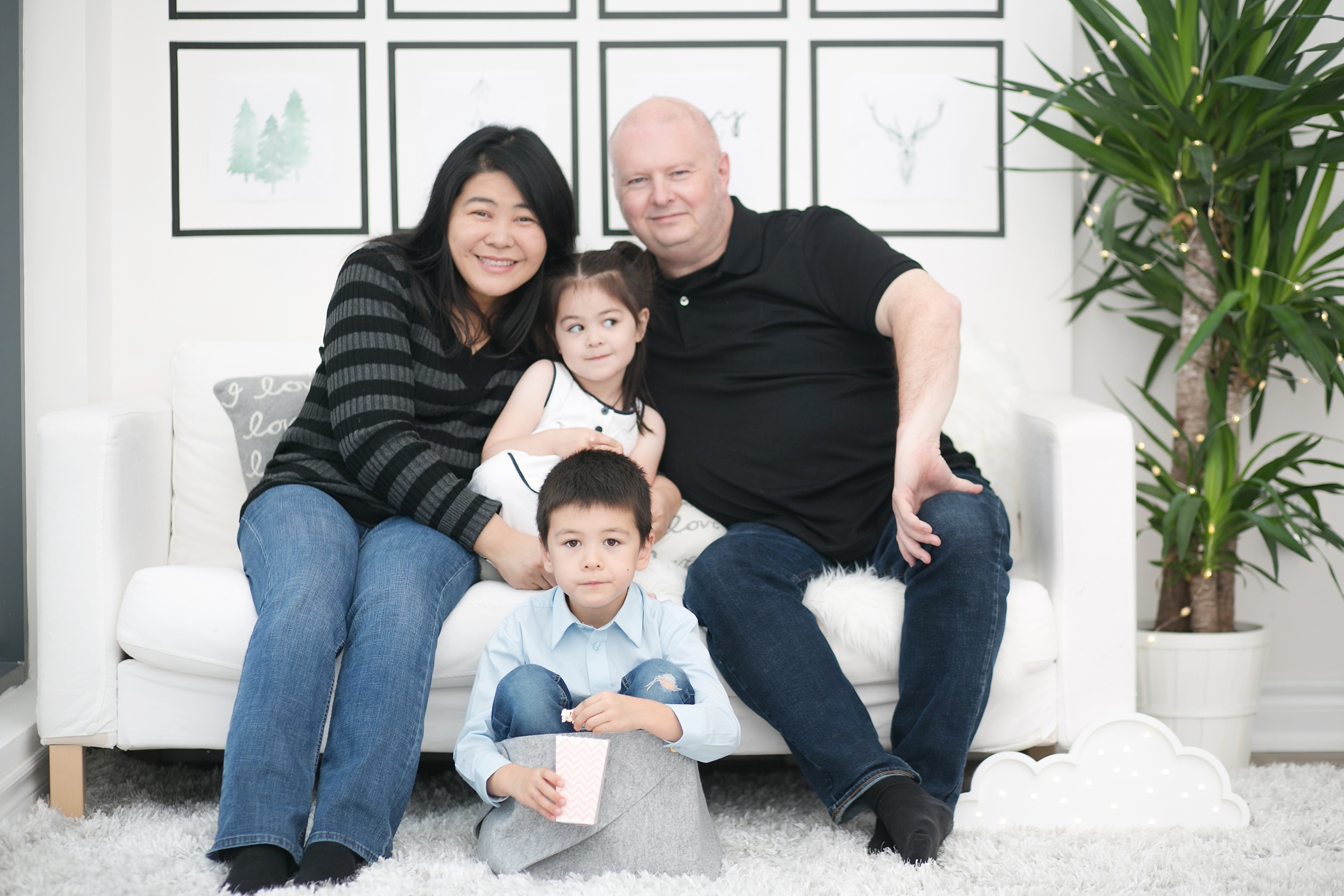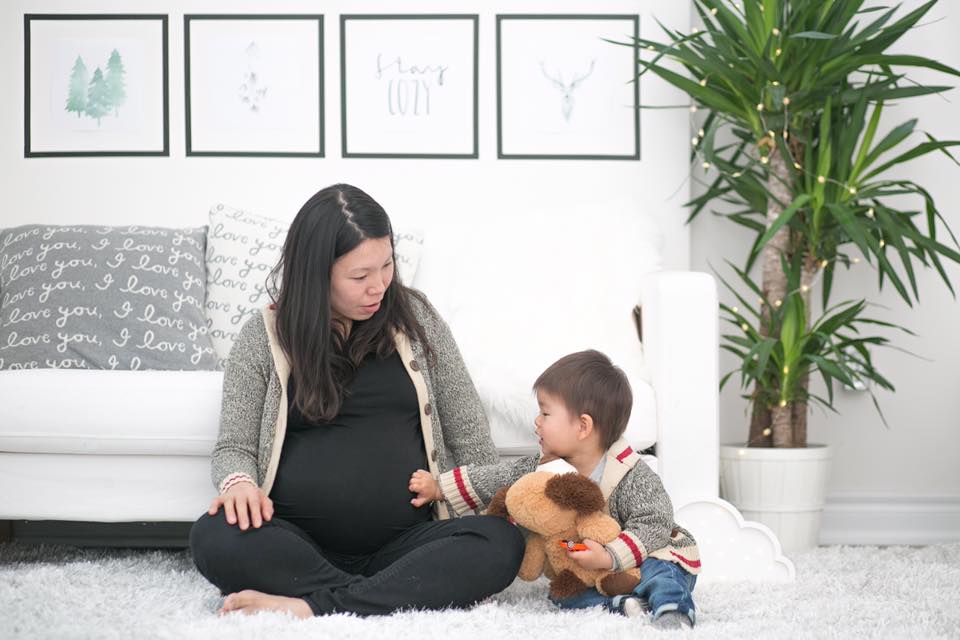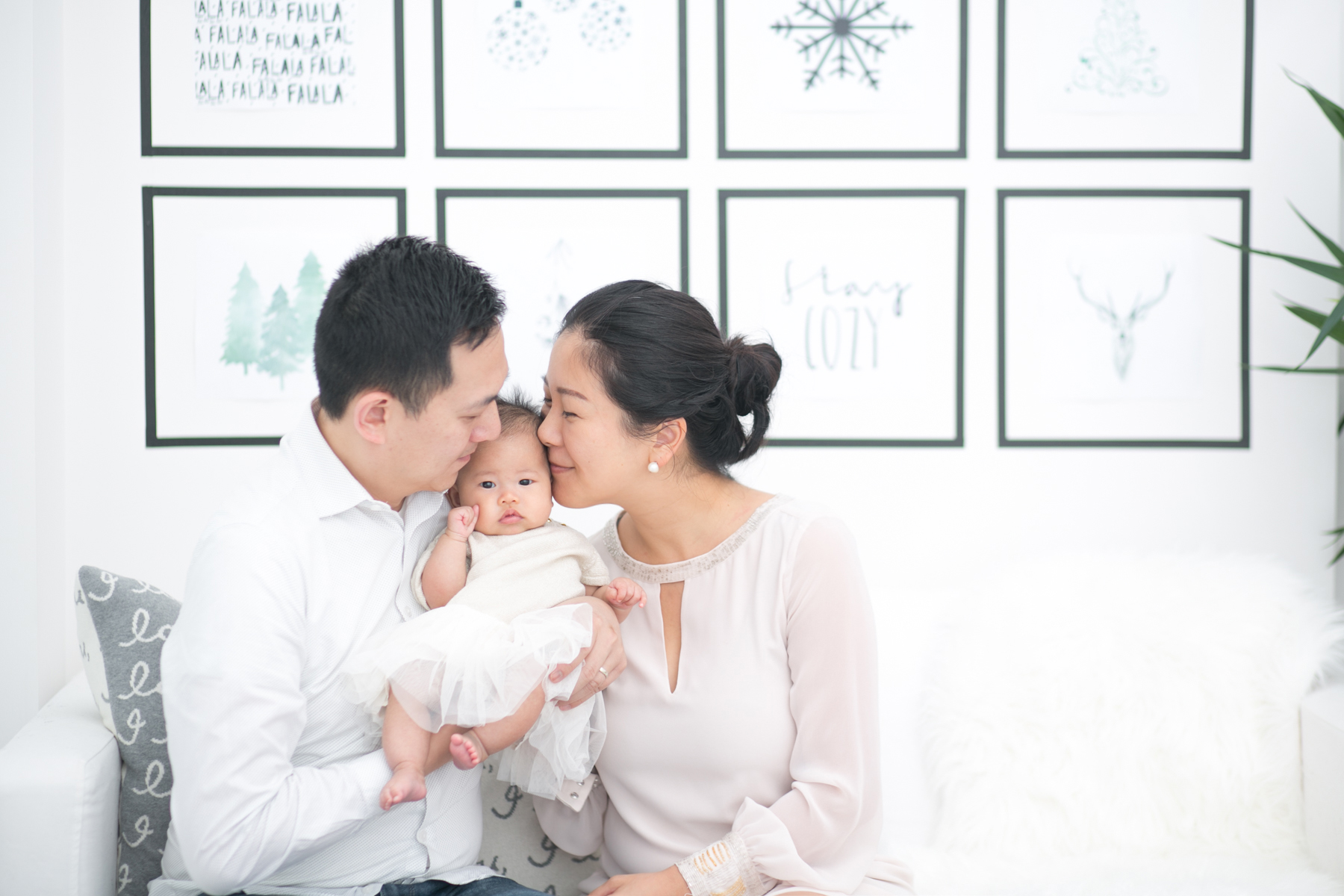 The holidays is all about family for me and am so honoured to have been a part of these family photo shoots!
Let us know what you'd like to see for next year's mini holiday sessions!
I'll leave you with this one last photo of our sweet little model here: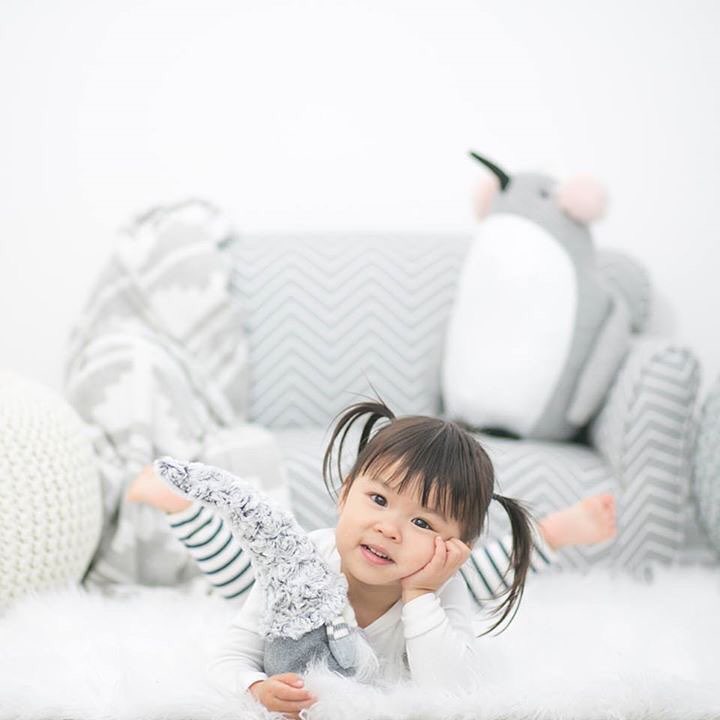 Credits:
Creative Director and Prop Styling: Wu La La Weddings & Events
Photography: Lucy Chang Photography
Kid's Room Set Props List:
Homesense: Grey sofa chair, Chevron kid's sofa, Stuffed penguin, Ivory pouf, Little Santa Gnome, White fur rug, White and grey throw blanket
Urban Barn: Marina Pouf Linen in Grey
Creative Bag Co.: Wrapped gifts and boxes
Pulp Function: Penguin marquee, Dachshund marquee
Bedroom Set Props List:
Canadian Tire: Air mattress
Homesense: Grey knitted decorative pillows, white fuzzy decorative pillows, grey and white reindeer throw blanket, reindeer antler with twinkle lights, santa and mouse ornaments
IKEA: Grey and white bedsheets, pillows, artificial plotted plant, black votive
Scotch Brand Products: black washi tape for city line border
Own: Grey ottoman
Living Room Set Props List:
Homesense: "I love you" pillows, white furry rug, reindeer ornament
IKEA: White loveseat sofa, real plotted plant
Scotch Brand Products: black washi tape
Pulp Function: Cloud marquee