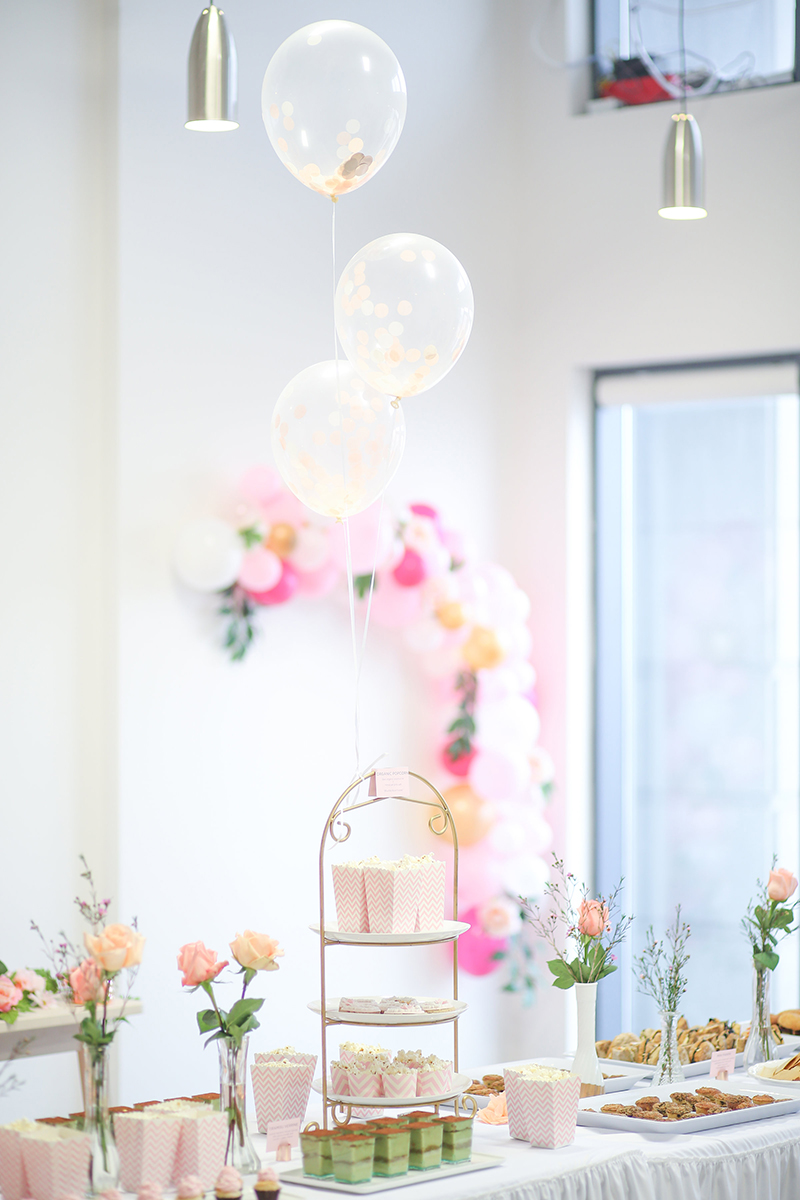 It's been awhile since I last blogged! But with a new studio and a complete facelift of our website, it calls for a new blog post! I hope you like the new look! Feel free to send me a comment or feedback on the new look 🙂
As many of you know, I recently opened a new studio space in Richmond Hill. To be honest, it kind of just happened. I hadn't planned on opening a studio so soon. I had dreamt about it and talked about it a handful of times, but I didn't think I was ready for it yet. I was content with my home office even while the hubs complained about my "mess" being all over the place [insert emoji face with tears of laughter here]. Well, I was approached with such an amazing opportunity, so I decided to jump on it and one thing led to another and here we are! We have a brand new space! To celebrate the opening of our studio, we had a little party held on March 18th, 2017. The party was a great hit! We had some amazing vendors and friendors that played a part our opening.
First, I'll talk about the decor and set up for the party. I really wanted this party to showcase my style and personality and how I wanted it to represent Wu La La Weddings & Events. We are all about making pretty events and having fun with them. We want guests to go "Oooh and ahhh" at even the little details and really enjoy themselves. So to make things fun and bring out that child in everyone, I wanted a lot of pretty balloons. Who doesn't love balloons? Majority of the balloons were purchased from Party City, but I did get a few Peach Confetti balloons from Creative Bag Co to add a bit more sparkle to the look.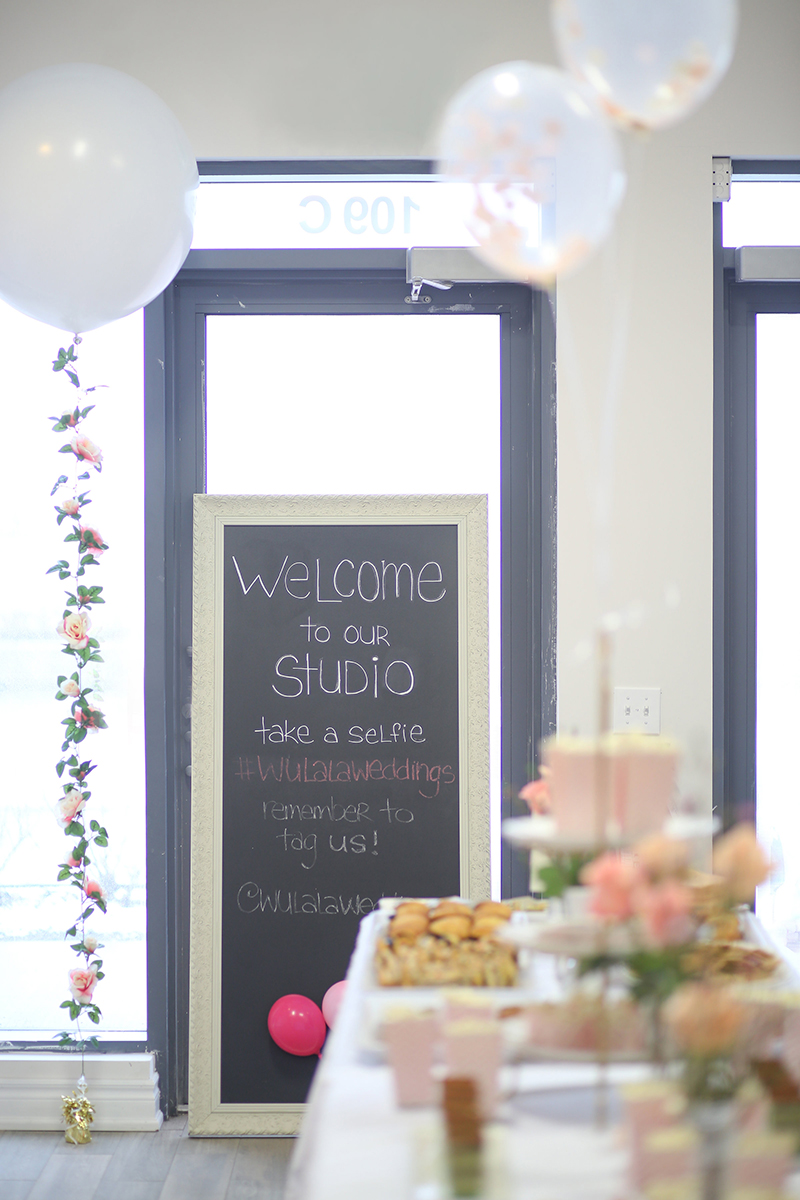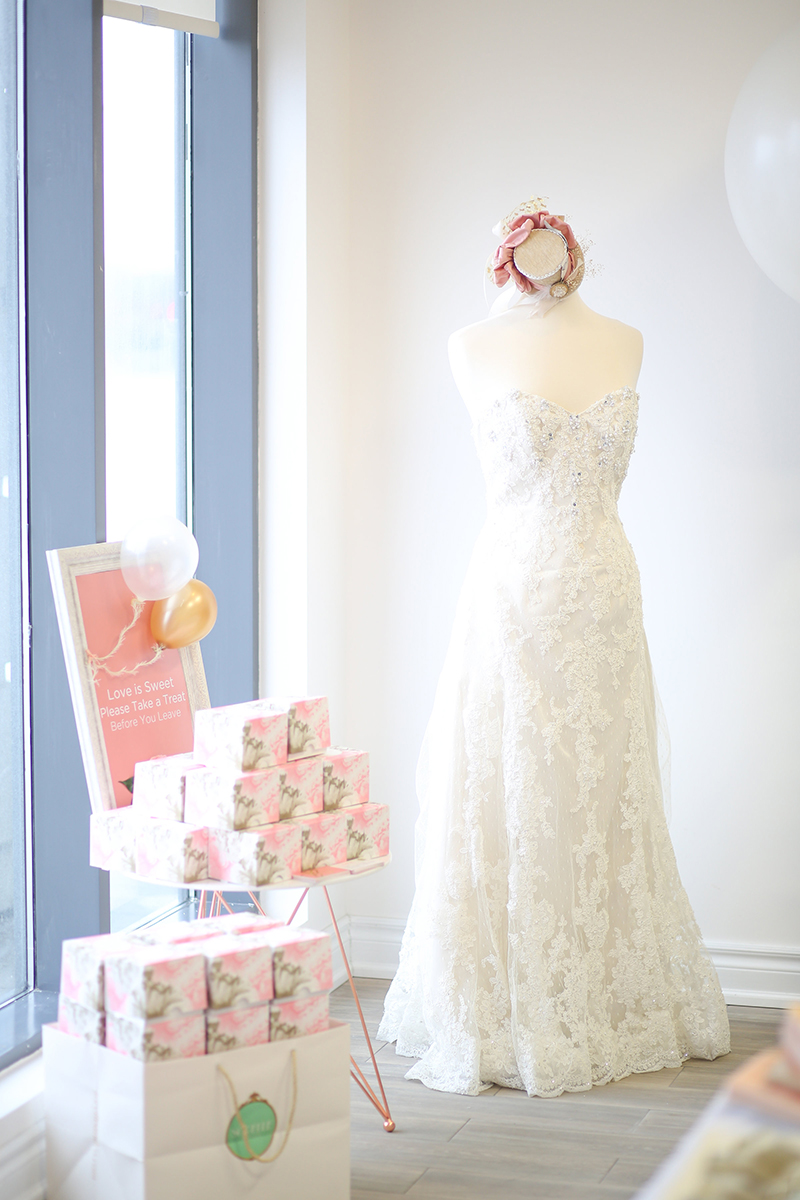 This 36″ "LOVE" marquee presented to you by our good friends at Pulp Function.  Thank you PF for displaying this amazing piece of art at our studio! Did you know that Pulp Function doesn't just offer letter and number marquees, but also super cute Marquee Art of different shapes and sizes? They have some really adorable animals like a daschund and a bunny, clouds, stars, and even a flying pig! Head on over to their page to read all about Pulp Function and how this collection all started! (P.S.yYou might even see yours truly being mentioned *wink wink*)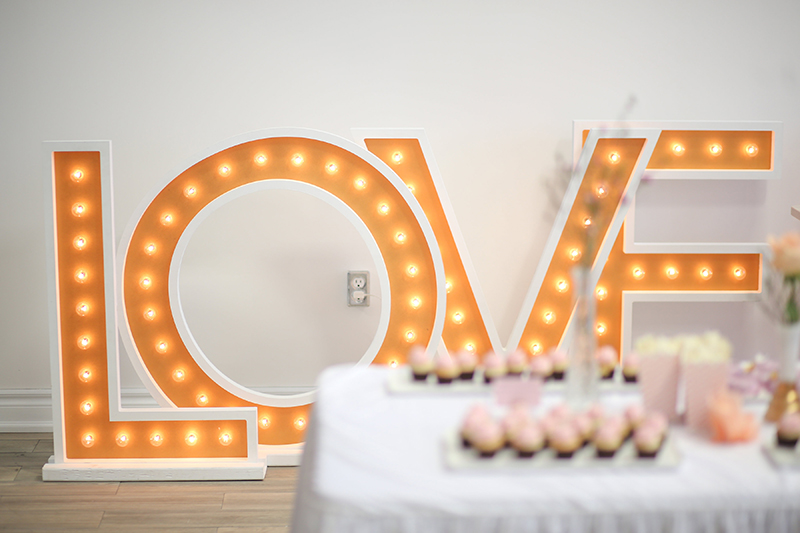 I made a "selfie" wall with a floral and balloon arrangement. I am in love with this look right now. I'm all about the pretty and fun and I say,  nothing says "pretty and fun" more than having flowers and balloons put together! I have been itching to make this styled arrangement for awhile and was so happy I had the perfect excuse to turn it into a DIY project. I purchased 3 different sized balloons;. 5", 9" and 12" in light pink, gold, white, and clear. The silk flowers were from Michael's Craft Store. I bought one stem that had several blooms and leaves on it which I could take apart. This was a fun DIY project if you're making it on a small scale, but I admit, it's a lot of work and if you want a larger arrangement done for your wedding, please hire professionals! (I've got some great contacts for you!) You do NOT want to be putting this together yourself for your own wedding! Even with the help of my best friend, it still took us 1.5 hours to complete this arch. But I loved how it turned out in the end! (We would love to see your selfie photos from the party! Please tag them with #wulalaweddings on Instagram so we can see them too!)
We definitely had a lot of kids at this opening! maybe some potential future clients?…just maybe. lol!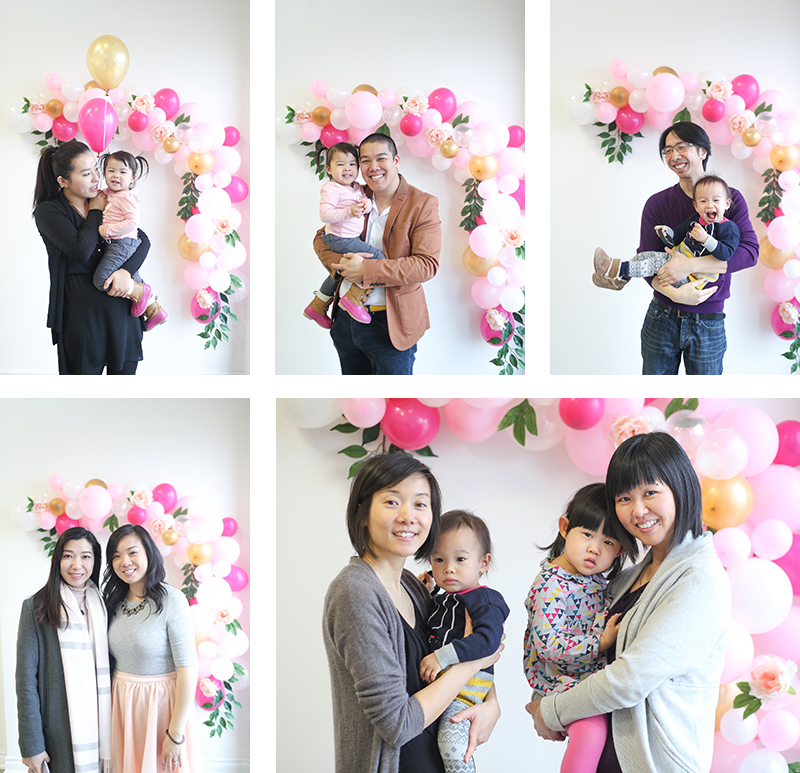 Next, the food! The buffet table was draped in a custom white cloth hand sewn by my Mum! (thanks mum!). We had Sorelle & Co. cater the desserts and sandwiches. I've been pretty vocal about my love for Sorelle & Co. This bakery offers everything gluten-free, soy-free, nut-free, sesame-free, and vegan! I get so excited when I hear about vegan desserts! I've recently developed an intolerance to eggs and dairy. So when I found Sorelle & Co., I was completely over the moon! We had mini vanilla strawberry frosted cupcakes, mini tiramisu verrines, mini chocolate donuts, and the "WedLuxe" cookies! We also had some savoury items such as vegetable paninis, mini portobello burgers, mini vegan quiches, and crispy baked flatbread chips. I also included Buddha Bowl's mini organic popcorn in pink himalayan salt and coconut oil – something for the kids to snack on. This was definitely a huge hit with the kids that came with their parents 😉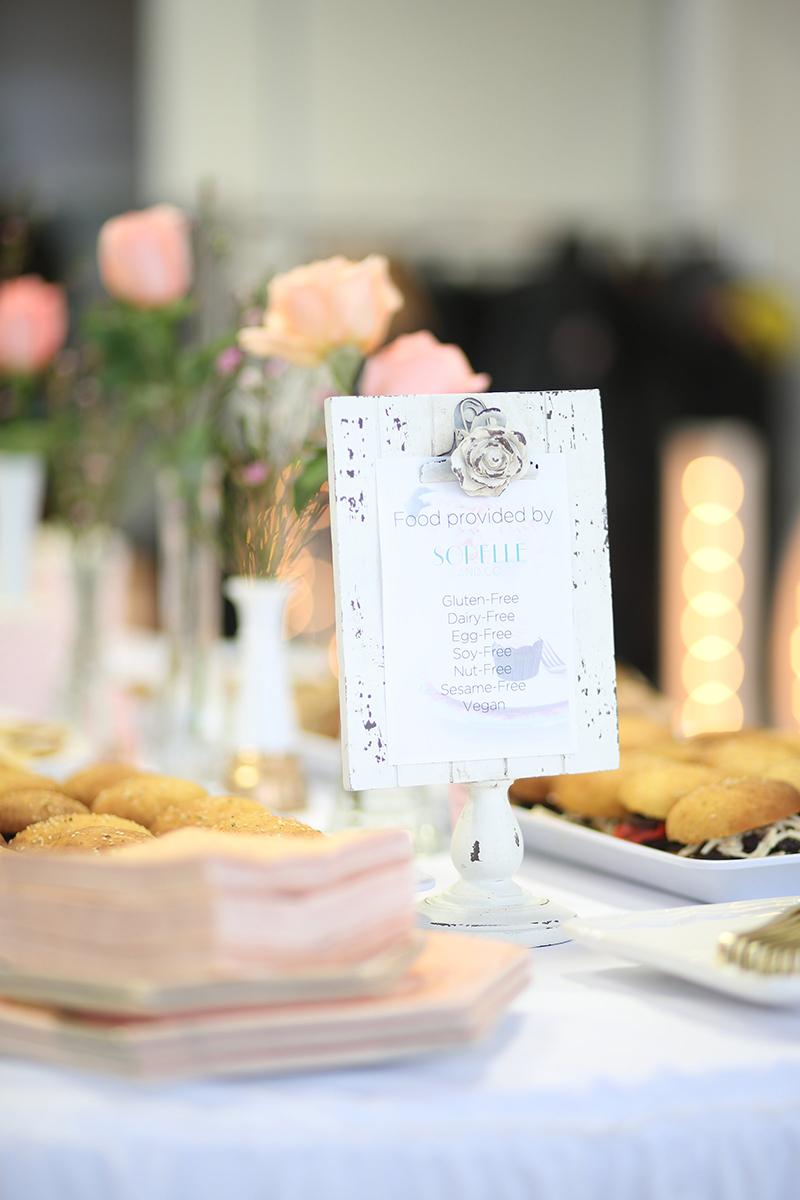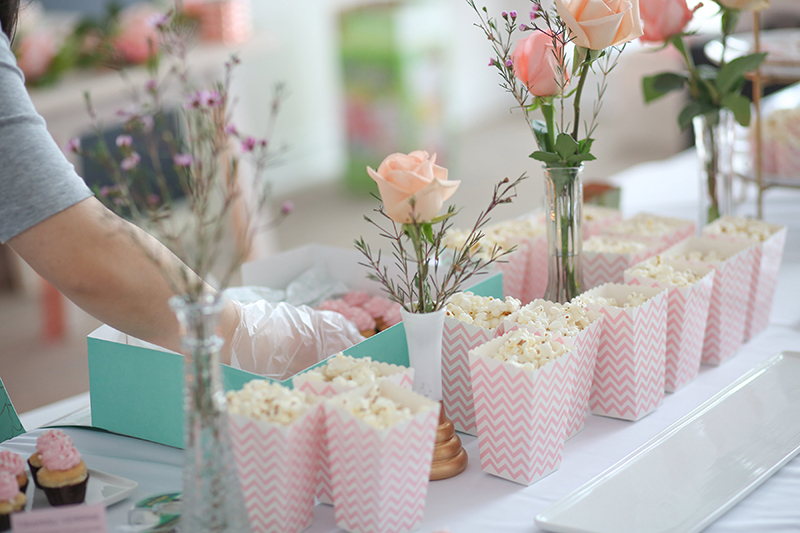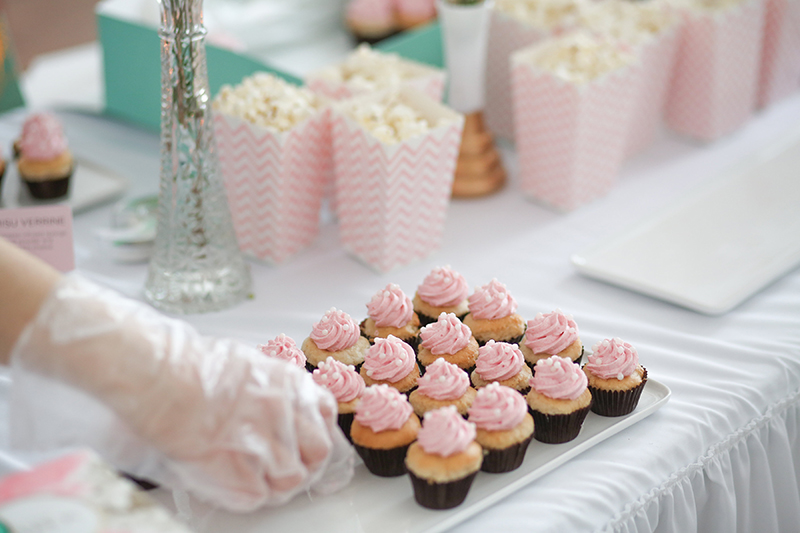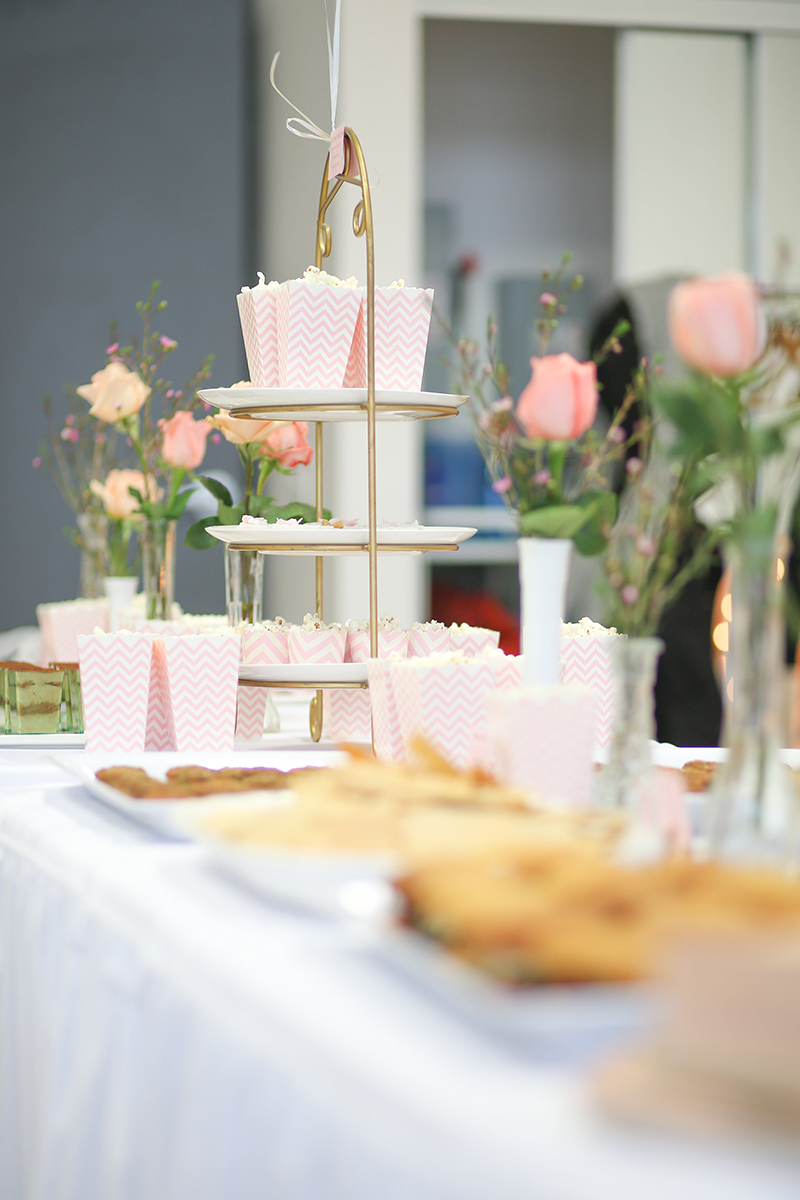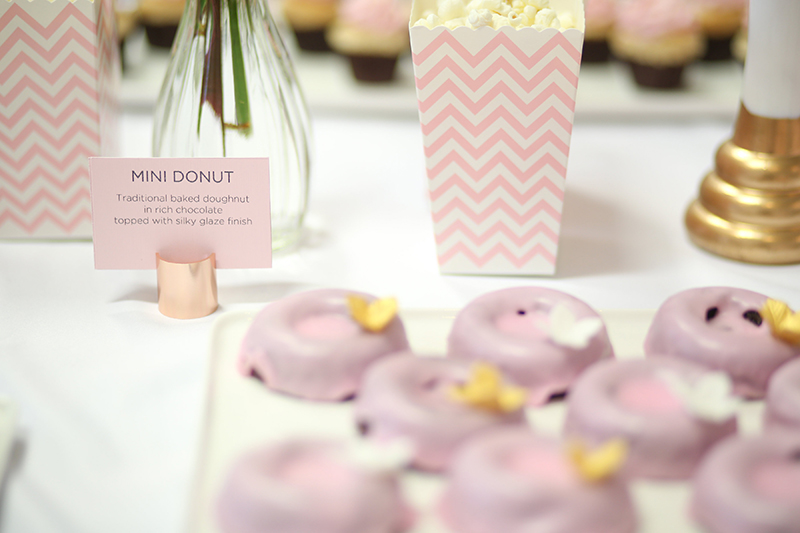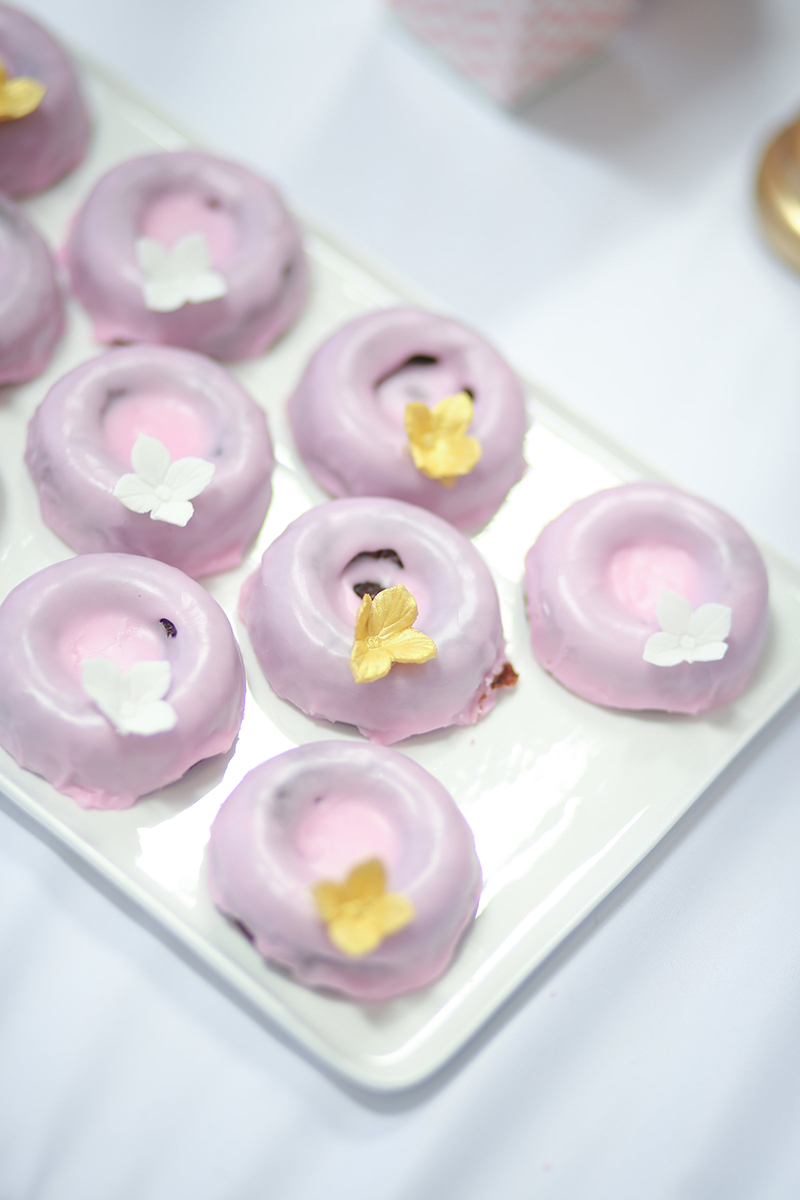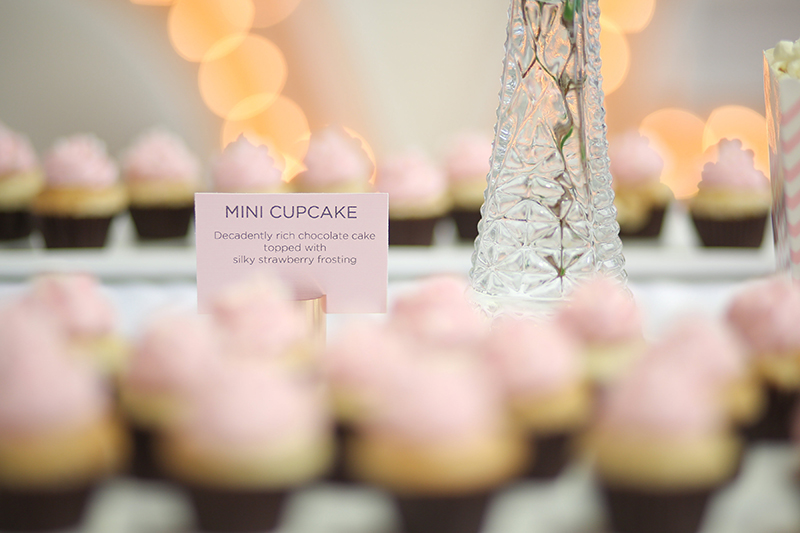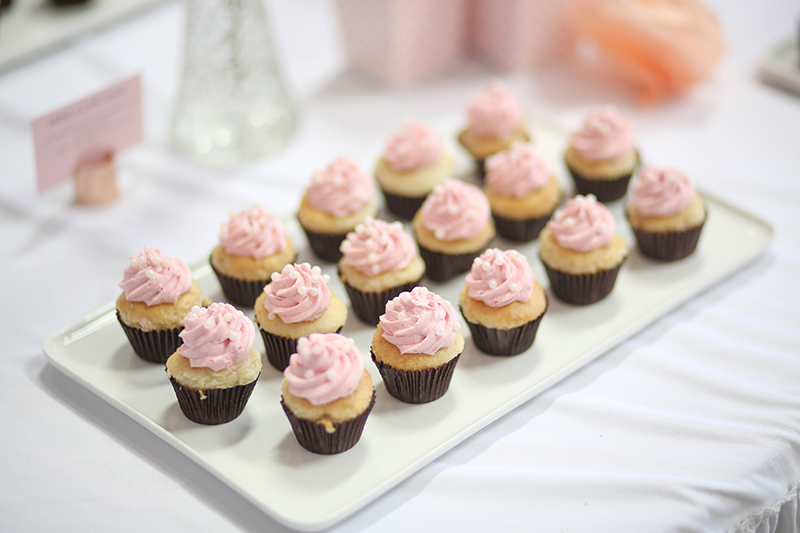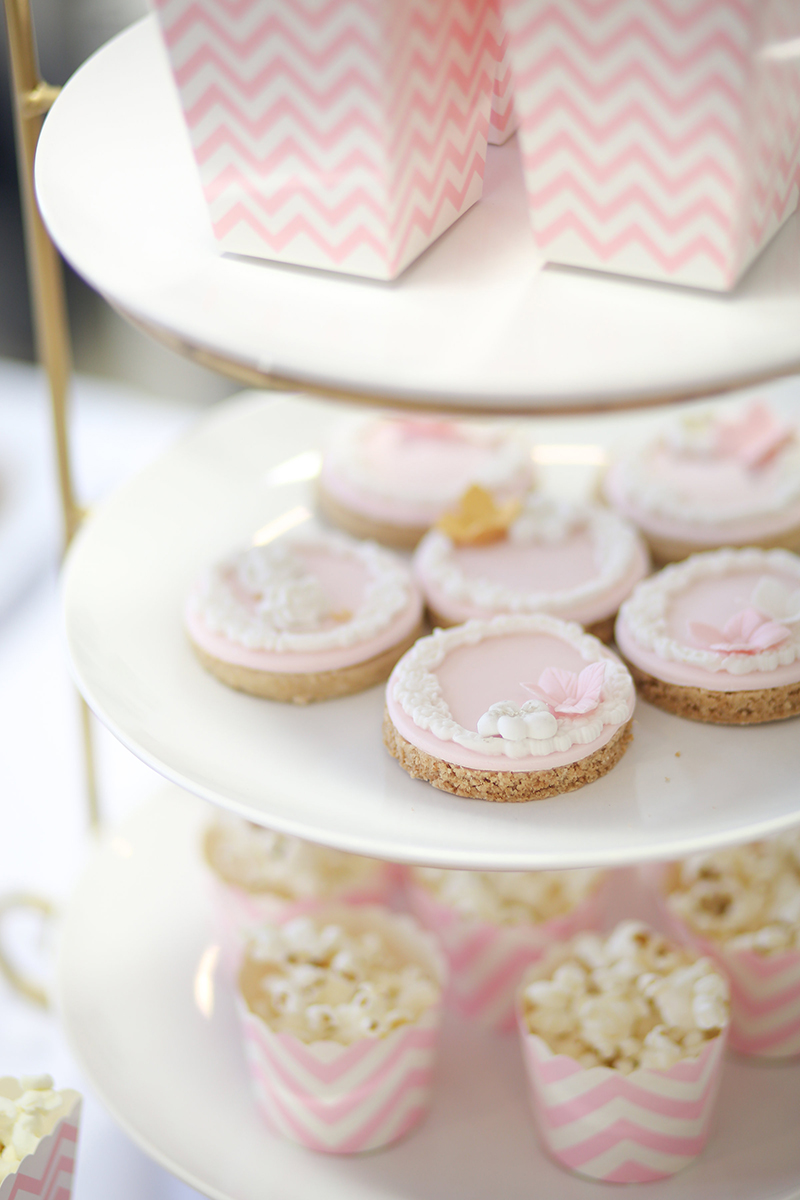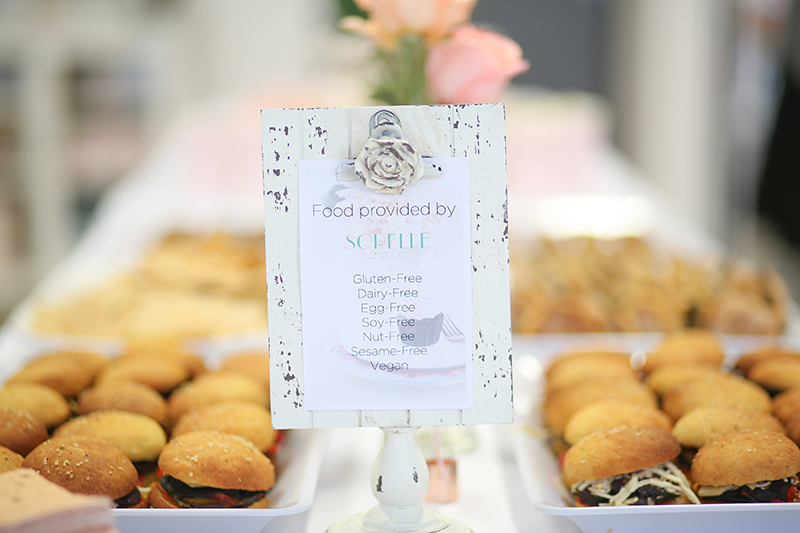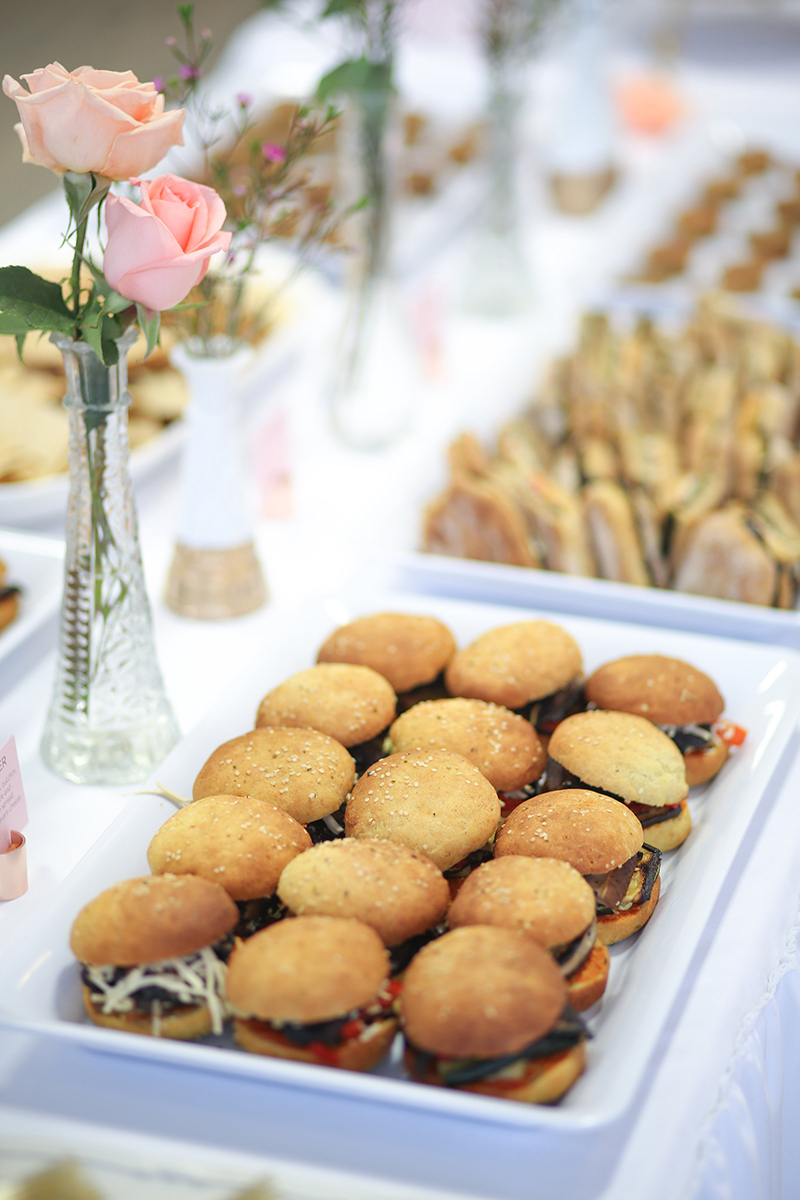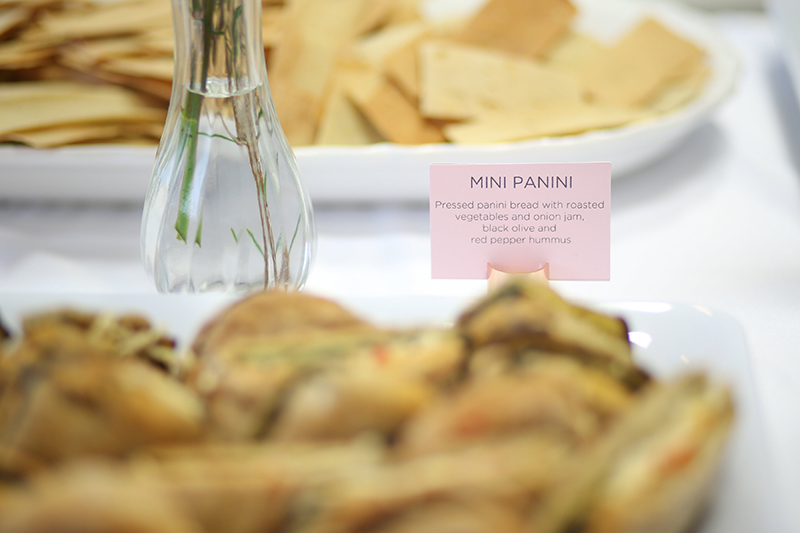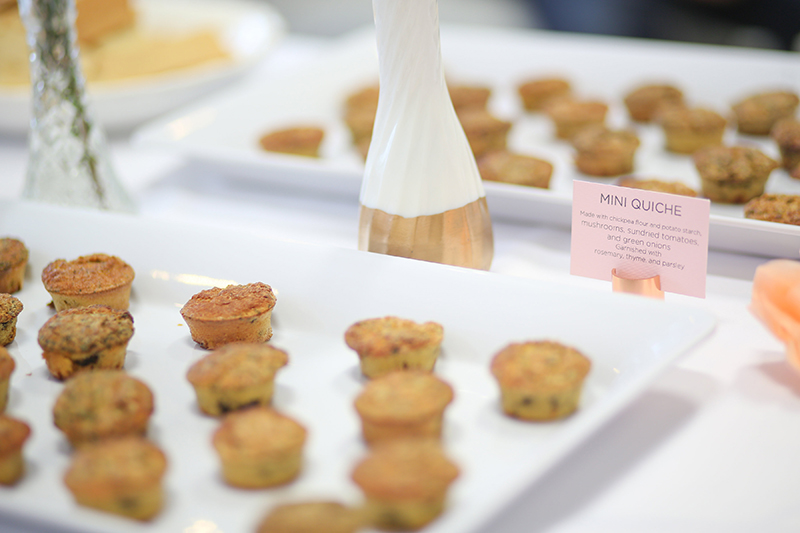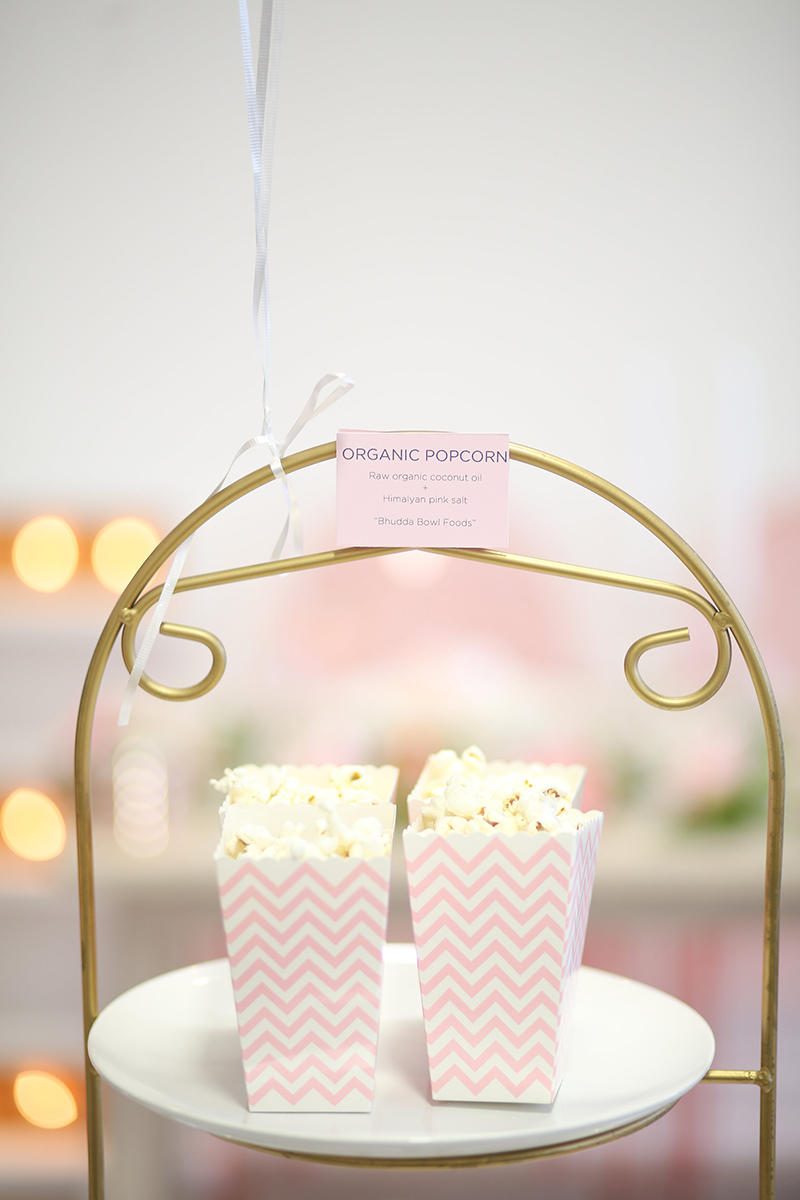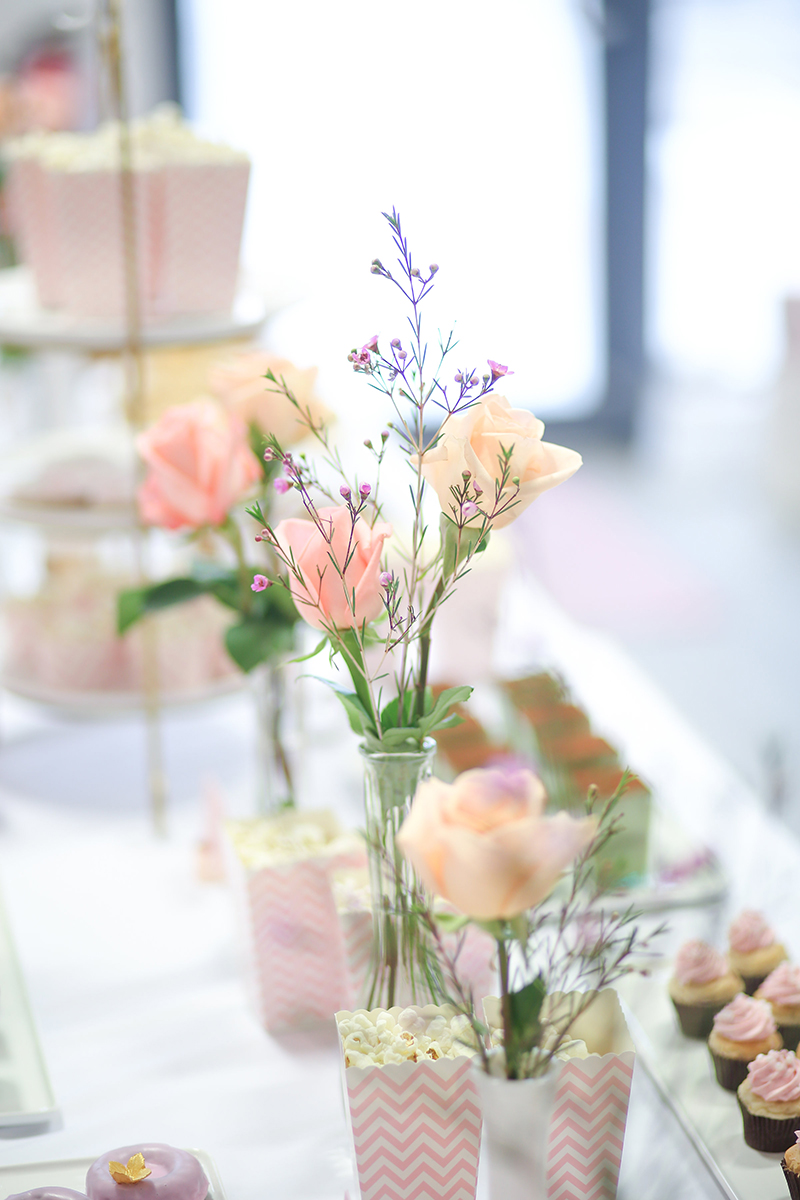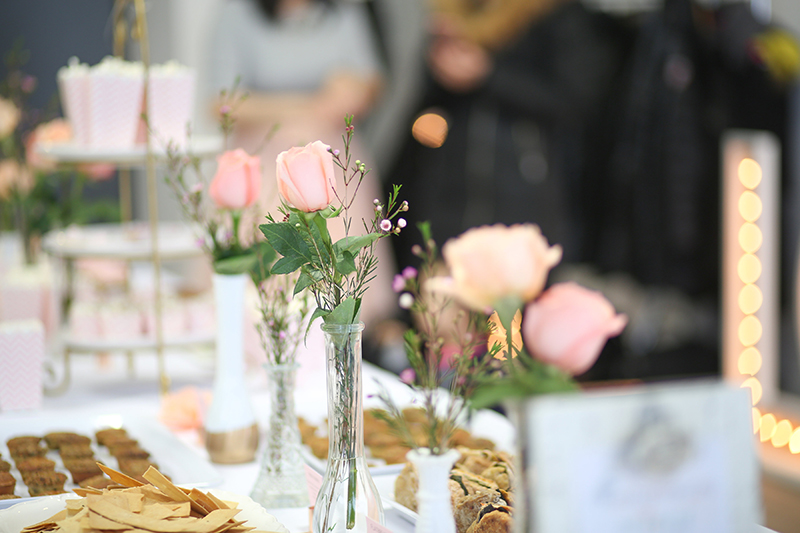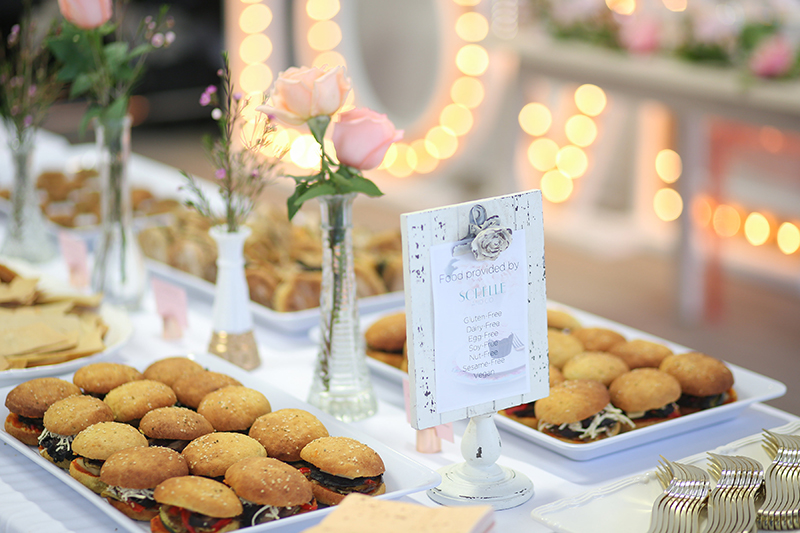 The paper plates and cups were from Bonjour Fête. A boutique party supply store based in California. They have the cutest party supplies and they even offer themed kits that are packaged and ready to go! Make sure to check them out here: https://www.bonjourfete.com/
Metallic gold forks were from Party City. However, I had originally wanted different ones from Bonjour Fete but unfortunately, they were out of stock.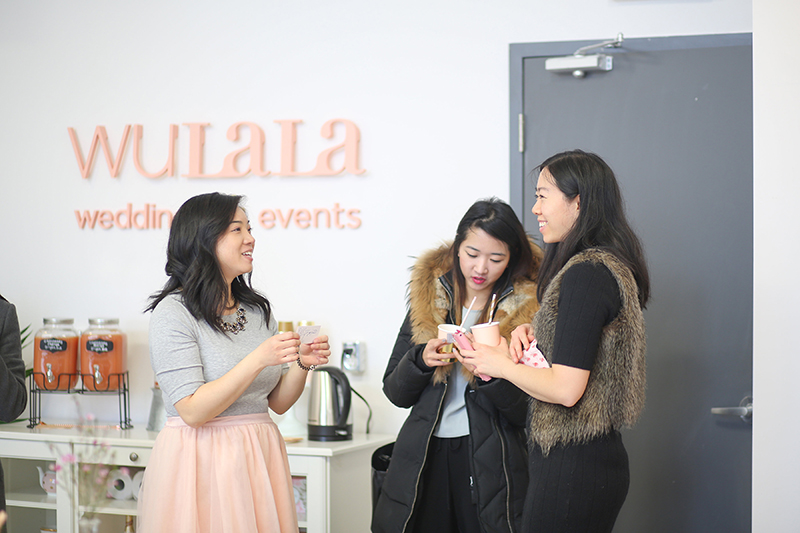 Meet this sweetie pie, Olivia. Gosh, I love this girl so much like as if she was my own daughter. Even if it may be 20+ years from now, I hope I'll get to plan your wedding one day! <3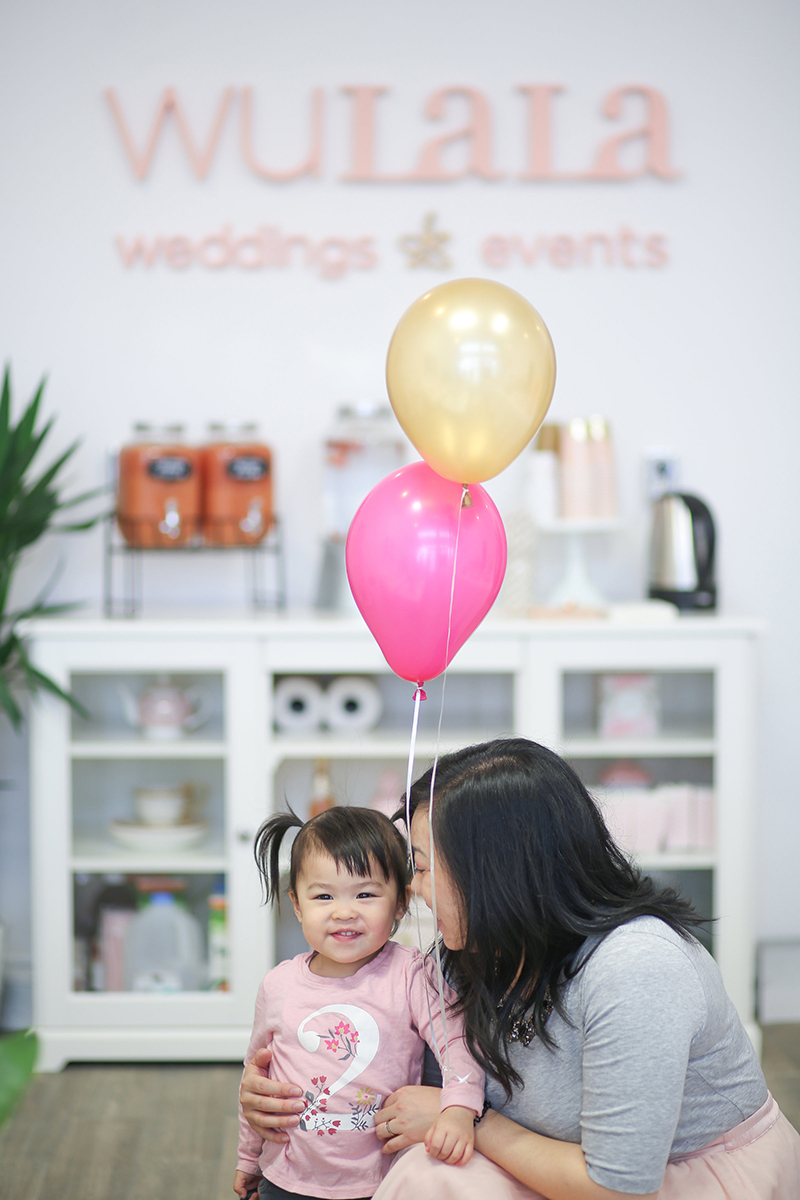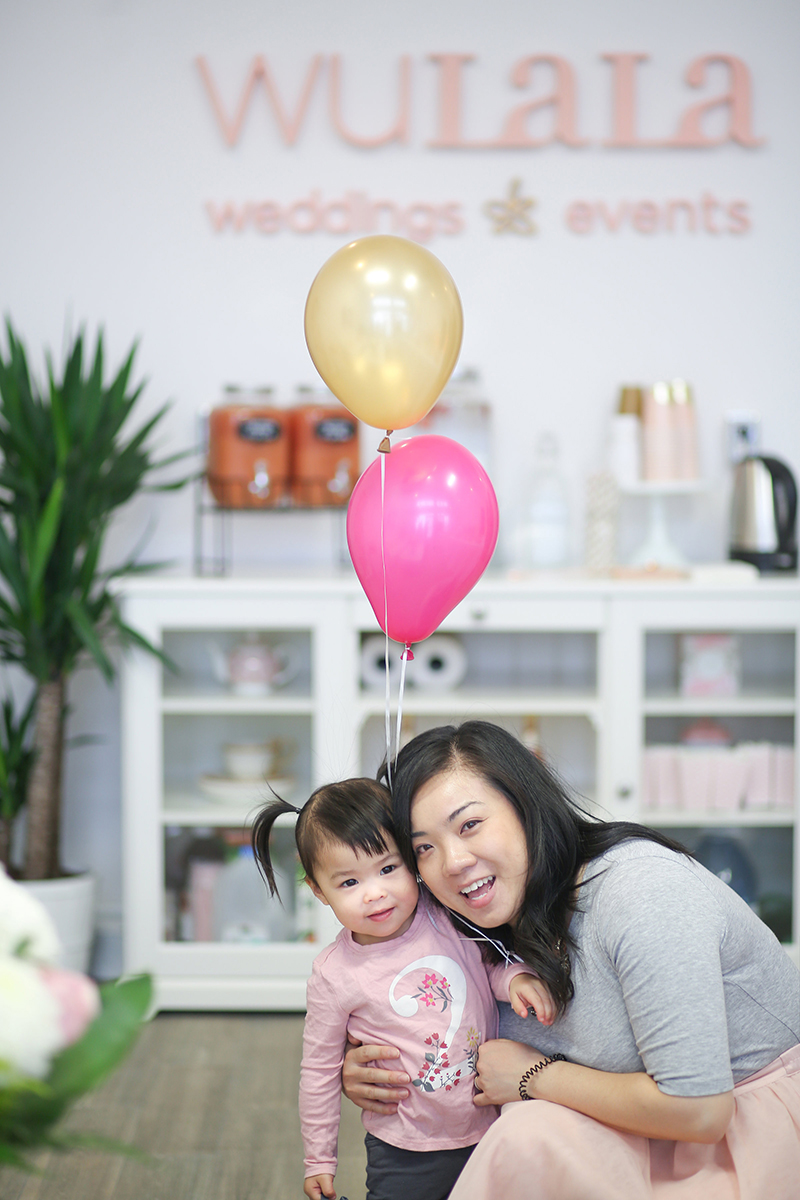 We had 3 giveaway prizes at the party. (1) Sponsored by Sorelle & Co, was a box of "WedLuxe" cookies and a $50 gift card to use at their flagship store. The cookies were the same ones they made for their booth display at the 2017 WedLuxe Show. Prize won by Sylvia Chen and her daughter, Ruby Chen. (2) A gift certificate for our services. Won by Jennifer Sue-Tsang. (3) A box filled with layers and layers of my favourite things like Squish Prosecco Gummie Bears, a bottole of Henkel's Rose Sparkling Wine, "Love you a Latte" coffee kit, face mask, hand cream, perfume, and a few other items. Won by a friendor, Ramon Jr. Cespedes whom I'm sure gave to his wife and daughter! Congratulations to all the winners and thank you again for coming to our opening!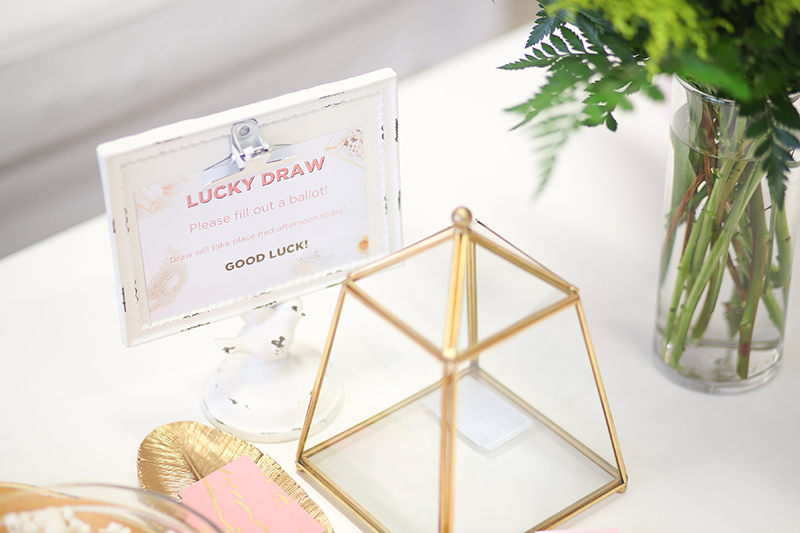 We also had these beautifully wrapped custom 'wulala' cookies for each guest to take home after the party. Packaging was sponsored by Sorelle & Co – I still can't get over their beautifully crafted boxes!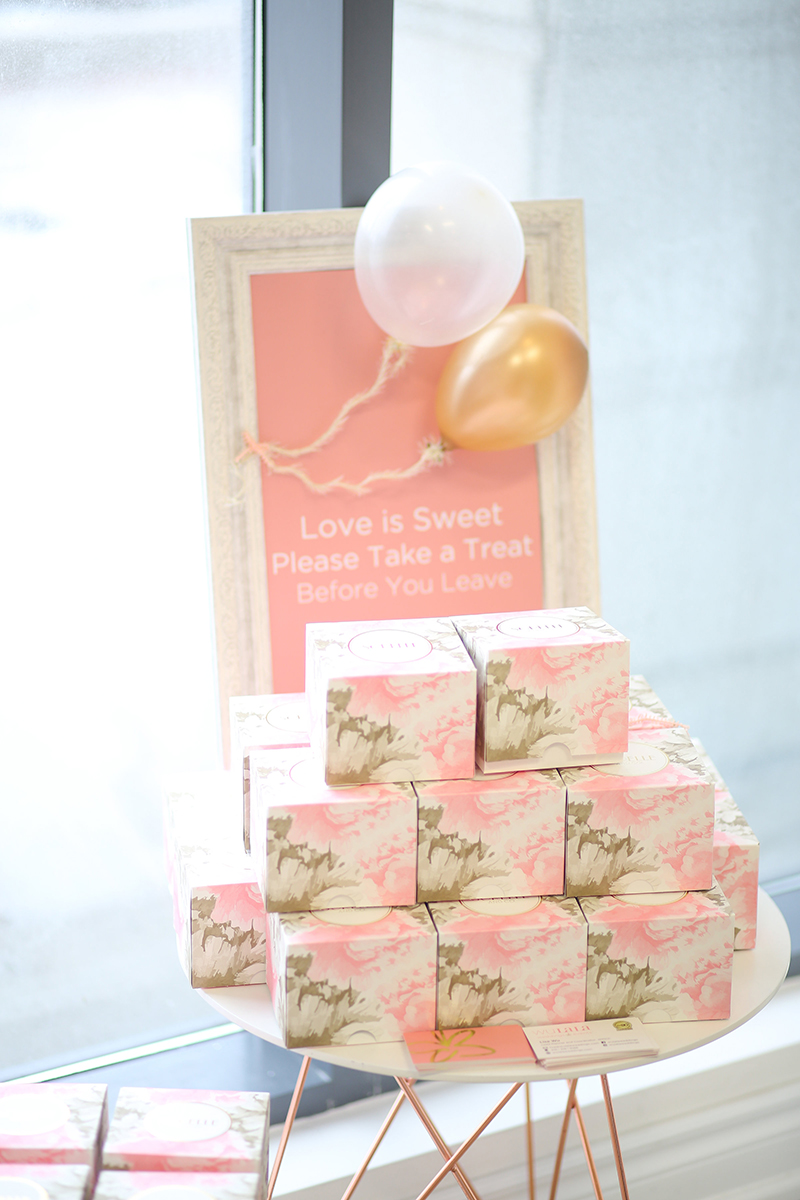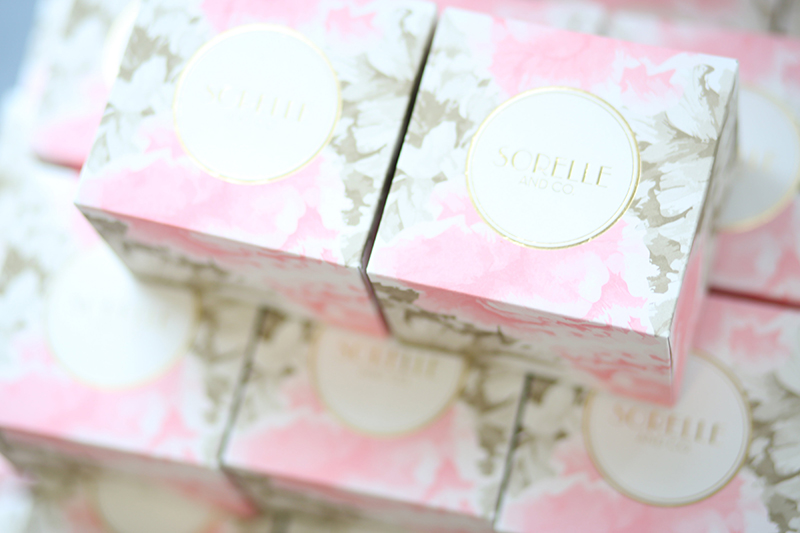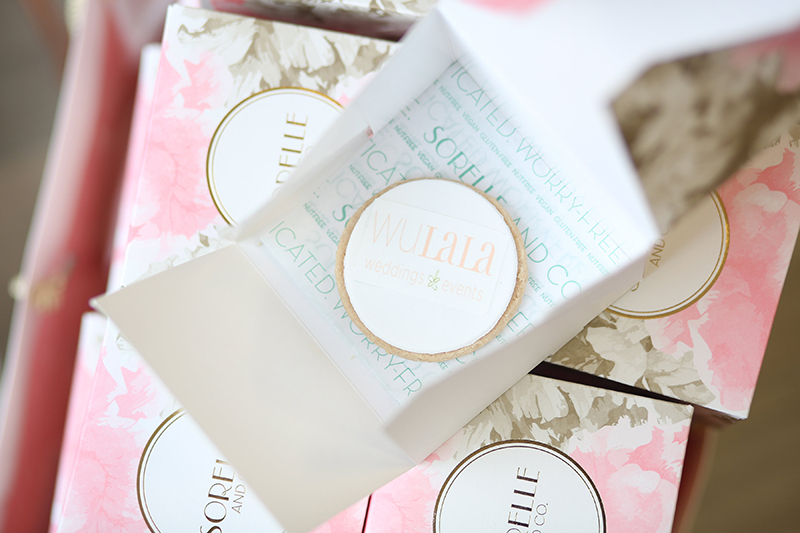 Last but not least, I want to take this time to thank everyone who stopped by to say "Hi!" It was so good to see all of you and it truly means so much that we have such amazing friends and colleagues that support our business 🙂 To those who wanted to come, but couldn't make it I also want to thank you and you are welcome to visit anytime! To past, present, and future clients who came by our studio it was such a blast and I wish I had more time to chat with each and every one of you! To all my little helpers, I could not have finished setting up without all your help and patience! So Thank You!!!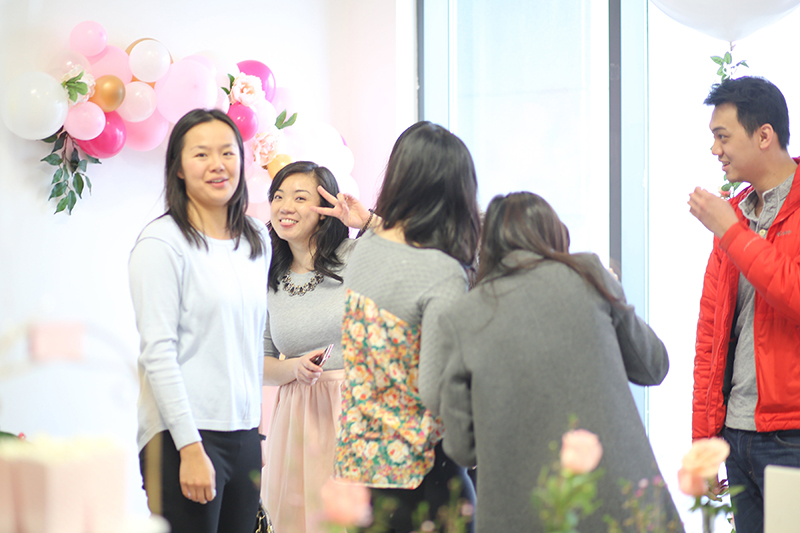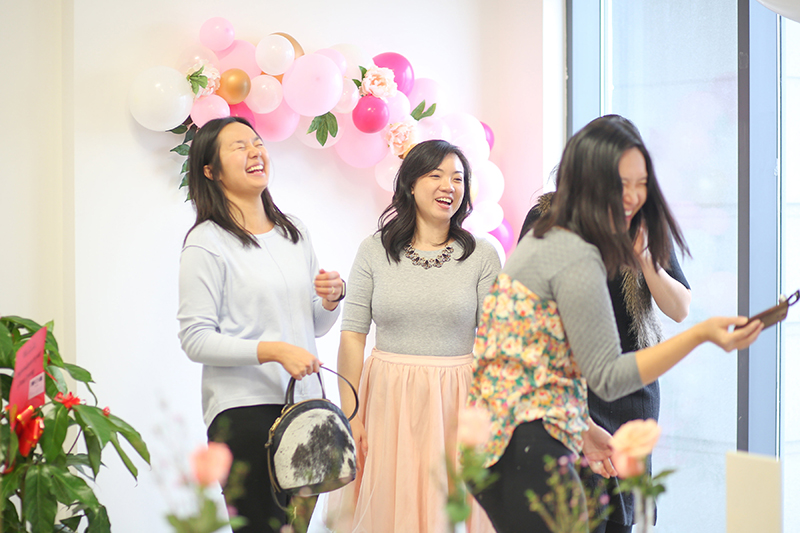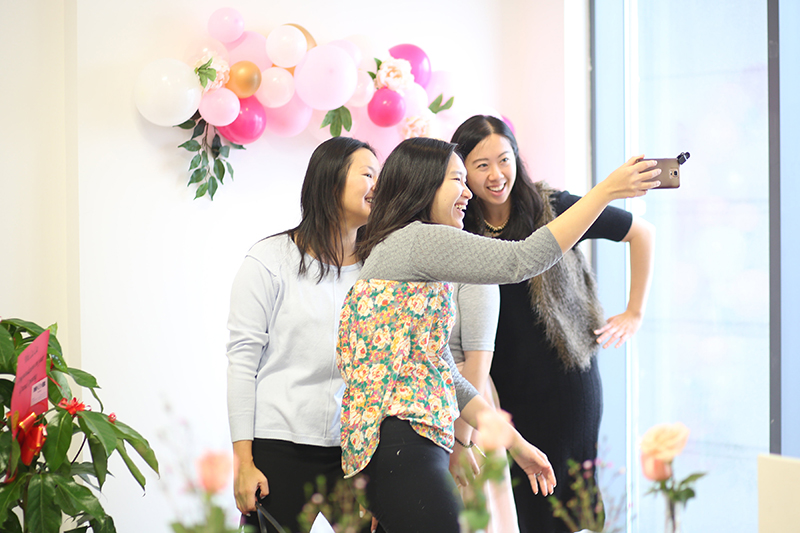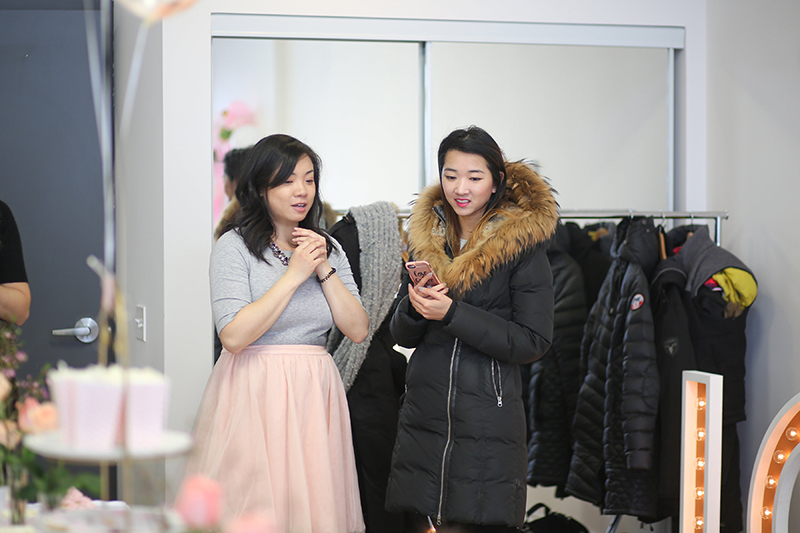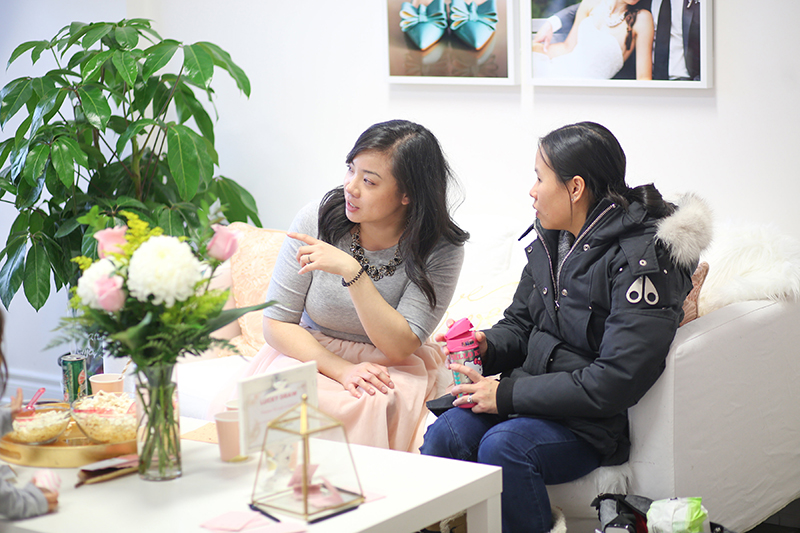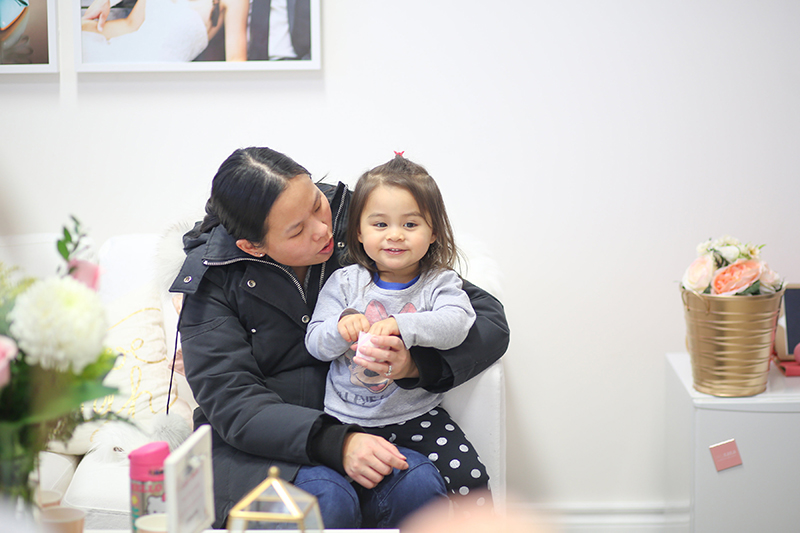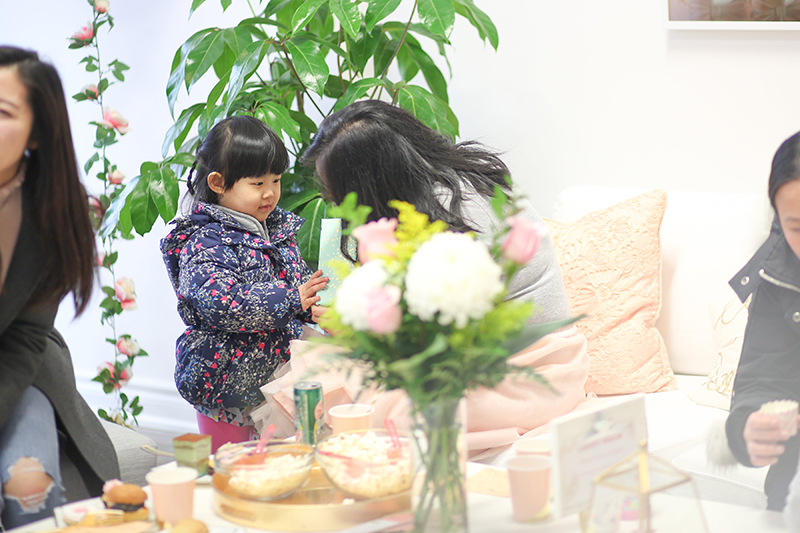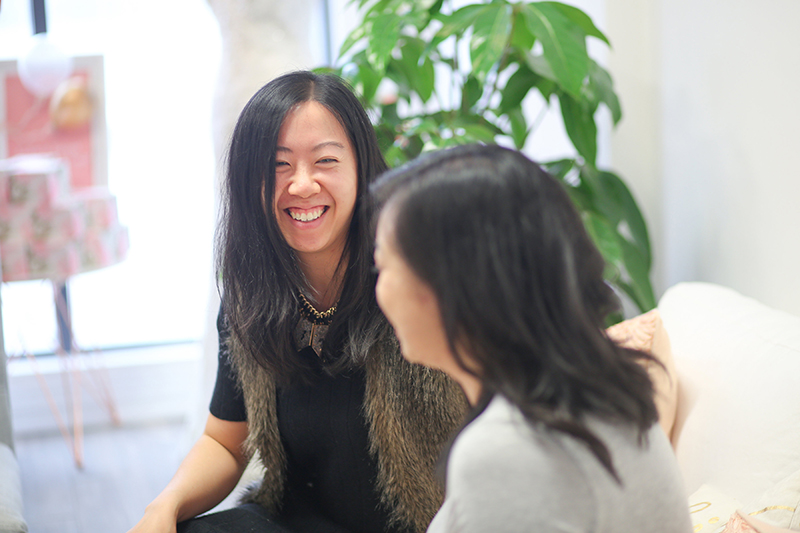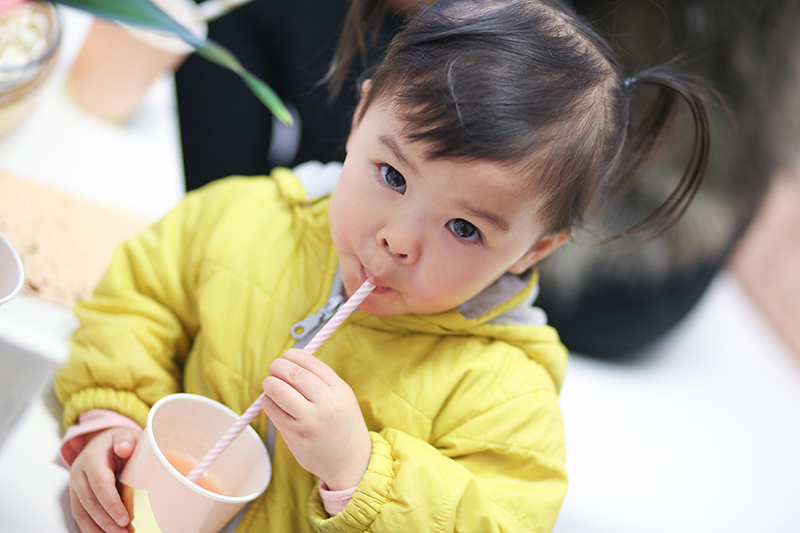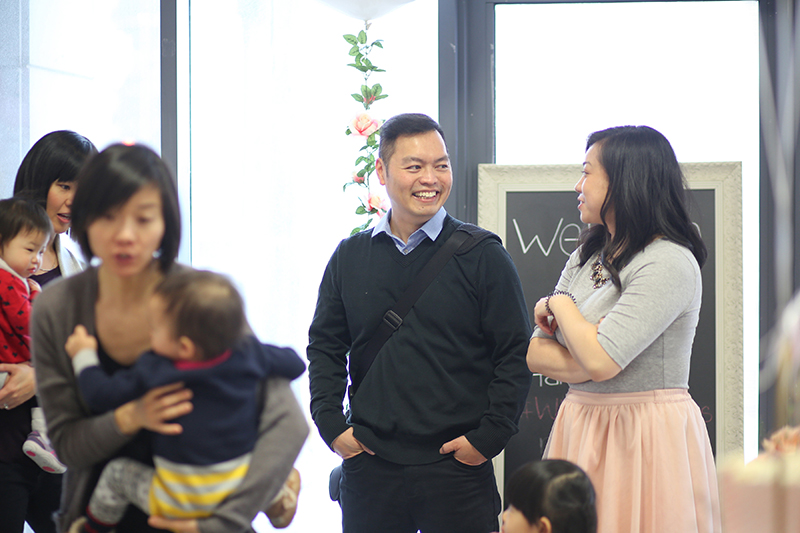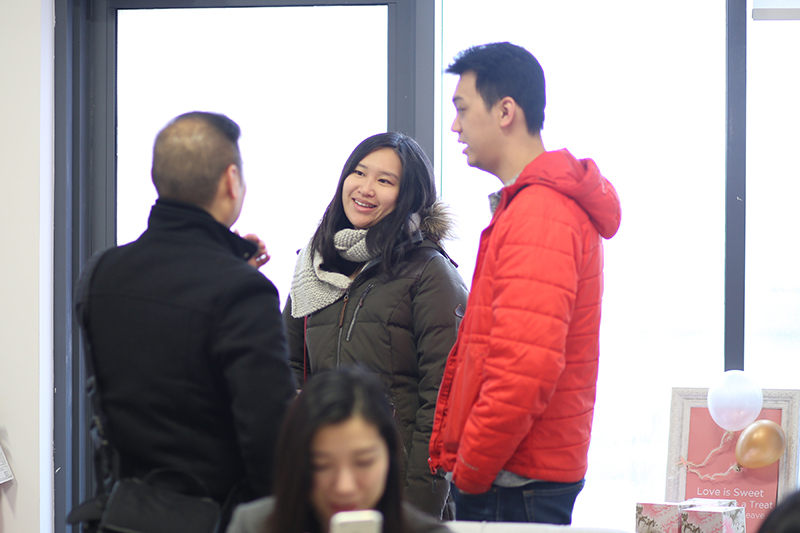 Lastly, with lots of hugs and kisses, I must thank my husband, Edwin. Who is truly my superman. He has been there for me through every single step and milestone. He has shared in my stress, the tears and joy with starting up a business and could not ask for a better life partner! I love you hubs <3