Good Morning!
So today's blog post is a not exactly wedding related and more of a personal one. If you've been following my Instagram for the past year or so, you may have read about my body transformation last year. In October 2016, I joined an all-women's kickboxing gym; Hers Kickboxing in Markham. It has been 1.5 years since I joined and it's been absolutely amazing!
I'm sure some of you are probably wondering why kickboxing. Many people have asked me WHY I started kickboxing specifically and not just go to a regular gym. I used to go to the gym (anyone remembers Extreme Fitness?) 4 to 5 times a week and spent about 2 hours there. It got really boring and eventually, I stopped going. I found it challenging to push myself and just wasn't motivated. Kicking and punching the dummies at Hers Kickboxing gives you a sense of empowerment and control. Goodness, it is such an amazing feeling! You feed off everyone's energy to kick and punch all your stress away. It truly is one of the best stress relievers ever!
How did I decide to join Hers Kickboxing? 
Well, to be honest, I didn't think I would be into it at first. It was always my husband's thing – he loves muay thai, jiujitsu, boxing,  etc. For as long as I've known him, he's always been into mixed martial arts and tried many times to get me involved too but I said no because I didn't like fighting. Well, in 2014 (and here's where it gets really personal), we found out we couldn't get pregnant naturally and needed medical assistance. After having gone through an IUI and 2 IVFs in two short years, I just had enough. It was a tough journey. I was mentally and physically drained. I was heartbroken, felt weak and was super stressed. I started battling depression. I felt like I was hitting rock bottom and of course, as a result of this, I gained a lot of weight. I was in the worst state of my life and at the heaviest, weighing in at 165lbs and wearing size 12-14. I used to fluctuate between 125-130lbs and was a size 6-8 most of my life. Mind you, all the stimulation meds and hormones I was injecting also affected my weight big time. Anyhow, this will have to be another blog post for another day. But if any of you are struggling with fertility issues, please know that you are not alone and feel free to message me if you ever just want to chat and need to talk to someone who's been through it.
I was incredibly angry – not just at the situation but at myself! I needed to do something. I needed to change my lifestyle and get out of this darkness. My husband (a.k.a the hubs) was the one that told me about Hers Kickboxing and encouraged me to try it out. So I did. I signed up for their FREE trial class and I was immediately addicted! It didn't take long for me to think about it so I signed up for their 6-month membership first, when that was almost up I decided to commit to a full year! And now, it's been 1.5 years!
How has Hers Kickboxing helped me? 
The perspective I gained through this journey is invaluable and working out became so much more fun and meaningful! It has trained me to forgive myself, to love myself (which is why I got my "love" tattoo on my left wrist), and to let go of all the anger within. It has given me so much strength, a strength that I never thought I had in me. It's brought positivity in my life. It has made me more focused and mindful of everything that I do. In the first 3-4 months, I had lost 15lbs and a year later, I went down 2 pant sizes! Shedding off the weight was just a bonus because kickboxing gave me so much more! Hers Kickboxing has literally changed my life.
The coaches and the members here are so supportive of each other and have helped me in so many ways as I've mentioned above. In addition, you can feel safe here. It's a judgment-free zone and a super friendly environment.  I truly am so grateful to be surrounded by such empowering women am proud to be a part of this powerful community.
Life is a journey and we all go through ups and downs. One of my good friends signed up for Hers Kickboxing after reading about my transformation and my heart was so full to know that I had inspired her so I wanted to continue to share my story in hopes to inspire more people and for YOU to know that you are not alone and by letting people help you along the way, you will be capable of anything!
Fore more information on Hers Kickboxing, please visit their website: https://www.herskickboxing.com/
Two locations available:
1) Markham (McCowan & Highway 7, across from Markville Mall)
2) Richmond Hill (Major Mackenzie & Yonge) *You can book classes at either location!
*Classes are 45 minutes!
*Class sizes are 20 people max! (I love that it's a small class!)
*It's women only! (No more staring, mocking, or harassment by men at a gym!)
*Non-contact format! (It's just you and your BOB – a life-sized boxing dummy)
♥
If my Instagram Post led you here, thank you so much for stopping by and reading my story!
I've partnered up with Hers Kickboxing to give away some fantastic prizes in celebration of my birthday.
This is a great opportunity to try out kickboxing to see if it's for you before committing to a full membership.
It is one of the best ways to release stress, especially if you've been stressing from wedding planning 😉
You've got everything to gain and nothing to lose! (well, except lose the baby fat and water weight lol)
For the brides out there, this is the perfect time to take advantage of this opportunity – let off some steam and get fit and healthy for your big day!
If you are or know a bride-to-be, please tag them for a chance to win one of these amazing prizes! See details below:
Head back to my Instagram and look for this post from yesterday! https://www.instagram.com/wulalaweddings/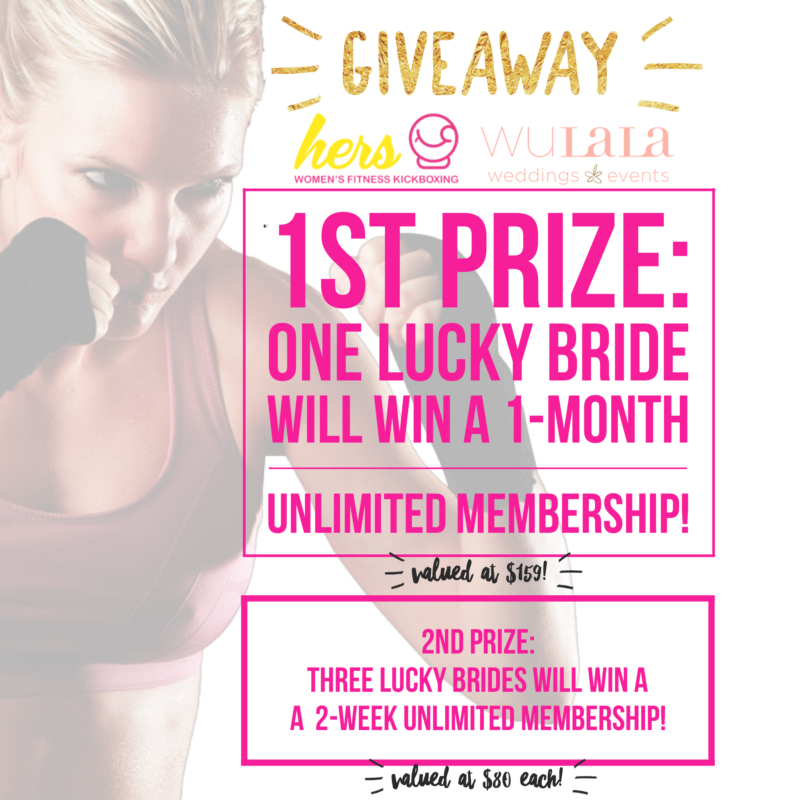 Let's get fit and fabulous together for your big day!
The Grand Prize is a 1-month unlimited membership to @herskickboxing to 1 lucky bride!
(Valued at $159!)
The Second Prize is a 2-week unlimited membership to @herskickboxing to 3 more lucky brides!
(Valued at $80 each!)
Step 1: Like this post
Step 2. Follow @herskickboxing + @wulalaweddings
Step 3. Comment with your favourite way that you currently stay active & tag a bride-to-be
*BONUS entries: tag even more brides and you'll get another entry in the draw!
1 tag per line, please. Each tag counts as an entry!
The Fine Print:  
Contest closes Saturday, May 12th at MIDNIGHT.
Winner to be announced via Instagram Stories on Monday, May 14th at 12 PM NOON.
IG Account must be public so we can DM you with the details on how to redeem your prize.
Contestants must live in the GTA/York Region.
Membership may be redeemed at either Markham or Richmond Hill locations.