Two weeks ago, I stopped in for a private fitting at Rent frock Repeat. If you followed my Instastories, you may have seen my story when I was there for their open house event back in December. This time, I went in with the intention of finding a dress for our upcoming WPIC Kick Off event that will be held at the end of this month but ended up getting a dress for a Chinese New Year gala that I am attending today. I'll be attending the Confederation of Greater Toronto Chinese Business Association (CGTBA) for their Annual Chinese New Year Gala celebrating small business and tourism in Toronto. 
Once I made the appointment, I was emailed a questionnaire to fill out, which will help greatly to make the most of your appointment. The email provides you with a link to a list of what you should bring to the appointment to make the most of your scheduled 1-hour visit. Oh, and you'll need to fill out a personal Rent frock Repeat online profile! This is a great tool! It keeps track of your wish list items. Items you're interested in, what you've rented, and you can even make comments for each item (i.e. how it fit, what you liked about it, which event you want to wear it to, etc.). Rent frock Repeat will keep track of events that are happening in the city so that you don't show up to the same event in the same dress as someone else!
Rent frock Repeat is a rental store to rent high-end designer dresses. Their showroom is located at Commerce Court West, 199 Bay Street, Unit C170, Toronto, ON M5L 1G5. They are near the food court, across from the Rexall and The Body Shop. Commerce Court is connected to the PATH and is accessible through King subway station. The entrance to the Commerce Court Parking Garage is located at 18 Wellington Street West, Toronto, between Yonge and Bay Streets. Sadly, I get lost every time I go – the PATH confuses me every time! (I always need my google maps to guide me! lol). Anyone else like me?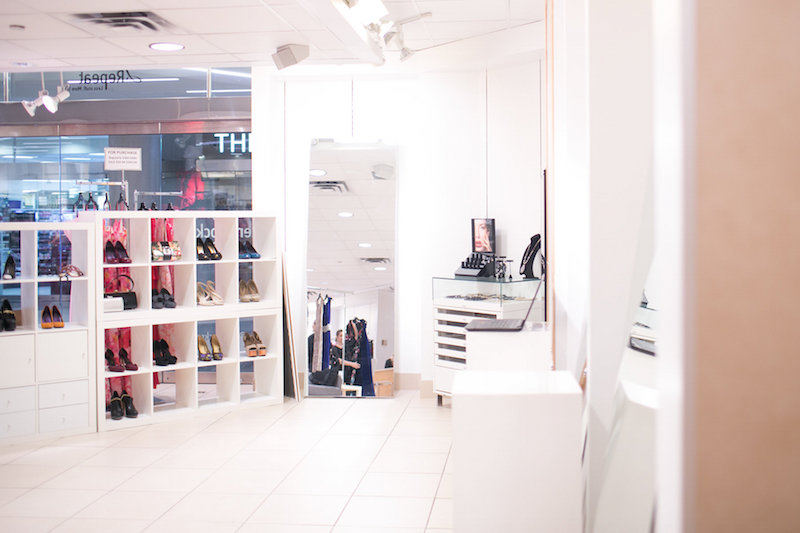 I love the concept of Rent frock Repeat. Not only is it great to have new dresses for events (like this), but you can have fabulous DESIGNER dresses to feel like a million bucks, at a fraction of the cost! It saves money from buying a new dress every time and saves you time from shopping for hours and hours trying to find that perfect fit.
My consultant was Mary-Rose. She was fabulous! Super nice and really listened to what I wanted. I was about 25 minutes late for my appointment – as I said earlier, I am horrible at directions! So we only had 35 minutes left to try on dresses! Yikes!  Thankfully, her next appointment wasn't for awhile, so she still gave me the full hour – Thank you, Mary-Rose!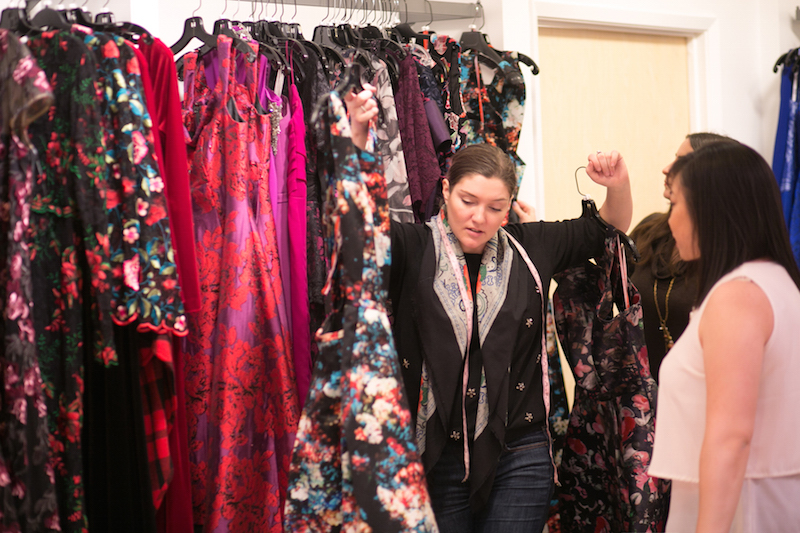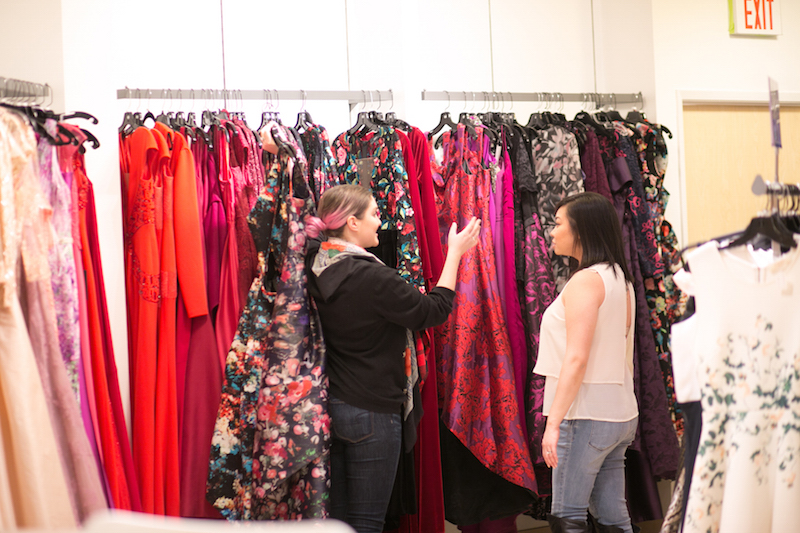 I tried on a total of 5 dresses, but in this post, you'll only see my favourite two since they didn't make the cut.
Mary-Rose pulled out a few dresses based on what I asked for; something fun, lots of colour, and ideally a dress with structure and with pockets if possible! I have mostly black dresses at home and black is always a "safe" colour so for a rental dress, I really wanted to go for something with lots of colour since it's not something I normally would buy. The very first dress she picked out for me was this Galaxy dress by Monique Lhuillier. This dress retails for $1100, but you can rent it for just $144 right now! I fell in love with this dress right away!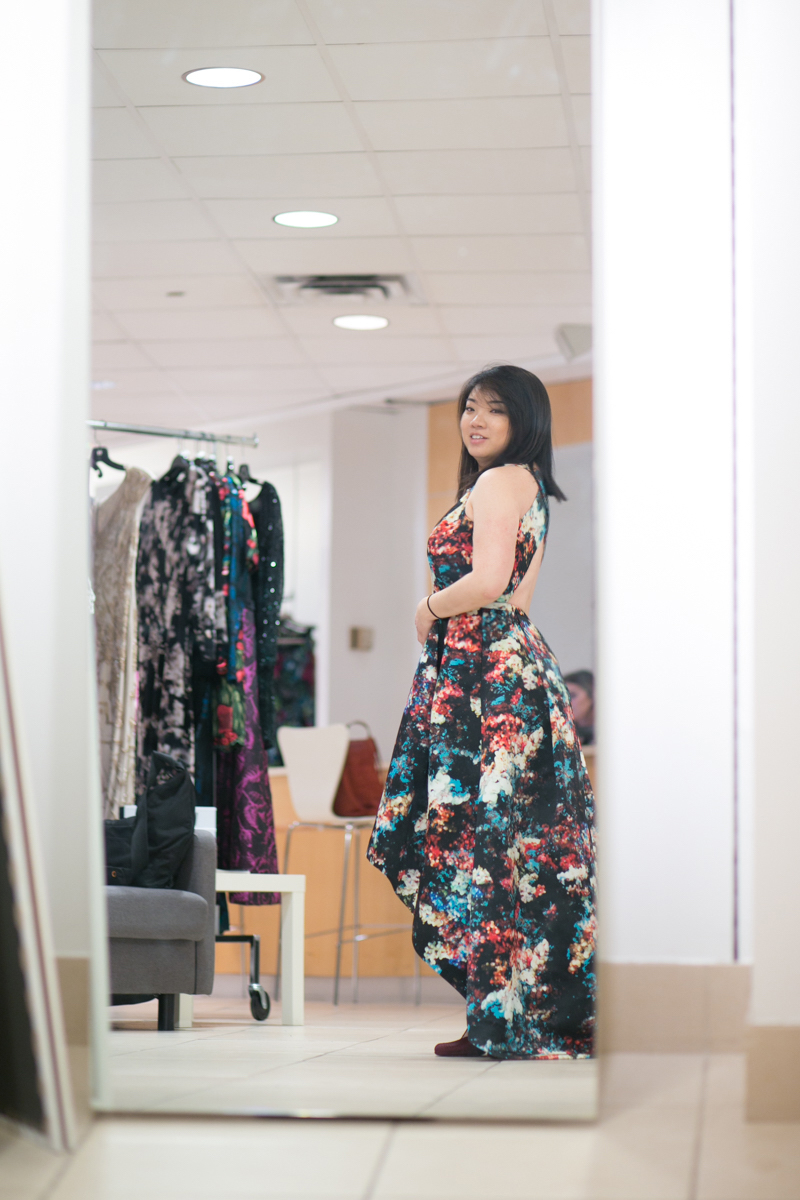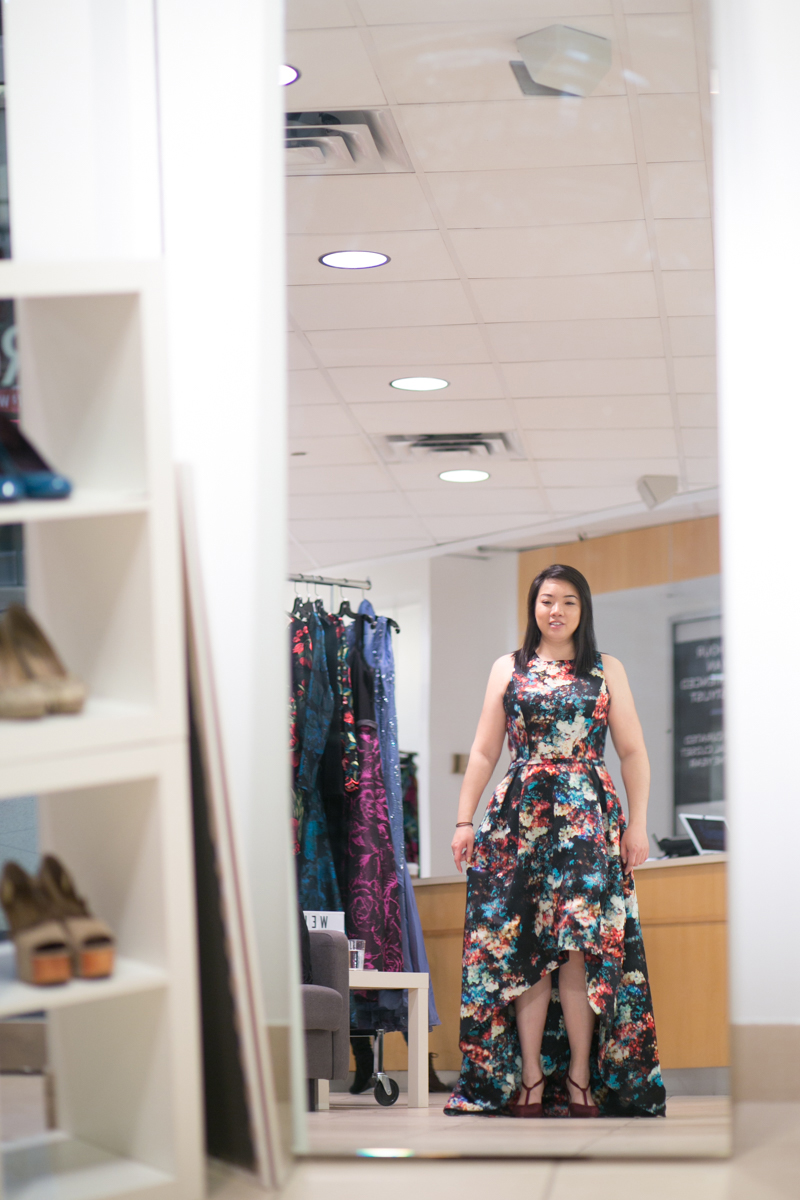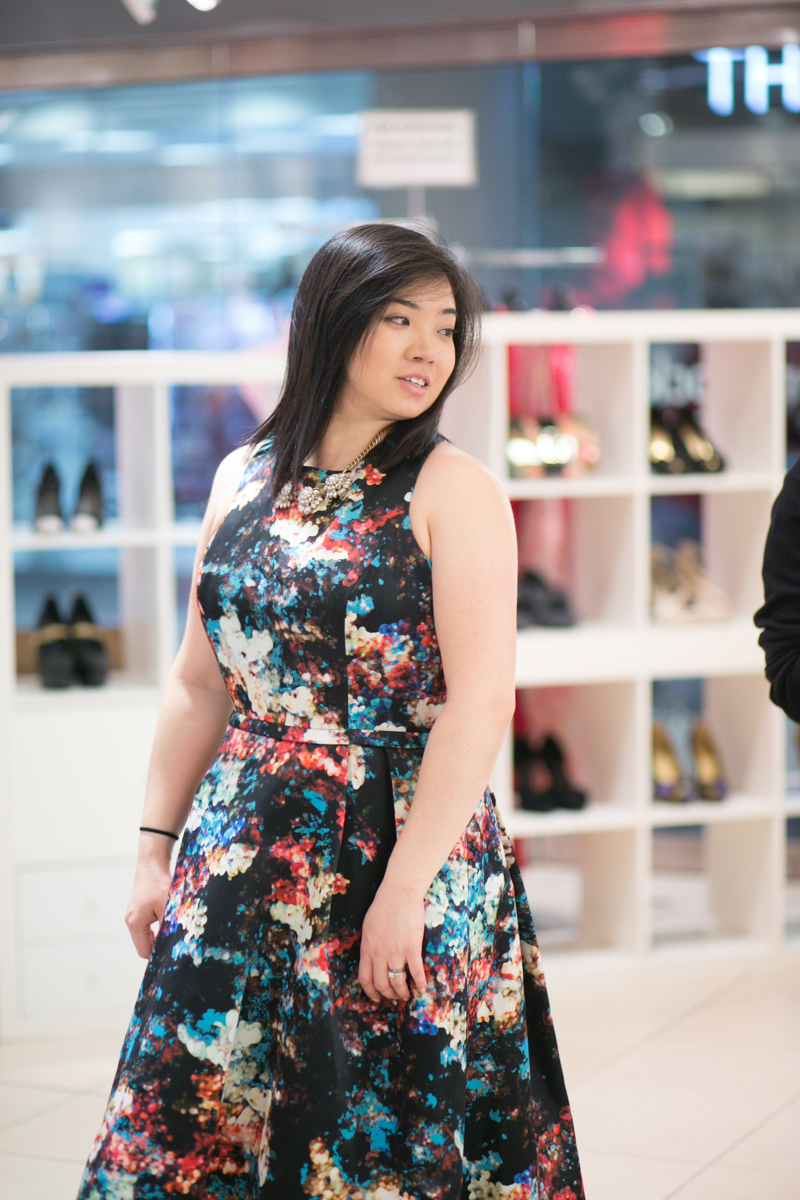 This splash floral print v-neck cocktail dress by David Meisteris so pretty and fun! Sadly, this dress did not fit my body shape perfectly and would require some "alterations" (i.e. lots of double-sided tape to hold it in place).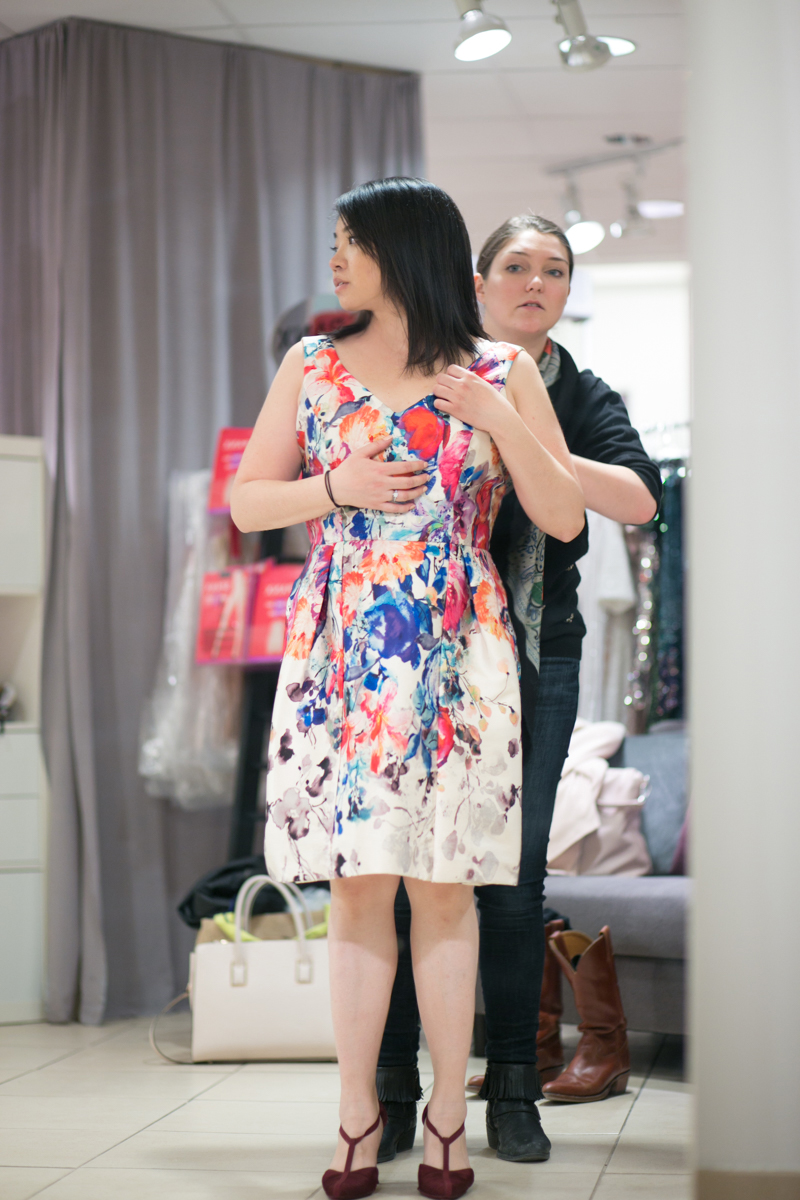 Below are the other three dresses that I tried on that didn't make the cut (Photos from the Rent frock Repeat website):
An off-shoulder gown by Cynthia Rowley, which I actually really liked and would have loved to wear for this gala, but it did not quite fit and I also realized I did not feel comfortable with the off-shoulder. Retails for $1000, Rental Special Promo $120 right now.
A black and pale pink floral long sleeve cocktail dress, with side ruching by Nissa. It was a soft velvet and I loved the pattern, but it was too 'body-hugging' for my liking.
Retails for $300, Rental $85
A green and black long sleeve ombre beaded dress by Aidan Mattox. This is a beautiful cocktail dress and would probably be the perfect dress for the WPIC Kick Off Party. I felt it made me look mature and classy. The dress fits well but was still a little bit out of my comfort zone with all the glitz. Normally, if I saw this on the racks, I'd just glance over but Mary-Rose convinced me to try it on and it was surprisingly quite comfortable and really liked how it looked on. The only time I ever had a lot of beading on a dress, was my wedding day! lol
This dress is still on my wishlist and may come back for it next time…what do you think?
I really want to thank my consultant, Mary-Rose for all of her guidance, suggestions, and patience with me! Such incredible customer service! I had so much fun and am super happy with my chosen dress. Now I feel more confident than ever and ready to network at this gala tonight! Also, want to thank Lucy Chang Photography for tagging along with me and taking these amazing photos for my blog 🙂 I love you to the moon and back!
I would have never been able to justify paying a grand to purchase a dress like this (other than my wedding dress), so RfR, you've made me a believer and I know I will be back for more!
If you're having a hard time looking for a dress for your next event, whether it be a gala, prom, or wedding, consider renting a designer dress from Rent frock Repeat and reduce our fashion carbon footprint!
Check out their website and read all about who they are and what they do here: https://rentfrockrepeat.com