Valentine's Day is just 5 days away! Every year for Valentine's Day, the hubs and I usually make it an excuse to go out for a fancy dinner date-night. This is also when I usually have my foodie cheat days! There are tons of ideas you can do for Valentine's Day with your loved one(s), but this year, if you're like me and prefer a low-key celebration, I've got five inexpensive and easy ideas you can do to celebrate this love-day with your favourite person!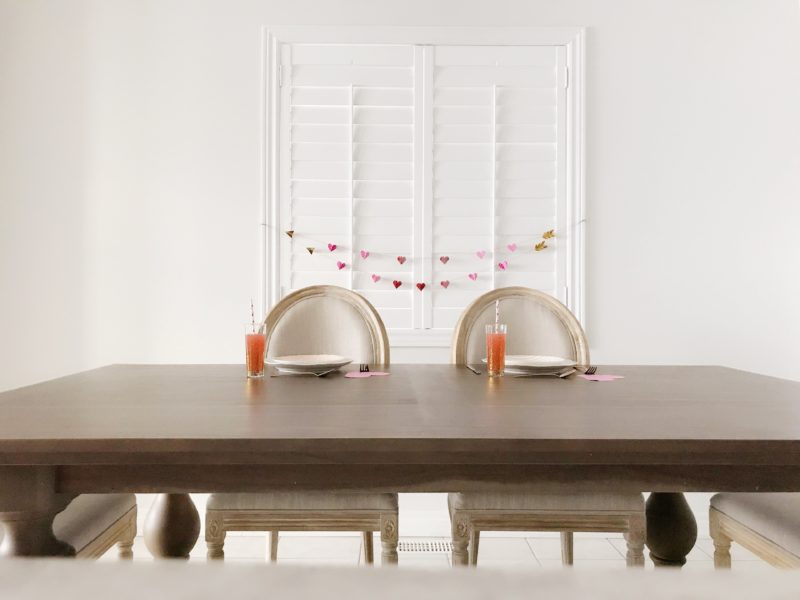 TIP 1: DECORATE THE KITCHEN
We have a small but quaint little kitchen. Since it is just the two of us, I wanted to add something simple – like a garland. This is an easy DIY.
What you'll need:
1 x 5/8″ Small Heart Lever Punch By Recollections™
1 Pair of scissors
2 or 3 Sheets of printed or decorative cardstock, craft paper, or scrapbook paper
Red twine
1 small hole punch or needle
Directions:
Cut the red twine in the desired length.
Punch some hearts in 2 or 3 different paper designs
Half of the hearts you punched, cut a slit at the top of the heart torwads the center (but only half way, don't cut through the heart).
The other half of the hearts you punched, cut a slit at the bottom of the heart towards the center (again, do not cut through the heart).
Now slide the slits in.
With the side that you will string through, punch two holes in the heart and string the twine through. If you do not have a tiny hole puncher, use a needle instead.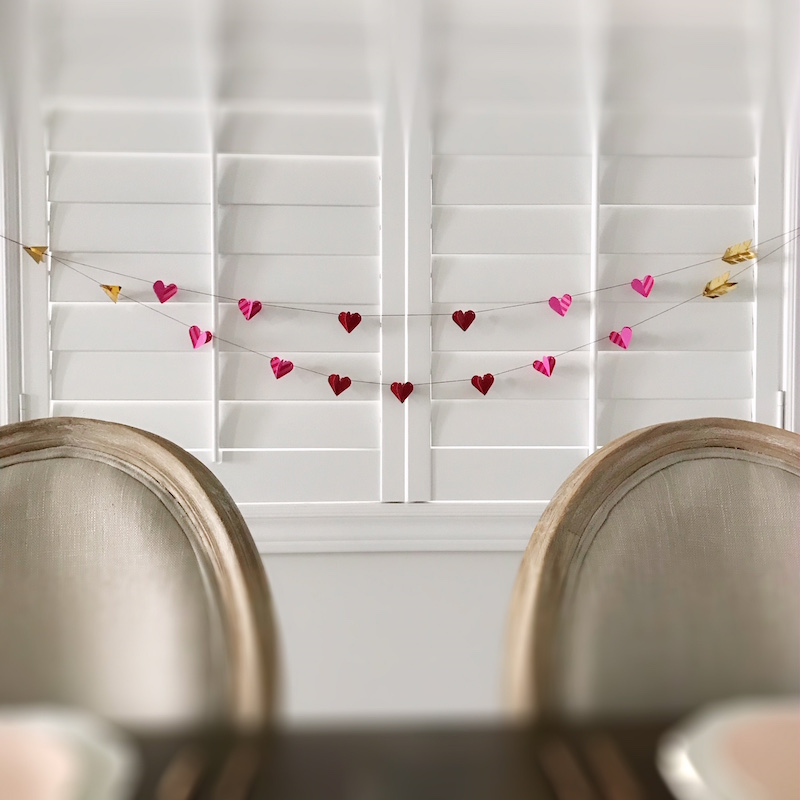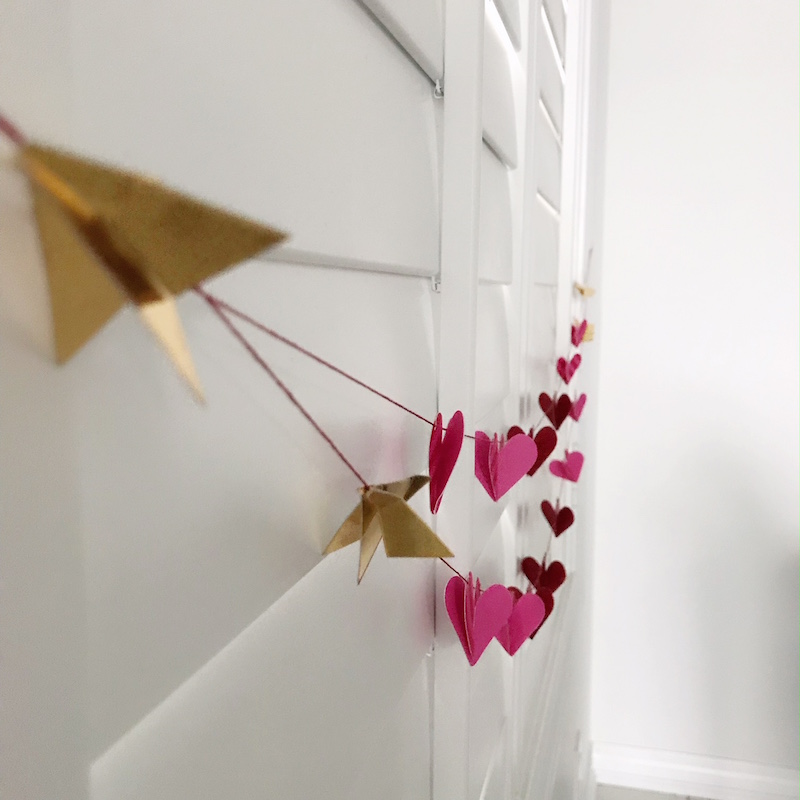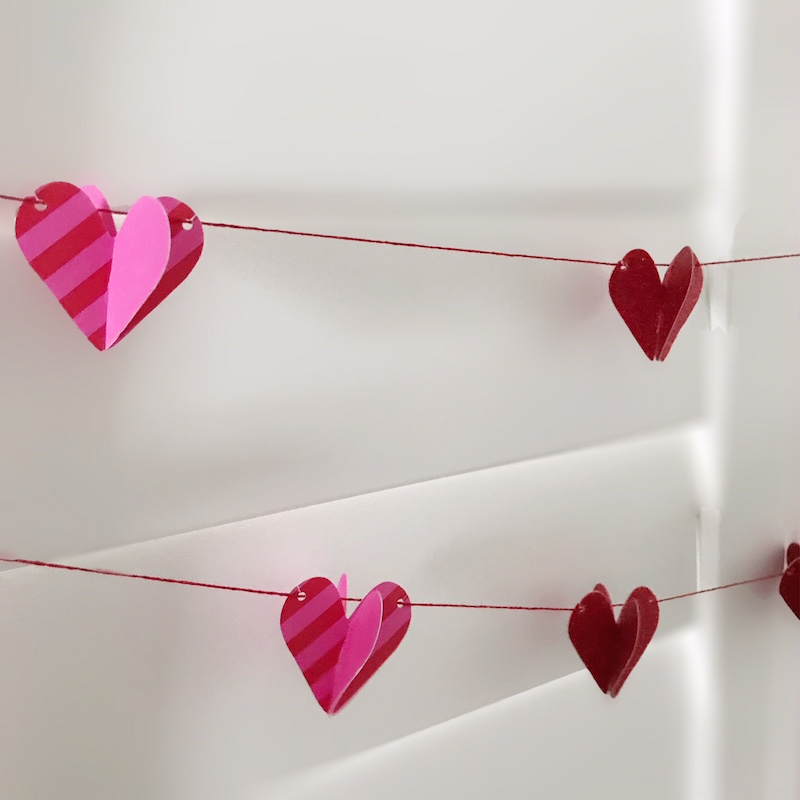 For the place setting:
What you'll need:
Bring out your cutest tableware (plates, flatware, and glassware)
These plates are from Homesense.
The Gold Confetti Champagne Glasses are from Chapters Indigo
The Rose Gold Flatware by Harper is from Crate & Barrel.
You can buy these heart-shaped napkins from Loblaws! ($3/pack) Or cut your own 😉
Top it off with fun heart-printed paper straws from Party City.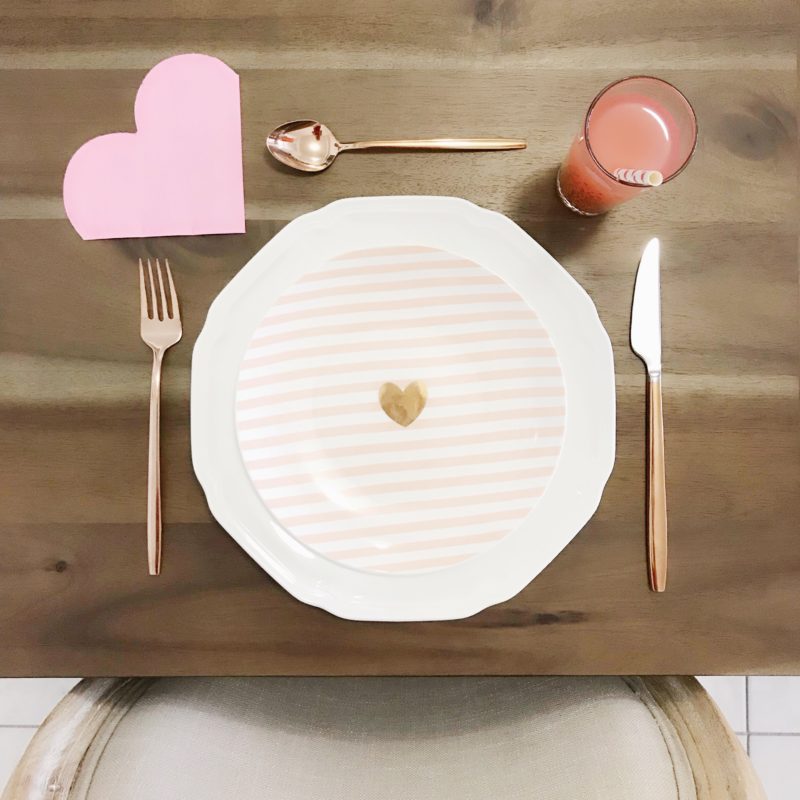 TIP 2: A VALENTINE'S DAY BREAKFAST
Start off the morning by making some yummy breakfast pancakes!
Here's my go-to vegan pancake recipe: I've modified it a few times and found that this has been the best version (for me anyway).
1 banana, sliced
1 and ¼ cup coconut milk (or any other non-dairy milk)
1 tablespoon coconut oil (make sure to melt this)
1 teaspoon vanilla extract (optional)
1 and ¼ cup unbleached flour (or gluten-free all-purpose flour)
1 and ½ teaspoon baking powder
1 teaspoon sugar (I usually put only 1 teaspoon because all the fruits I add to it make it sweet enough)
1 pinch of salt
1 cup blueberries (or vegan chocolate chips if you prefer)
Heart-shaped egg-ring (or you can use a heart-shaped cookie cutter after)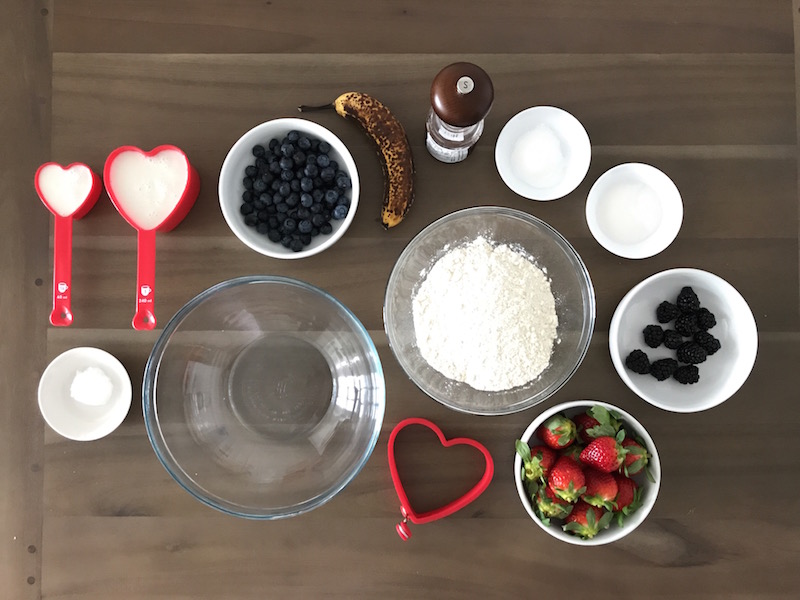 Directions:
Mix all the wet ingredients together in a blender
Mix all the dry ingredients together in a bowl
Pour the wet mix into the bowl with the dry mix, stir until even
Add the blueberries (or vegan chocolate chips if you prefer) *PS: you can skip this step and add a few blueberries into each pancake as you're frying it if you want an even ratio.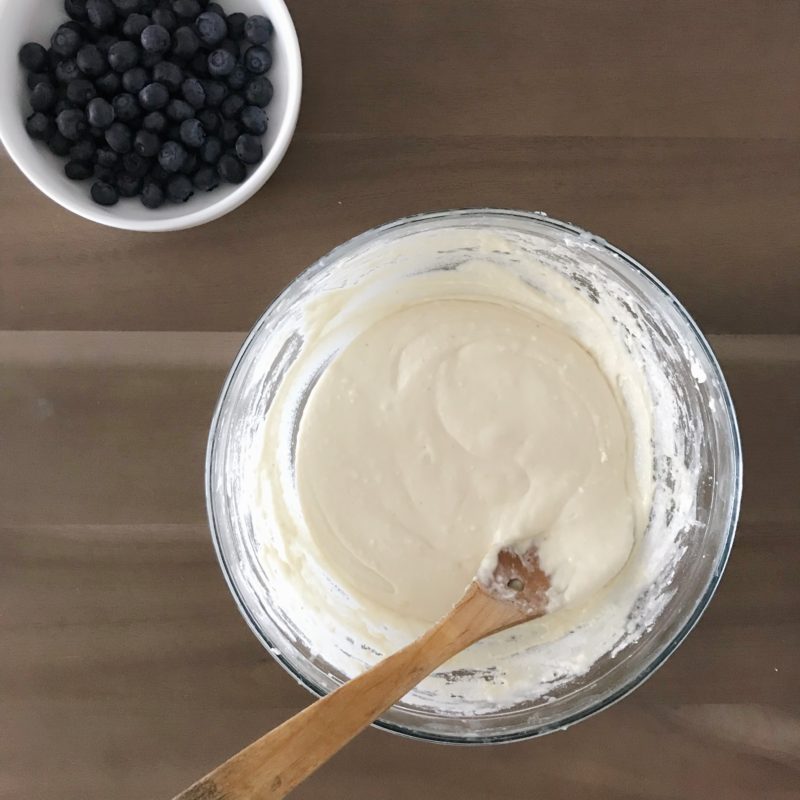 Ladle the batter onto the pan and into the heart-shaped egg-ring.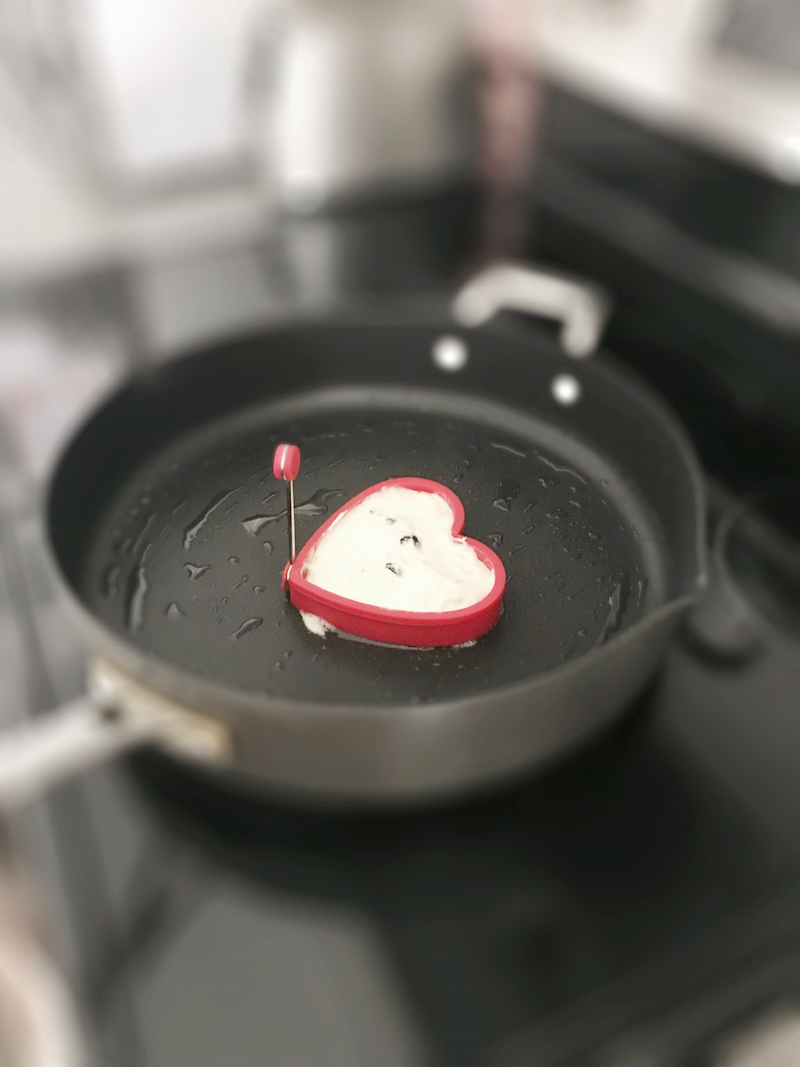 Cook over low to medium heat until bubbles form, very gently remove the ring gently, then flip and cook the other side.
Note: You may need to clean off the batter residue inside the ring each time before you start a new pancake. I suggest brushing a little bit of melted coconut oil on the inside of the ring to help slide this off.
If using a heart-shaped cookie cutter, I suggest making the pancakes like you normally would (round first), remove from the pan then cut it as if you would with cookie dough.
For the shaped fruits: I used mini cookie cutters. I got the X, O, and mini <3 from Dollarama ($1.25 for the pack). The mini rose cutter is from Michael's Craft Store ($1 each, but with a Valentine's BOGO Free sale right now!)
What you'll need:
1 banana, sliced approximately ¾"
4-5 strawberries, sliced in half
Plate it, pour your favourite syrup, and enjoy!

Since the hubs loves blueberries and blackberries, I decided to add some to the plate too. You can add any favourite fruit to this dish!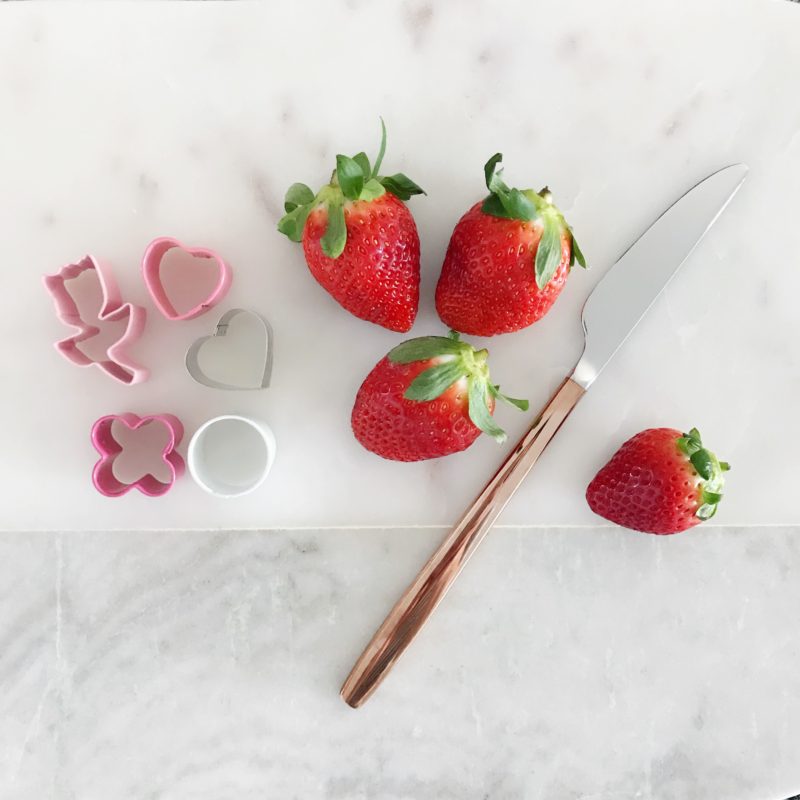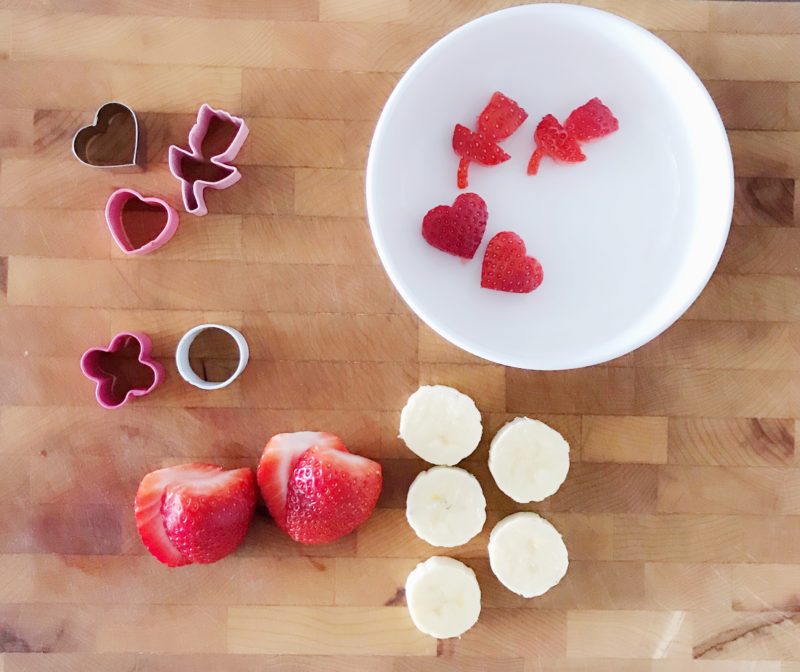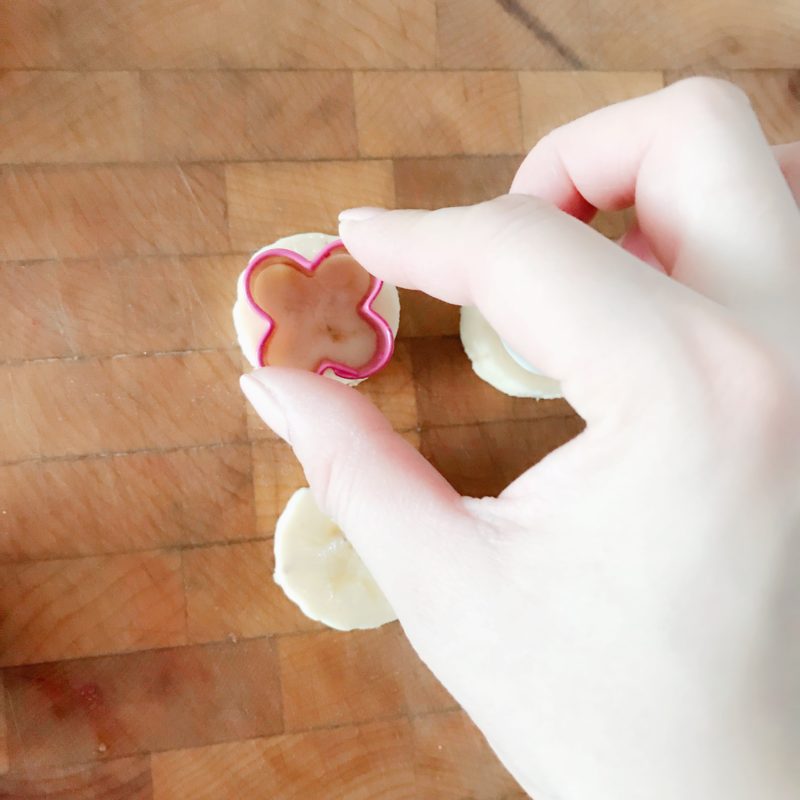 To wash it all down, I included PC's Ruby Red Grapefruit Cocktail Juice. This was the perfect juice to wash down the pancakes as it had the perfect tanginess to balance out the sweetness from the pancakes and fruits.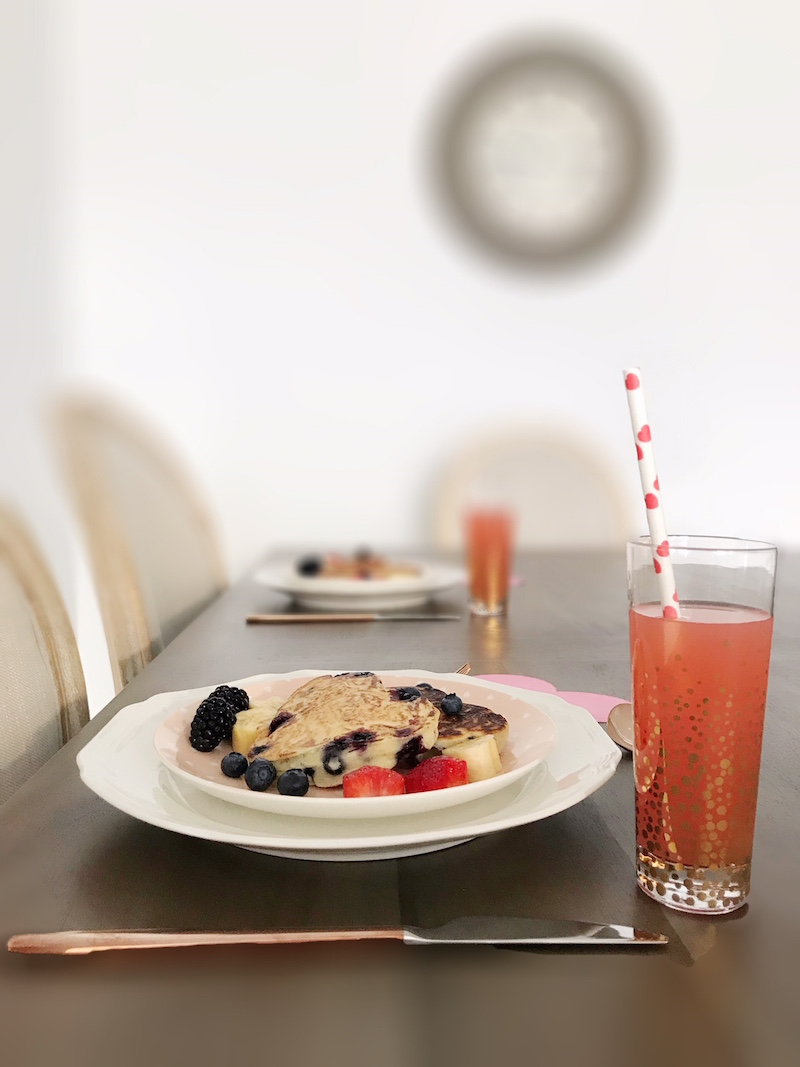 TIP 3: COOKING DINNER FOR TWO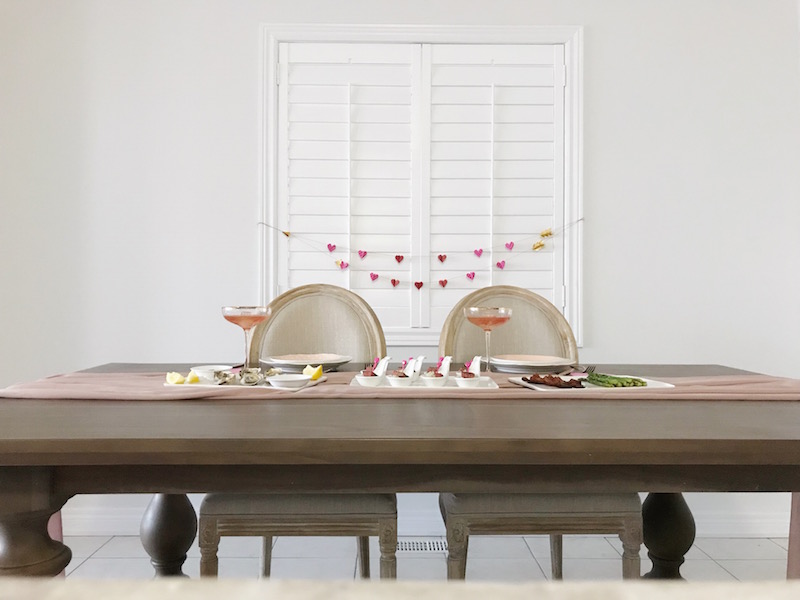 On special nights like this, I always try making the hubs' favourite dish(es).
I'll start with the main course: steak and potatoes!
The steaks:
2  Eight-ounce prime steaks, seasoned with salt and pepper and Kirkland's Organic No-Salt Seasoning.
Grill or pan-fry the steaks. Depending on the thickness of the meat, you may need to adjust the timing. These steaks were just under 1" thick and I cooked 3 minutes on each side on high heat.
Turned off the heat and let it sit for a minute before cutting it into cubes.
Serve them on tasting spoons or a clean white platter.
Add cute plastic toothpicks. These cute heart toothpicks were a gift from my Mother-In-Law, but you can find them Amazon.ca or local Asian gift shops!
(You'll probably find the cutest ones at Japanese gift shops like at JTown at Steeles and Woodbine).
The potatoes: I made mashed potatoes
1 Russet potato, peeled and diced.
I cooked the potatoes in my Instant Pot for 15 minutes, but you can boil them on the stove.
Drain the water.
Place the potatoes in a large mixing bowl
Sprinkle about 1 teaspoon of salt.
1 Tablespoon butter (I used vegan butter since I'm dairy-intolerant)
1 Tablespoon cream cheese (I used Daiya Chives & Onion cream cheese since I'm dairy-intolerant)
Mix it all together with a hand-mixer or ladle.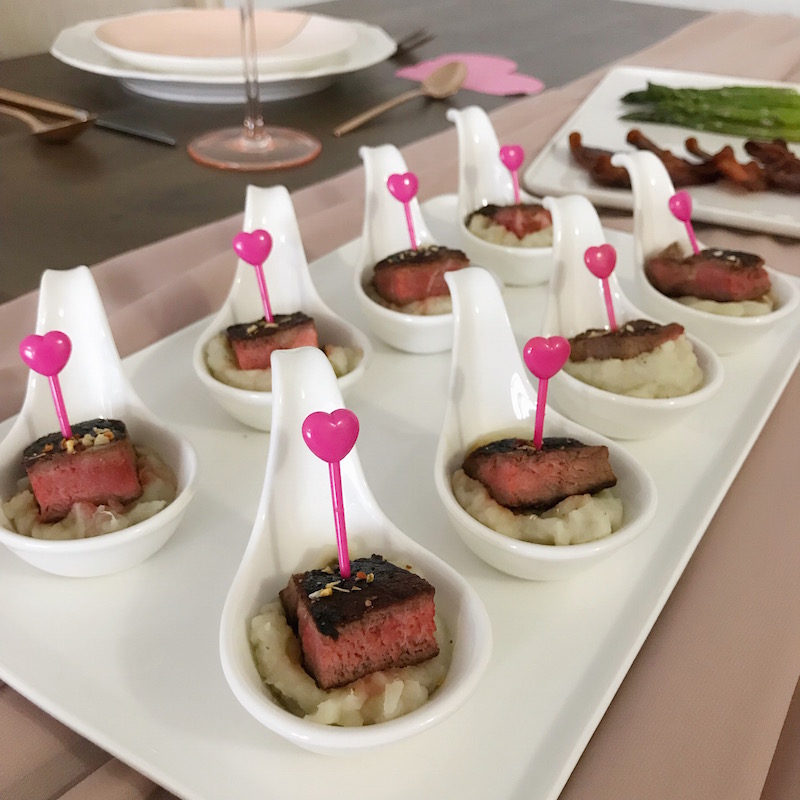 Scoop a teaspoon of the mashed potato onto the porcelain spoon and top it with a steak cube.
Garnish it with some herbs like chives or scallions. I sprinkled a little bit of the Kirkland Seasoning here instead because I didn't have any chives at home.
I can't have dinner without adding some greens to our meal, so I decided to go for asparagus since it is the hub's favourite kind of vegetable. Plus, it's high in potassium, folic acid and vitamin B6 and among other critical nutrients and fiber. Also, did you know?! Asparagus increases production of histamine, a chemical that causes capillary dilation and muscle contraction…which both functions the body requires to reach orgasm! (haha)

I also made some crispy bacon hearts. These were a big hit and super easy to make. Just shape the bacon strip into a heart, lay it flat on a cookie sheet, and pop it in the oven and bake it at 375°F for approximately 15-20 mins, or desired crispiness.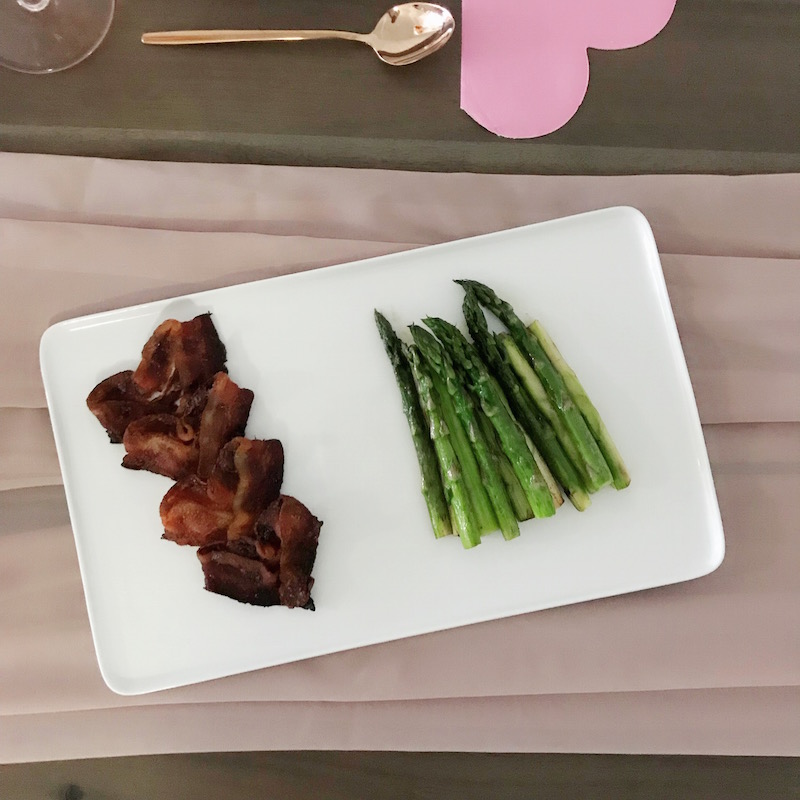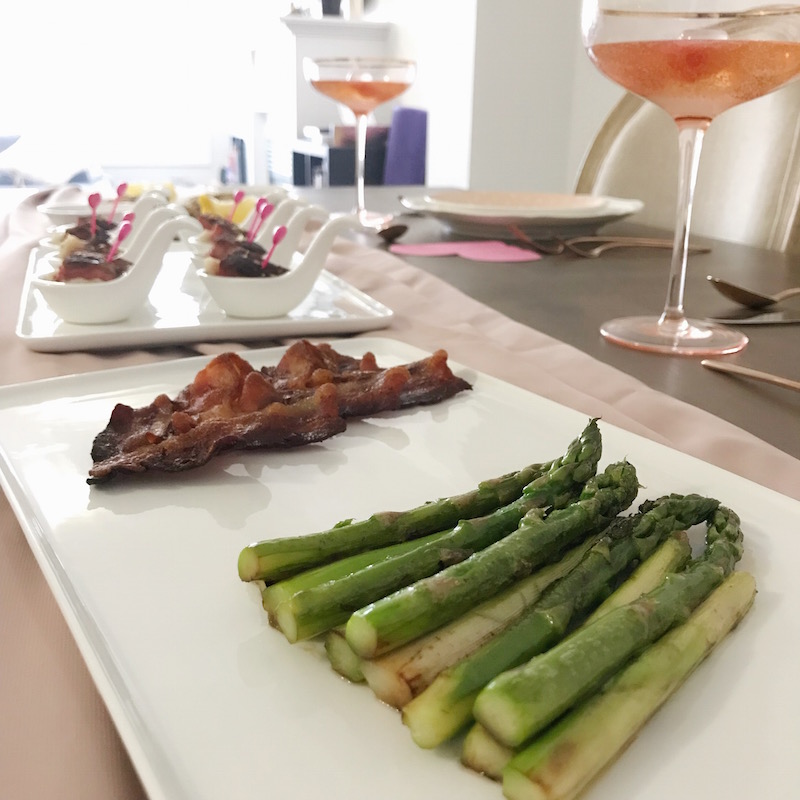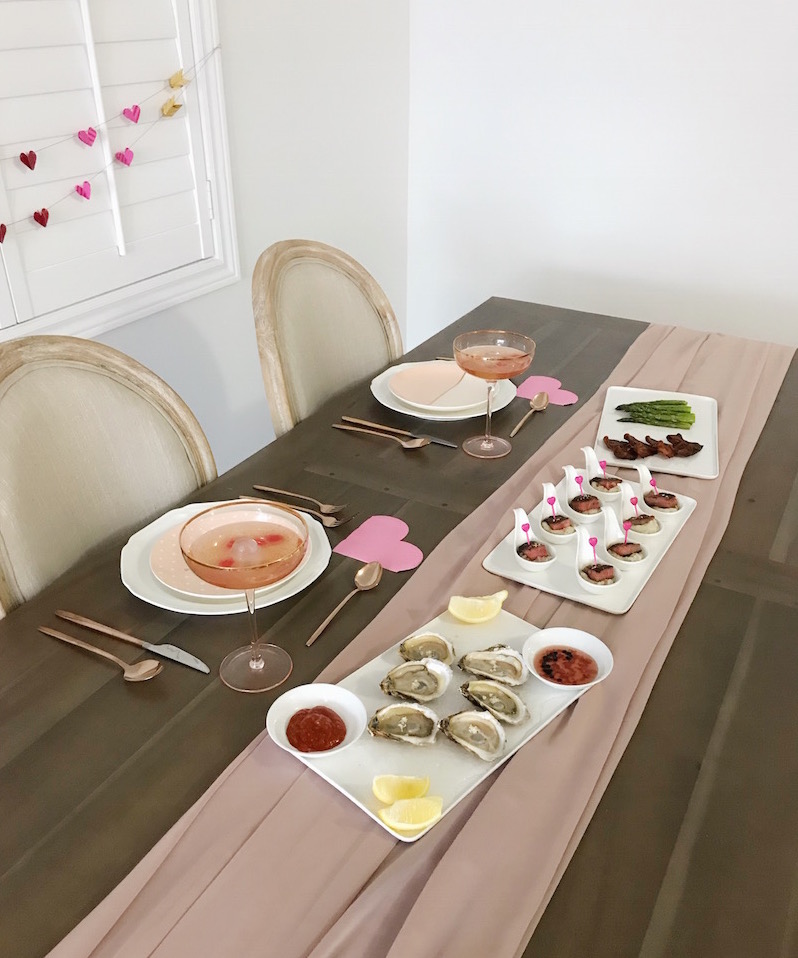 The appetizer:
Lastly, I picked up some fresh Malpeque oysters from Diana's Oyster Bar & Grill.
These were $1.95 each and includes shucking and the sauces.
Just a reminder that you do need to finish raw oysters within an hour, otherwise it becomes poisonous! These were so good… if you don't know already, oysters are one of the legendary aphrodisiacs. Oysters are packed with muscle-building glycerin and zinc, known to fortify the male hormone; testosterone 😉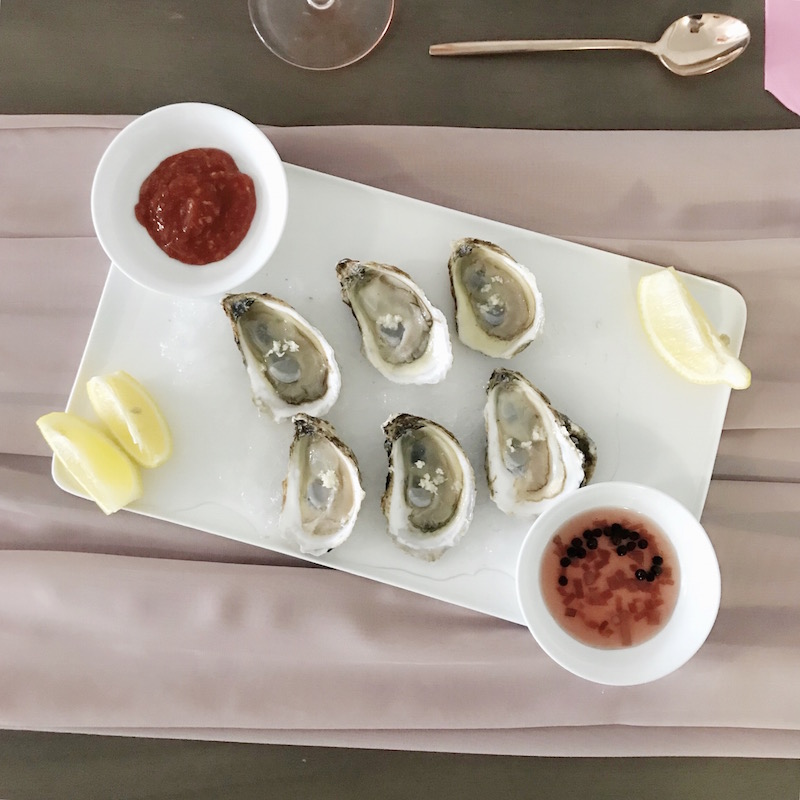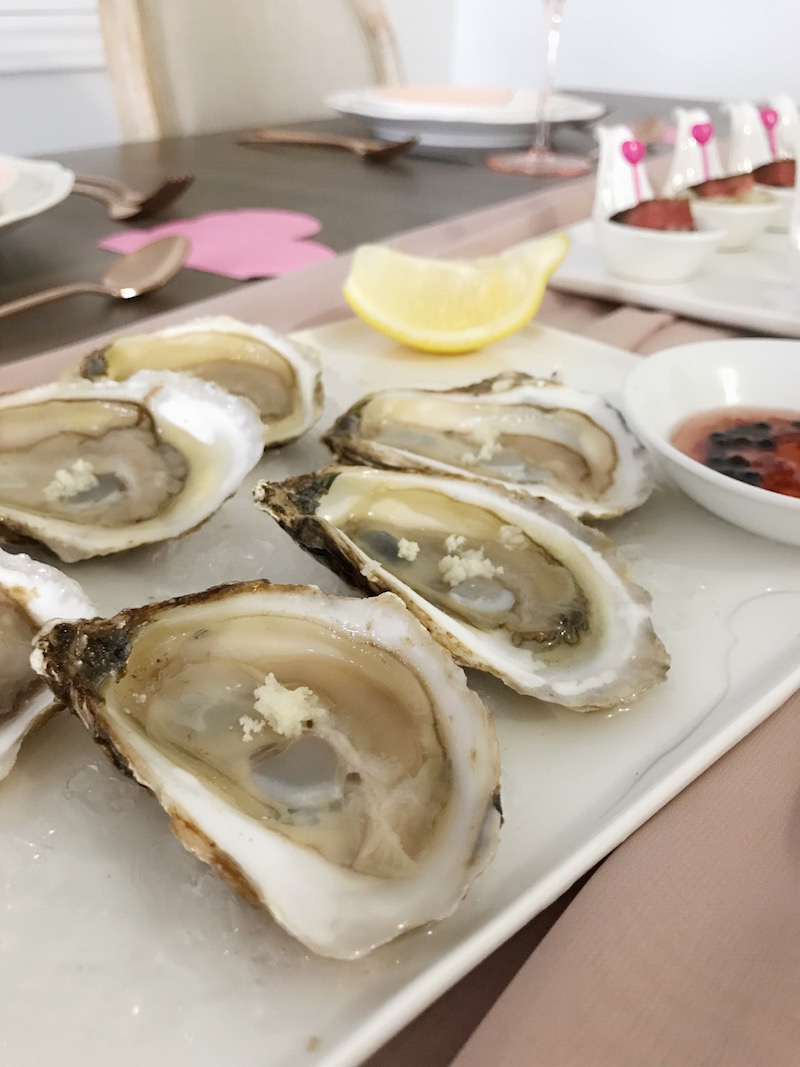 The drinks:
The hubs and I aren't big alcohol drinkers so this is a mocktail for us, but please feel free to add in your favourite liquour!
What you'll need:
2 fancy cocktail glasses
½ cup strawberries
Ice cube tray (go for a heart-shaped or lip-shaped mould).
2 lychee jelly cups
Ginger Ale
Directions:
Blend the strawberries in a blender (I used my Vitamix).
Pour the puree in the mould
Freeze for at least 2 hours (I recommend doing this step the night before).
Unwrap the lychee jelly and place one in each cup
Add a few of the strawberry puree ice cubes
(Optional: Pour ½-1oz of liquor such as vodka or tequila)
Pour ginger ale and enjoy!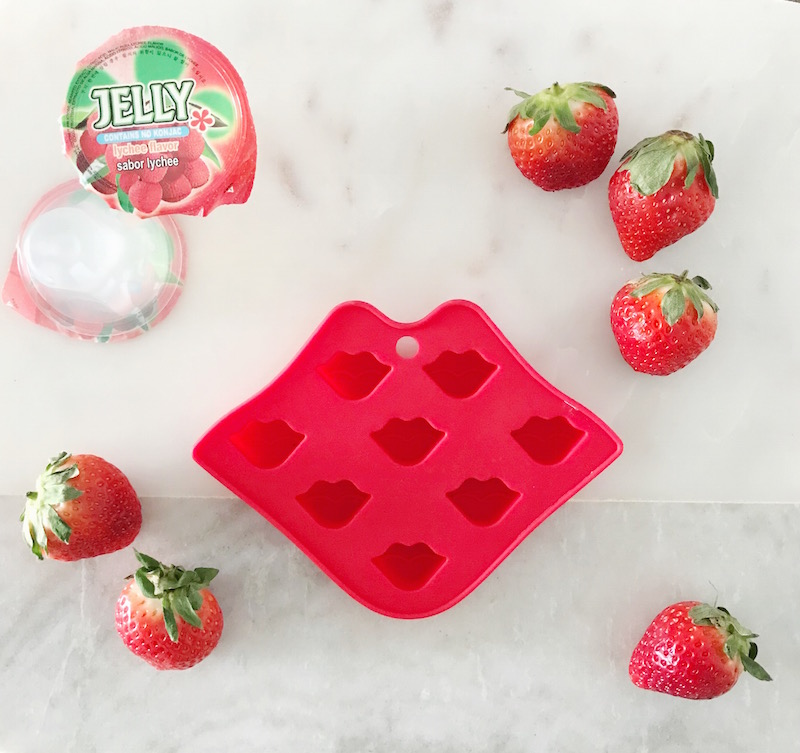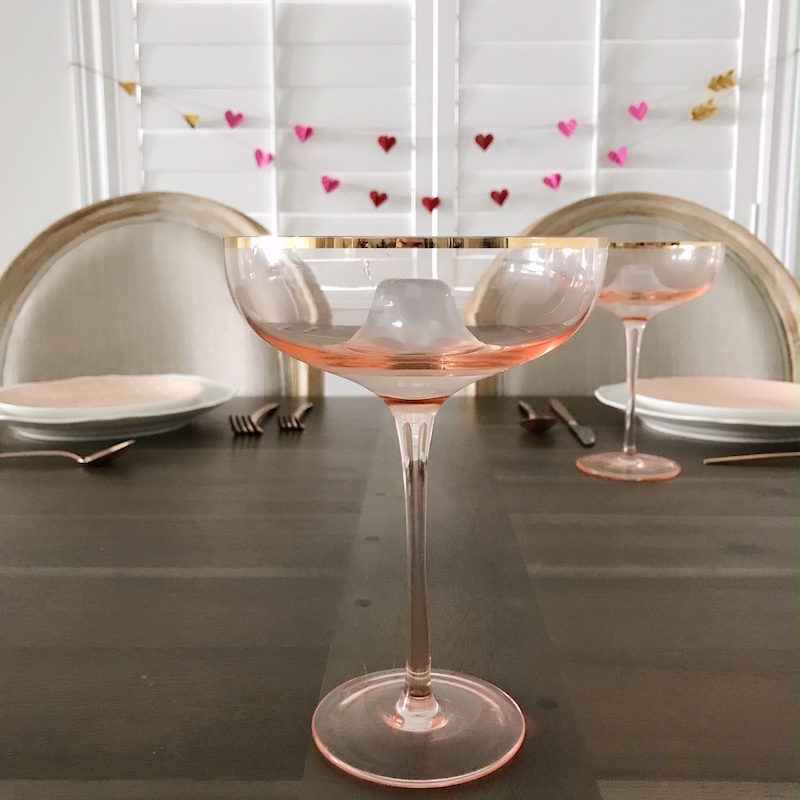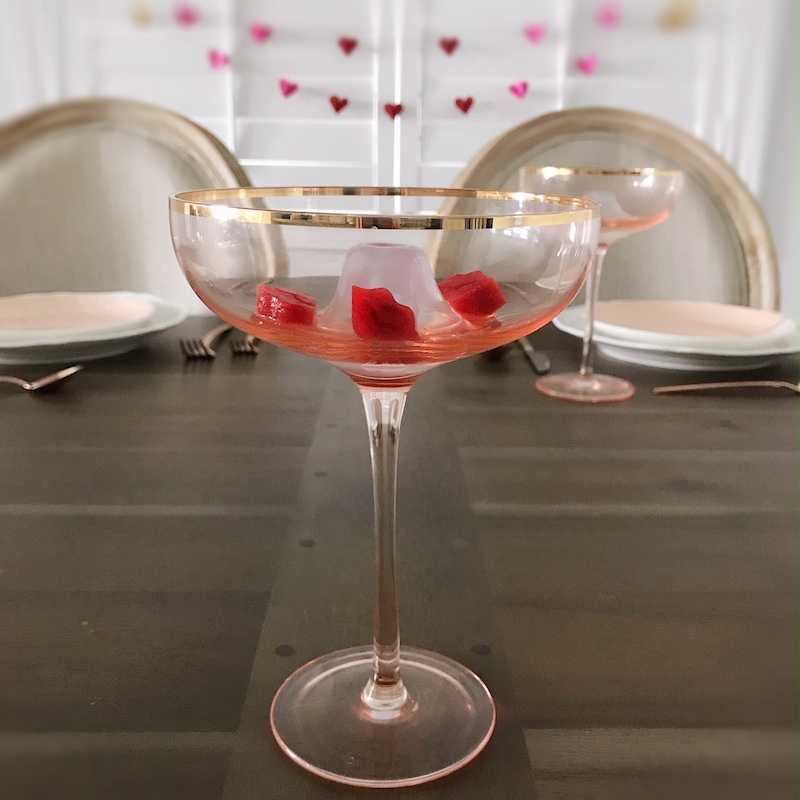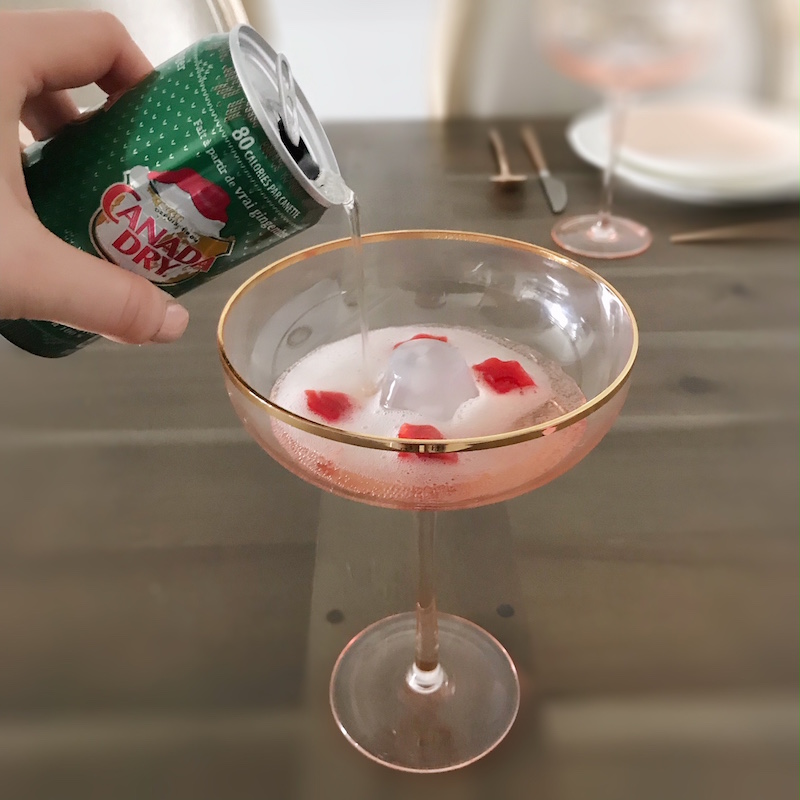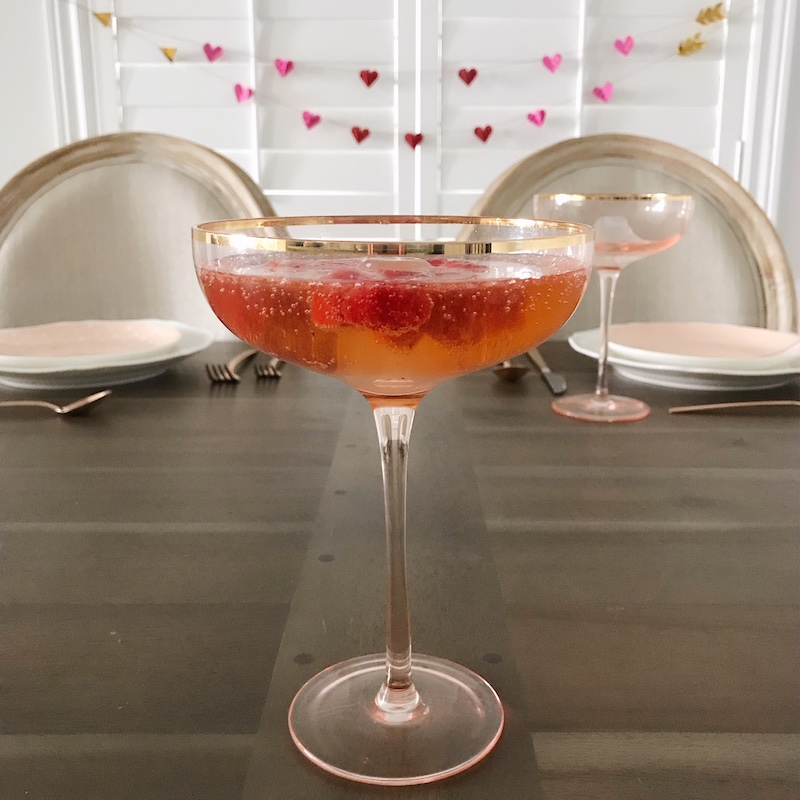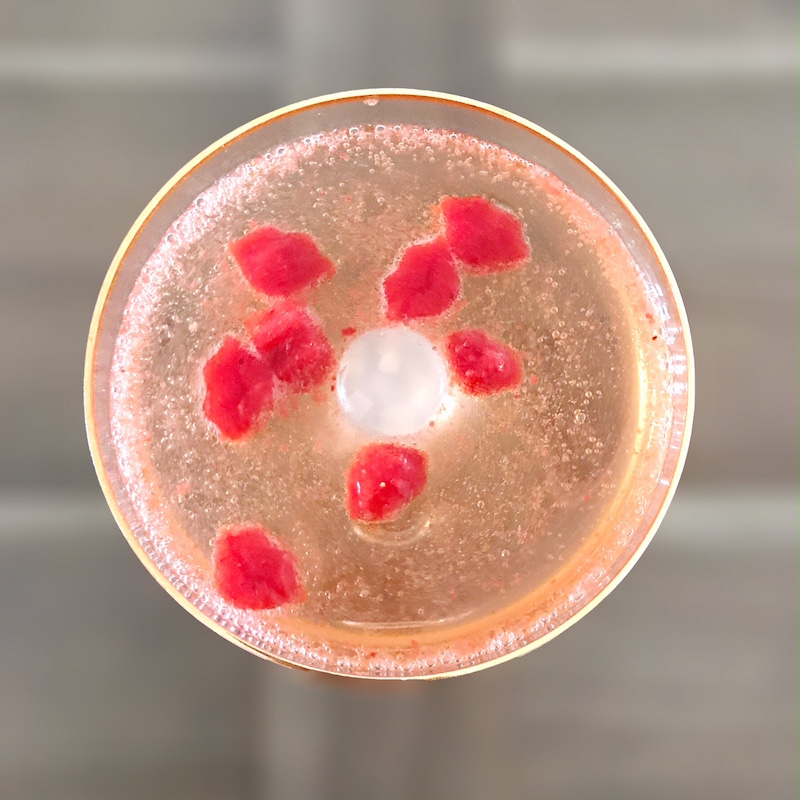 TIP 4: HAVE A MOVIE NIGHT AND CUDDLE TIME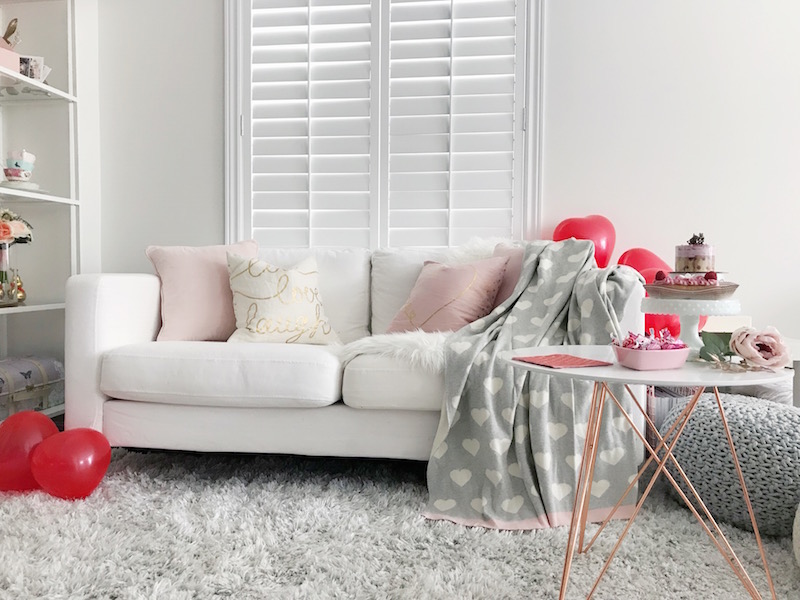 Why not decorate the couch area to make it more festive and set the mood?
I set up our couch with some a few soft and plushie cushions in pink. The Pink Velvet Pillows are from Urban Barn and the Cotton Linen Pillows "Live Love Laugh" and "Love Heart" are from  Chapters Indigo Canada.
Make sure to have a cozy blanket to cuddle under too! Our Cotton Knitted Heart Throw Blanket is by Queenwest Trading Co. from Homesense Canada.
Then, choose your favourite romantic movie. The hub's favourite romantic movie is Princess Bride. A classic. <3
Add some fun heart-shaped balloons (and throw it at each other lol). You can get these from Walmart, Party City, or sometimes even at Dollarama!
TIP 5: MAKE SOME HOT COCOA AND DESSERTS
I decided to splurge a little for dessert and picked up some delicious treats from Sorelle & Co.
They will have Valentines Day themed treats available starting today, February 9th! So make sure to pick up some cute "Be Mine" cupcakes! All products provided by Sorelle & Co. are dairy-free, egg-free, gluten-free, nut-free, sesame-free, and preservative-free!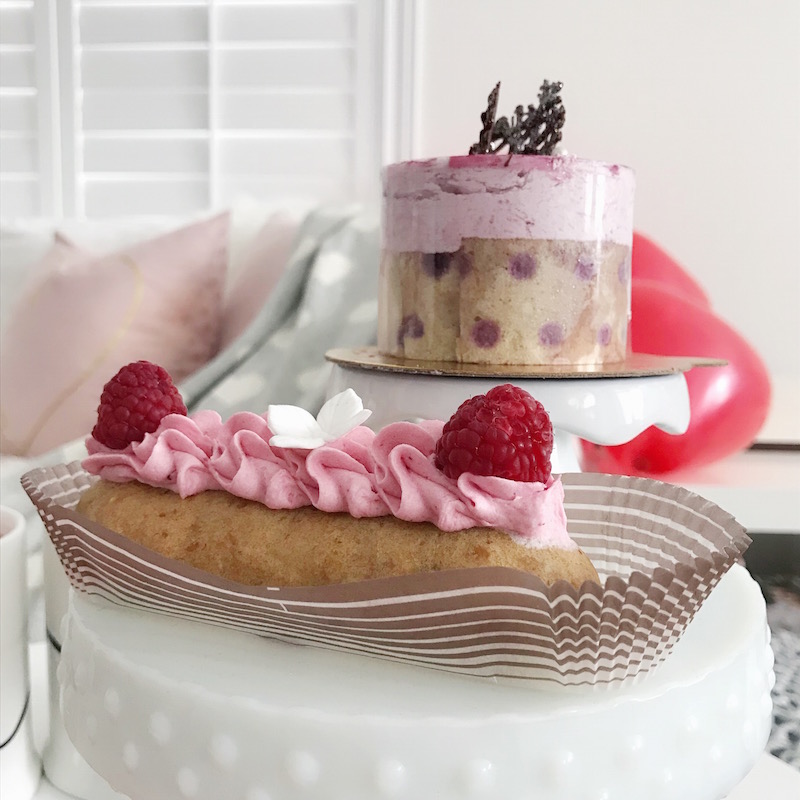 Bring out your cutest mugs or if you have a monogrammed mug like ours, that works out perfectly too! I made some hot truffle cocoa with steamed coconut milk and topped it off with mini pink marshmallows! 
What you'll need for the hot cocoa:
Hot Chocolate Truffle by Silly Cow Farms
2 cups of coconut milk (or any other milk you desire)
1 cup of mini pink marshmallows (Note: the pink marshmallows come in a multi-colour marshmallow pack and do have a bit of flavour to it. The pink ones have a sweet strawberry flavour, so if you prefer go with the regular marshmallows or even whipped cream!)
Directions:
Place 2 heaping teaspoons of the Hot Chocolate Truffle mix into your favourite mug.
Pour the milk into a small pot and bring to a simmer on low-medium heat. (Make sure to watch the milk so it does not overspill).
Slowly stir in very HOT milk.
Top with pink marshmallows.
Dust a bit of Hot Chocolate mix on top.
Enjoy!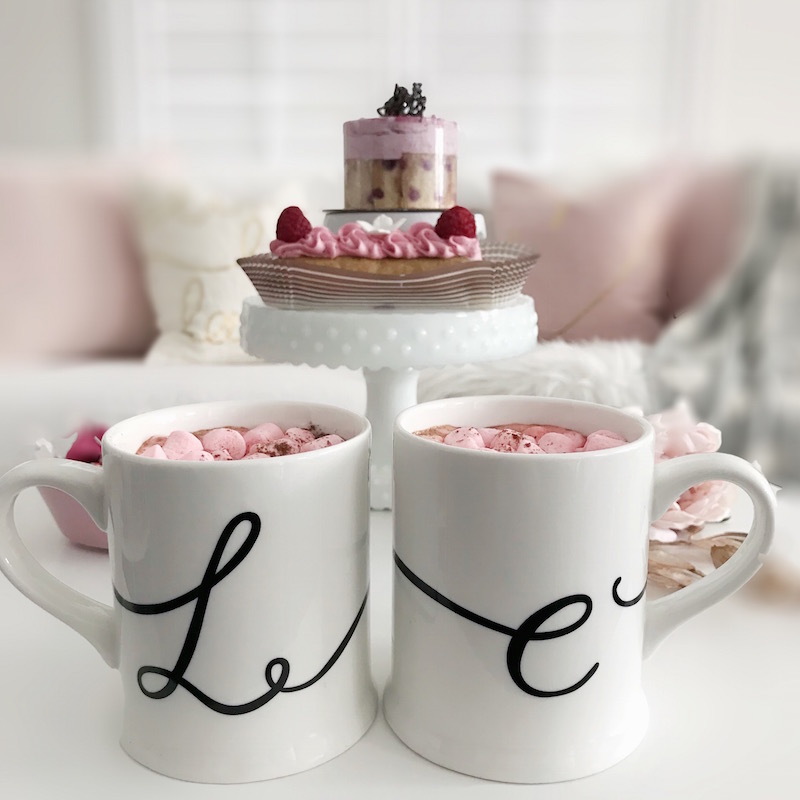 Just to add to the sugar rush, I included a few Valentine Kisses chocolates to snack on 😉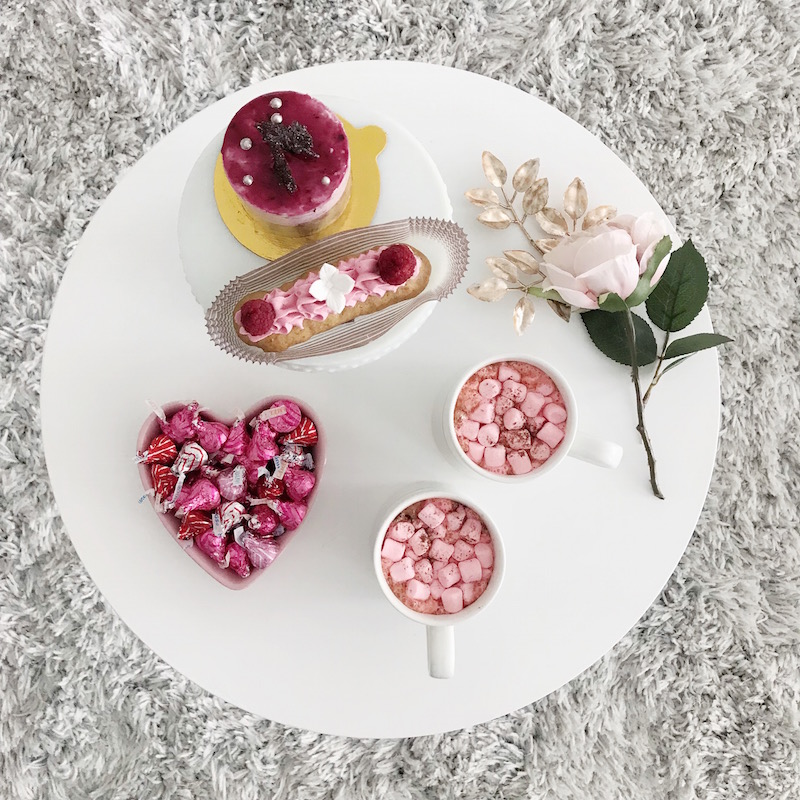 Now, sit back, relax, and enjoy the evening with your favourite person 😉
Food tends to be the symbol of love so it's no surprise that most of my tips are food related.
I wish you all a Happy Valentine's Day!
You can totally take these tips and modify it for a Galentine's date night or even for the whole family and enjoy this day with the kids!

XO,